The internationally acclaimed Iowa State Fair is the single largest event in the state of Iowa and one of the oldest and largest agricultural and industrial expositions in the country. The first Iowa State Fair was held in Fairfield, a southeast Iowa city, in October of 1854.
Today, the Iowa State Fair, now with permanent grounds in Des Moines, attracts more than a million people from all over the world annually. The event was the inspiration for the original novel "State Fair" as well as at least three motion pictures and a Rodgers and Hammerstein Broadway musical. Midwest Living magazine named the Fair one of the "Top 30 Things Every Midwesterner Should Experience," and it has been included in the New York Times best-selling travel book 1000 Places to See Before You Die.
When the COVID-19 pandemic became a reality in 2020, the Iowa State Fair was canceled for the first time since World War II, but the event came back in 2021, surpassing more than one million in attendance over 11 days of festivities — just slightly under 2019's attendance.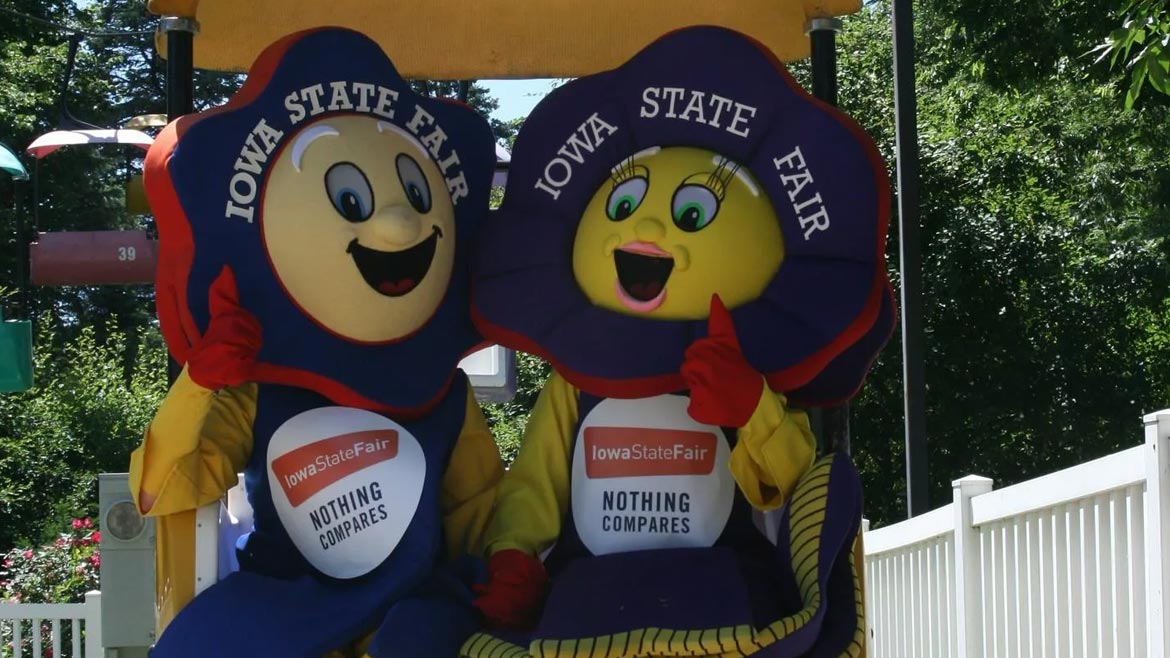 In 2020, the Iowa State Fair was canceled for the first time since World War II, but the event came back in 2021, surpassing more than one million in attendance. Image courtesy of Iowa State Fair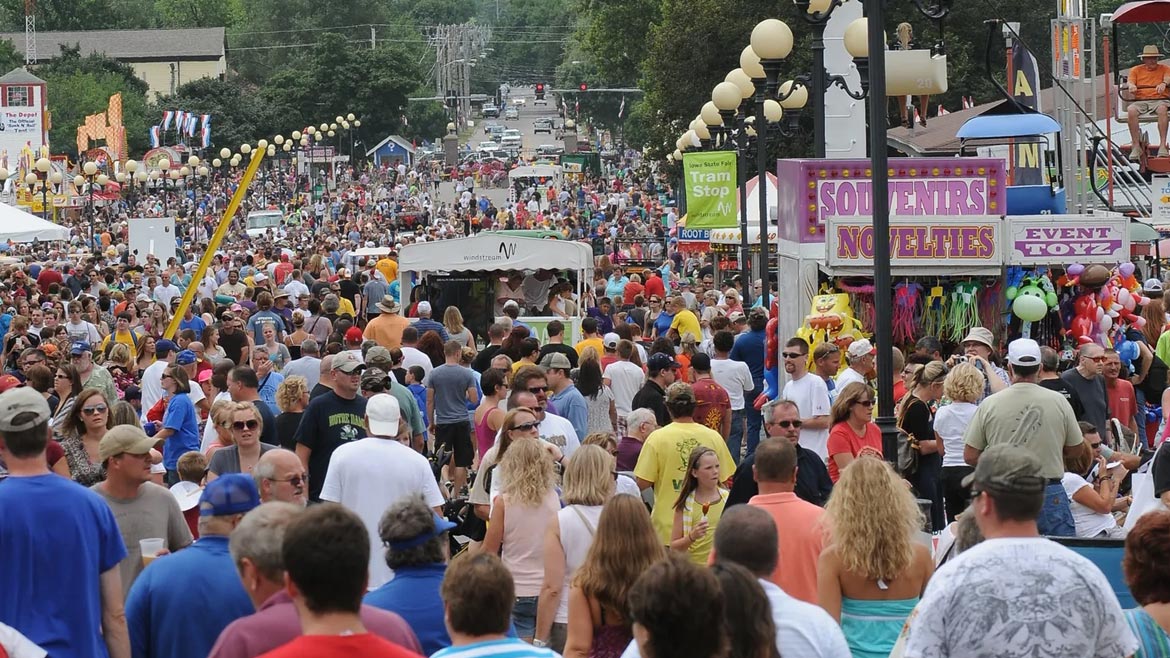 The Iowa State Fair is the single largest event in the state and one of the oldest and largest agricultural and industrial expositions in the country. Image courtesy of Iowa State Fair
The grounds and facilities, which encompass more than a square mile of land, are also used for various events, festivals and meetings throughout the year. Due to the amount of outdoor space and the grounds open to the public, the Police Department at the Iowa State Fair is tasked with creating a year-round, 24-hour, safe environment for staff, visitors and exhibitors. Some of the main security risks that the Iowa State Fair Police Department and its partners are tasked with are protecting fairgoers from violence and terrorism; locating missing children or elderly; detecting vandals, intruders or loiterers; detecting accidents or slip-and-falls; and identifying unattended objects or bags.
The Iowa State Fair's Police Department takes security very seriously and strives to provide a family-friendly atmosphere, using staff and technology to elevate situational awareness and incident detection without hindering or limiting fairgoers' and other attendees' experiences.
"The overriding challenge is our responsibility to protect visitors from violence and terrorism; while not interfering with the experience, protecting their privacy, and providing a safe and friendly family atmosphere," says Doug Mollenhauer, Director of Public Safety and Chief of the Iowa State Fair Police Department.
When Mollenhauer came on board to the Iowa State Fair about five years ago after retiring from a more than three-decade-long career with the Iowa State Patrol, he was tasked with building a certified police department for the organization. Within less than six months, the Iowa State Fair had its own certified police officers.
The organization now has four full-time corporals, 36 part-time officers and four reserve officers year-round. "During Fair time, we will staff nearly 28 civilian security staff and upwards of 30 armed security and more than 27 police officers," says Randy Jones, Commander for the Iowa State Fair Police.
In addition, with 100,000 or more people visiting the Fair per day, a big part of the job for the Fair's police department is liaising and collaborating with public and private partners at every level.
"We partner with the Iowa Department of Public Safety, providing primary support from the Iowa State Patrol, Division of Criminal Investigation, Division of Narcotics Enforcement, The State Fire Marshal and the State Fusion Center. The Des Moines Fire Department [helps with] medical and fire response. We also have support from a number of other agencies, including the local Polk County Sheriff's Department, Des Moines Police Department, Polk County Emergency Management, The Iowa Department of Homeland Security and Emergency Management, The FBI's Joint Terrorism Task Force, The National Guard's 71st Civil Support Team, Juvenile Court Services, the USDA, The Polk County Attorney's Office and local community leaders," Jones says.
Jones also spent more than 30 years with the Iowa State Patrol previously, and together, with their collective experience, Mollenhauer and Jones set their sights on leveraging video analytics to greatly increase operational and response efficiencies. Weapons of any kind are prohibited on the fairgrounds for visitors and, although security has implemented metal detectors to conduct an initial check before entry at all walk-through gates, Mollenhauer and Jones knew that additional technology would boost operational efficiency and strengthen detection precision.
"With our tactical and Homeland Security backgrounds, we knew that there was technology out there that could provide us with an additional set of eyes, do more than humans can do, and enhance our security and environment," Mollenhauer says.
A key consideration for any analytics solution is that it would integrate with Iowa State Fair's existing security technology, which includes more than 200 security cameras, a video management system (VMS) and an access control system. The department wanted to limit additional replacement or hardware costs, while being able to scale the technology in the future.
Ultimately, the organization chose a subscription artificial intelligence (AI)-based analytics platform called Scylla that wouldn't require the Fair's Police Department to replace any cameras or their current VMS. "It made sense because Scylla integrated with what we have. We can also have easy, quick access to our cameras and monitoring through a single pane of glass, which is really important when it comes to having our officers respond to incidents in near real-time," Mollenhauer says.
"It's like having 200 additional sets of eyes on the ground because the analytics are watching for possible threats all the time," Jones says.
The software watches existing video streams for objects, actions or behavioral anomalies identified as threats. This includes guns, fights, intruders, troubling behaviors and slips and falls. The platform can also use technology to pinpoint people previously identified as a threat to public safety and then can send alerts through the browser-based dashboard, as well as via email and through a mobile app, notifying police and security staff in real time when a threat is identified. A cloud relay server provides push notification of Scylla's mobile app notification solution to both iOS and Android devices.
In the event a weapon or fight is detected on any camera throughout the premises, Iowa State Fair police and partnering agencies can be sent an alert and video clip for review and action. Further, once a threat is detected, the analytics utilizes an asset tracking feature to follow the threat as it moves, even if a person with a weapon drops the weapon or tries to blend in with the crowd.
The analytics software was installed about a month before the 2021 Iowa State Fair, and the Fair's Police Department has since had several opportunities to put the platform to the test. "One small example is we have vendors out there selling children's toy guns, and the software alerted us right away to those as possible threats. We look at those incidents as confidence builders to know the system is working; it's watching and tracking all kinds of potential threats, should they present themselves," Jones adds.
In another case during last year's Fair, the Department of Public Safety's communications and operating center received an alert from the analytics about a crowd running in the same direction at once. Not uncommon, reports of large groups of kids or young adults creating an incident such as mass running are prevalent in outdoor events across the country and pose an obvious potential safety issue that could escalate. The alert during the Fair allowed the security team to get a response on the grounds right away.
"We rely on these analytics, and they've been very beneficial to us to pinpoint incidents such as this and allow us to interact with or break up a crowd before something occurs," Mollenhauer says.
Another way the team has found the AI-based platform to be beneficial is with its "Kid Find" program, which helps find lost children as well as lost elderly. Parents or caregivers are encouraged to take a picture of their children or elderly family member before entering the Fair to capture their likeness and what they are wearing. They can also pick up bracelets at multiple locations on the grounds with identifiable information such as name and phone number. In the event that someone gets lost, caregivers can text or email the image to the police department, and the analytics platform will perform a search.
With one Fair under the new platform's belt, Mollenhauer and Jones are looking forward to even better performance in 2022 and into the future as the deep learning neural network that Scylla is based on continues to improve over time.
"We are going to tap into as much as this platform will provide," Mollenhauer says. "It just increases our abilities to detect any number of dangers that could cause public safety issues, like unruly crowds, vandalism, theft or violence. We've seen the benefits and look forward to what the future holds. Safety is our top priority, and any tool that we can use to improve our ability to keep people safe during the Fair or other events on the fairgrounds is a critical investment."