How is healthcare industry security changing? The evolving demographics of the average emergency room population, in addition to an increased focus on workplace violence, are impacting the security department's role within a hospital or healthcare system.
These 30 "most popular voices in healthcare security" are moving the industry forward with both online and offline contributions to the national healthcare security conversation. So what do these leaders have to say about the state of healthcare security today?
Click here to view the whole infographic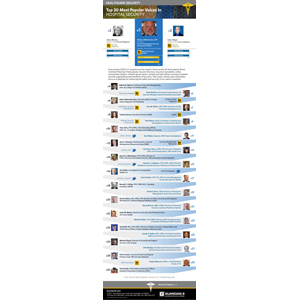 Says David LaRose, MS, CHPA, CPP, 2015 IAHSS President and Director of Safety, Security and Emergency Management for Lakeland Regional Medical Center:  "I believe healthcare is a unique melting-pot community of its own.  Although many of the programs mentioned above can be and are commonly used in healthcare security and safety to great success…there are immense differences present every day.  Consider how many occupations on a daily basis deal with every aspect of humanity encompassing every social and economic range, every cultural diversity spectrum…and to raise the intensity, throw in every human emotion at any given moment of the aggression cycle…and now I believe you have healthcare! What a remarkable, challenging and yet rewarding nub of its own."
According to Lisa Pryse Terry, CHPA, CPP, Director of Hospital Police and Transportation for UNC Healthcare: "In my years of experience in law enforcement and healthcare security, I have seen extraordinary growth and witnessed unfathomable changes within healthcare and the role played by security. I have seen the job of healthcare security professionals evolve from guards in the shadows to highly valued members of the healthcare team. Security guards were once considered nice to have, and their role extended to handing out visitor passes and relieving switchboard operators. But today's healthcare security professionals are not only highly respected, they have also become a vital and necessary member of the clinical team. Competency levels, advanced training, educational degrees, professionalism, certifications, and healthcare-specific experience are shining a new light on the profession. Healthcare security professionals manage with data and metrics, evaluate and remediate based on historical events, utilize valuable information collected through comprehensive threat assessments, collaborate with regulatory agencies, and refine proactive violence prevention plans to contribute to a safe, secure environment for people to work and for patients to heal.
 "The hospitals of tomorrow face tremendous challenges. And healthcare security professionals will work right alongside them as we create a new patient experience together: One that is built on trust, compassion, collaboration, and a better way to heal. The increased pressure on hospitals to reduce operational costs and improve patient outcomes is supported by the healthcare security professional. Security officers can positively impact patient experience by assuming an enhanced role and collaborating with the clinical team. Maintaining a calm waiting room when wait times are longer is one highly valued role of security. De-escalation, early intervention, crisis intervention, and other techniques enable officers to positively reduce interruptions and challenges for the clinical and administrative teams."
LaRose adds: "Healthcare security will need to work smarter, more efficient and more productive with limited staffing and budgetary resources.  A solid integration of appropriate technology with competent and skilled security officer staff will be the key to success.  Security directors need to make sure they are aligned with the healthcare-system mission, corporate strategies and objectives. The security department must continually come to the table not only as the subject matter expert, but as a key stakeholder for system-wide safety and security success."
In addition, hospital budgets are facing more cuts, especially as a result of the recession and the Affordable Care Act. While security departments might be downsized or cut due to budgetary reasons, it's imperative that security leadership do everything possible to demonstrate their department's value to the C-Suite to avoid being categorized as a mere cost-center instead of a business partner.
According to John White, CPP, CHPA, the President, CEO and independent security consultant for Protection Management, LLC, "We also saw in some cases where security departments were cut because their value was not well documented throughout the organization. What I am referring to is the fact that security management was not tracking their progress and proving their value to the organization.
"In one case I had a medical center Chief Operating Officer (COO) tell me that he had no idea why he was spending over a million dollars each year on security because they had no security issues to speak of. The fact of the matter was that there were plenty of security issues but security management was managing them exceptionally well, but they were not keeping the administration informed of that fact. Therefore, the administrators did not realize the true value in the existing security program.
"It is all about Return on Investment (ROI), and if a healthcare security manager is not tracking their security incidents and keeping administrators informed in some manner, the C-Suite may believe that there are opportunities to reduce the security budget," White adds. "From my perspective I would say that in order for security to compete internally for budget dollars into the future they must insure that their program has a firm understanding of ROI, and is able to show how their department is properly managing risks and vulnerabilities and bringing value to the organization. Just to say that your hospital needs security is not enough, you need to prove the value of your program to the organization's long term goals."
According to Bryan Warren, MBA, CHPA, Director of Corporate Security for Carolinas Health System, "(Workplace violence) issues at hospitals will continue to remain constant until healthcare administrators, regulatory agencies and those that provide accreditation to healthcare facilities begin to take healthcare security seriously and recognize it as a legitimate profession with its own unique issues and separate it from the generic 'ancillary services / non-clinical' paradigm that it has been relegated to. Healthcare security does not typically generate revenue, but a solid proactive security program can provide enormous tangible and intangible value to the healthcare organization if given the proper support.
"Continued increases in the long term boarding of behavioral health patients in Emergency Departments, ever growing issues with criminal activities taking place on hospital property such as active shooter events and the increasing marginalization of security as short sighted attempts at cost savings are all issues that we will continue to face as an industry and consequences of which our patients will be forced to endure. Making broad decisions made without the required subject matter expertise to accurately predict their probable outcomes is simply poor management, regardless of the profession."
 Evolve!, sponsored by Guardian8, built the list based on extensive research from online and offline popularity of the individuals on the list, including Web presences, articles authored, LinkedIn discussion participations, input from a hospital security survey and more. For more influencers to follow, please check out the Guardian8 blog with the 50 most popular voices in healthcare security.