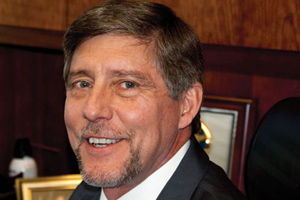 Phil Hopkins, Vice President Global Security for Western Union, has a successful background in the public and private sectors. To what does he attribute his success, and what are the qualities that make him successful, including his relationship with his CEO? 
How did your career in security begin? Why did you decide upon this profession?
The security field intrigued me at a young age. My friend's father was a federal agent in the Treasury Department, and I thought it would be an interesting career for me to pursue. I attended Auburn University and majored in criminal justice. After graduating I began my career as a police officer in Gwinnett County, Georgia, before becoming a Special Agent with the United States Secret Service. After serving 20 years as a federal agent, a former supervisor offered me an opportunity to begin a career in the private sector. I was fortunate to have someone whom I respected and trusted to assist me with the transition from federal law enforcement to working in the private sector.
How did your previous background prepare you for working in the private sector?
It was an honor and a privilege to have a 20-year career with the Secret Service. Working in a dual-mission agency required me to adapt to working in a constantly changing environment. This experience certainly helped with the transition to the private sector, where things can happen very quickly as well. One of my CEO's favorite sayings is "You must be comfortable with being uncomfortable." Time spent with the Secret Service taught me that in order to be successful you must be able to work with local, state and federal law enforcement as well as private-sector security organizations. In the Western Union security organization, this same principle applies; you must be able to adapt and work closely with various business partners to be successful. In law enforcement you learn to how to control various situations. However, in the private sector, you learn it is not all about control but about influencing. Working well together and building partnerships is a key to success.
What will be your greatest challenge this year in your role?
An area of opportunity for me and my team this year is executing a more global strategy. This will place us in a better position to be considered a true business partner and allow for greater engagement at the Executive level. We will be shifting from reactive-type thinking to a new model that better reflects a proactive global risk identification and management approach. We are rethinking how we support, protect and enhance the Western Union brand. Gaining the support needed to continue building a mature global security program will allow us to better support our business strategy.            
Whom in your organization do you take the time to interact with, and why?
I spend most of my time working with our compliance and new fraud risk team on consumer fraud prevention. Our company, like most in the financial sector, is spending both time and money finding ways to mitigate criminal activity in the system. We work closely with our global monitoring and intelligence team and the real-time risk assessment team to ensure we are exchanging relevant information in a timely manner. We assist the fraud risk team in taking the lead with the overall consumer fraud prevention strategy.  Time is also spent with our Government Relations team providing them with current information on consumer protection efforts and law enforcement outreach activity. Increased interaction with these teams led to a significant decrease in company consumer fraud payouts in 2012.         
What qualities do you have that you believe make you a leader?
Twenty years with the Secret Service instilled their motto "Worthy of Trust and Confidence" in me, which I believe in and live by every day. Executives must have trust in me and I must trust my employees. Once hiring good people, you must  allow them to do their jobs, empower them to make decisions and make sure they are not afraid to make a mistake.  I  believe in creating an environment where my employees are free to express new ideas;  taking initiative in looking for new and better ways to execute our strategy. Ensuring my employees have a balance between work and their personal lives is critical. Other qualities I strongly believe in are integrity, credibility and respect. You earn these by your actions. 
What keeps you up at night?
As with most security executives, the safety of our employees is a top concern. Western Union is truly a global company with employees working and traveling all over the world.  Being prepared to respond in a crisis situation, where employees may be in danger, is of the upmost importance.
What do you like to do in your free time?
I enjoy hiking with my wife and German Shepherds, golfing with friends and watching Auburn football.  
This article was previously published in the print magazine as "Worthy of Trust and Confidence."