Global security is a huge market and industry analysts expect it to grow significantly over the next decade. There is no doubt about the many career possibilities for security professionals. There is also no doubt that you will face tough competition for the best positions.
A degree – a relevant, respected degree – could mean the difference between a great or mediocre career.
So how can a working professional possibly add pursuing a degree to a schedule already packed with long, irregular hours, travel and more? Online learning is today's best answer. The flexible, portable format is a good fit for working adults and others.
American Military University's offerings are an example of online learning. The university serves more than 20,000 adult learners worldwide. Its security management program is one of the university's top 10 programs.

THE VIRTUAL CLASSROOM
The crux of such programs is the virtual classroom.
When a student logs in – whenever and wherever it is convenient for them -- they receive much of the same information presented in a traditional classroom, such as a course syllabus, expectations, schedules and assignments. Throughout the course, which is eight or 16 weeks long, the professor guides the community of students with weekly lecture notes and assignments. The dynamic learning process is enriched with such tools as videos, chatrooms and more. Students can link to industry-specific Web sites and participate in group projects.
A main classroom component is the course discussion board. In the security program, online discussions address a wide range of topics, including risk/vulnerability/threat assessment, aviation security, IT security and more. The online discussion helps students hone their critical thinking and analytical skills – and learn from other professionals in the classroom.
Students also have access to a variety of research and other support services. When considering such virtual classrooms, it is also important to understand the depth and availability of online libraries. For example, AMU's online library comes complete with research librarians. Students have access to thousands of electronic books and more than 12,000 leading journals and databases as well as research tutorials. Academic department portals provide tailored links to advanced research sites and other information. Such an online tutoring center provides an expert to help students improve writing skills and offers feedback on papers and assignments.
A dedicated technical support team for those who might need help downloading an assignment or accessing a discussion forum is also essential.
A student home page should provide many other resources as well, such as information regarding registration deadlines and access to important forms like credit transfers. Students should also be able to set up a personalized degree path and check their progress.
SECURITY FOCUS
Online security programs offer other important advantages. On this campus, professors include many retired military and governmental service experts and practicing, certified professionals. They understand the harsh realities of today's security environment. AMU's program is also a standalone degree; not one buried in another discipline. It has been designed from the "ground up" to meet the demands of today's security environment. Professors are often willing to serve as mentors as well, even after a student graduates. They can be lifelong "sounding boards" and offer advice on networking, career planning and more.
The security industry today requires security professionals with specific, advanced training as well as broad-based educational experience. They must be well-read, cognizant of world affairs and comfortable managing complex security operations. The right degree can go a long way toward meeting those demands and earning long-term career success.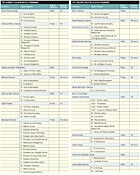 SIDEBAR: Check Out These Security-related Degree Programs
In June, Security Magazine published the first-ever list of colleges, universities and trade schools that offer degree programs in security and related topics. Since then, the editors received response from numerous alumni suggesting their institutions be listed. What follows is an update of that June list.