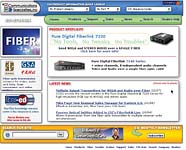 CSI Launches Redesigned Website
Last December, Hauppauge, N.Y.-based Communications Specialties Inc. (CSI) unveiled a fully redesigned and updated website, further enhancing its online accessibility to customers, dealers and distributors. The site's home page now features drop-down menus and a search engine make it easier for users to find what they are looking for. CAD drawings of CSI products are also available on the site. Visit www.commspecial.com.
Indala Does It Again
San Jose, Calif.-based Indala Corp. an industry leading manufacturer of contact and contactless cards, tags, readers and core electronics modules for physical and logical access control, achieved record growth in 2004 for the second consecutive year. Joe Grillo, chief executive officer of Indala parent company, Identification Technology Group (ITG), and Marc Freundlich, Indala president, made the announcement during a town-hall employee meeting at the company's San Jose headquarters.
Grillo credited the company's growth to a number of factors: "First and foremost, Indala's experienced staff is truly dedicated to customer needs and is backed by an innovative management team," he said. "This year Indala launched several successful products in the traditional proximity product line and developed unique identification solutions to support the growing demand for logical access-control solutions for companies such as Microsoft and Procter & Gamble."


Container Security White Paper
Sunnyvale, Calif.-based RAE Systems has a white paper detailing the results of a series of container security device tests conducted at sea during October and November 2004.
Central to the trials was RAE Systems' RAEWatch, a wireless sensor bundle, designed to be permanently installed in containers for end-to-end supply chain logistics with IEEE 802.15.4 compliant architecture. To download the white paper, visit www.raesystems.com or send an e-mail request to raesales@raesystems.com.