Digital Shadows released new research into the movement of cybercriminal marketplaces with a feature on Genesis market. According to the Digital Shadows Photon Research Team, Genesis is a high-profile and trusted repository of digital fingerprints that has grown in popularity since it was launched in beta in 2017. In 2020, Genesis commanded 65% of mentions across criminal forums for fingerprinting services. While other markets have come and gone, Genesis continues to endure and has grown year-on-year. In the last two months alone, more than 5,000 new listings have been added to Genesis, bringing the total number of listings to more than 350,000.
Genesis, says Digital Shadows researchers, is a fully-gated invitation-only, English-language automated vending cart (AVC) site focused on the sale of digital fingerprints relating to a (victim) user's computer, browser, and accounts on websites and services, existing on both the dark web and the clear web since around 2017. 
The fingerprints include information bout a victim's account, including username and password, but also other identifiers such as browser cookies, IP addresses, user-agent strings, and other operating system details. Wannabe fraudsters would previously have to source these bits separately, until Genesis came along, says Digital Shadows, and cybercriminals are using these fingerprints to extrapolate account login details, bank access credentials, or bypass anti-fraud solutions either for personal exploitation or to sell on for financial gain. 
Genesis Market has 374,401 bot listings from 218 countries across the world. In the chart below, we've pulled out the counts for the most common countries. We have omitted countries with less than 1,000 bots.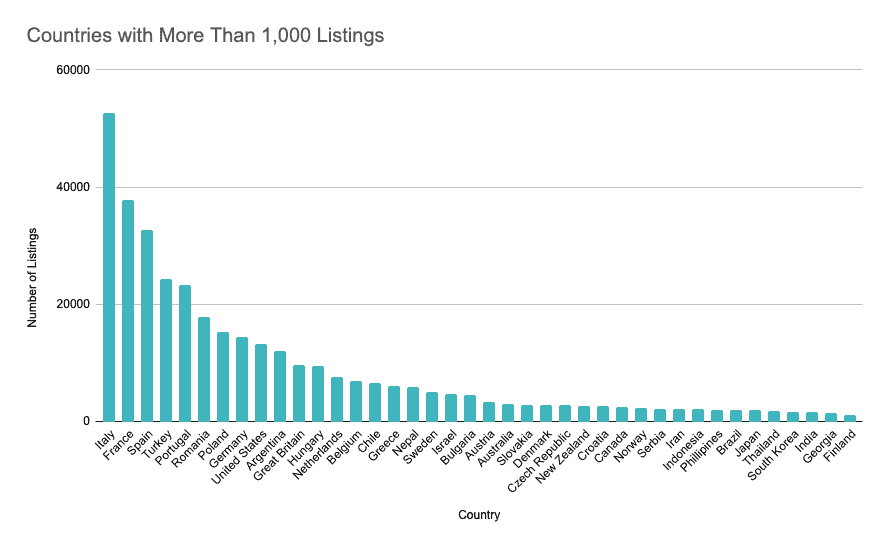 "The United States and the United Kingdom were among the usual suspects with 13,000 and 10,000 listings respectively. Somewhat surprisingly, Italy (52,686) and France (37,857) had the highest count of bots for rent. Either way, this is a truly global concern," say the researchers. "Top prices show a slightly different story, with bots from the United States commanding the highest price–up to $287 in some instances. The price varies by login type, too. Those with banking and email logins tend to reach higher prices than other technologies. Windows 10 appears to be the most popular operating system."
For the full blog and more information, please visit https://www.digitalshadows.com/blog-and-research/the-technology-adoption-lifecycle-of-genesis-market/