The new training center and corporate headquarters for the NBA's Detroit Pistons, the Performance Center, boasts a state-of-the-art security operations center (SOC) to assure 24/7 safety and security. The 185,000 square-foot Detroit Pistons Performance Center is the largest of its kind in the NBA and the SOC provides video surveillance coverage throughout the facility and all perimeter zones.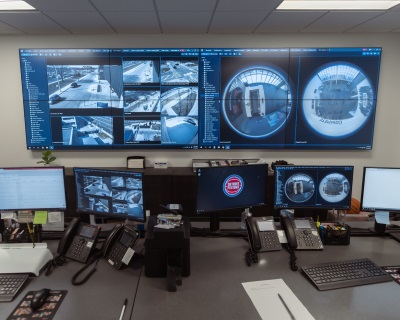 On the SOC's walls, to provide operator's with around the clock situational awareness and 4K image quality is a MediaWall V processor, which receives inputs from access control systems, IP surveillance cameras, a Video Management System (VMS), HDTV feeds, an intrusion detection system, and multiple computers.
The processor consolidates the various sources and displays them in windows on the Performance Center's video wall. Operators can switch input sources and choose from up to 60 customizable, preset display layouts at any time. They can also pan and zoom to view items of particular interest. 
The result is that critical visuals and data are centralized in a correlated view to enhance situational awareness, incident assessment, and threat analysis.
For operator control, the SOC utilizes RGB Spectrum's MCMS Express, a control room management system designed for collaborative work environments. Three MCMS control stations allow operators to share and control the VMS, surveillance
Image courtesy of Detroit Pistons Performance Center
cameras, access control system and all other functions using its unified keyboard/mouse (KVM) system. MCMS provides operators with a graphical and intuitive control interface featuring live thumbnails and drag-and-drop capabilities.
The project was implemented by integrator Identify Inc. with security consultant and engineering firm Ross & Baruzzini.