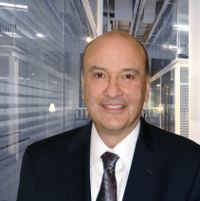 Frank De Fina in May 2013, Photo courtesy of Samsung
Frank De Fina, Executive Vice President, North America, for Samsung Techwin America, announced today that he is leaving the company.
De Fina joined Samsung in 2010, and during his tenure, he has built a strong team to grow the company's security brand and credibility within the security space. Samsung's business has grown upward of 75 percent since last year, he says.
"I'm leaving the company in much better shape than when I found it," De Fina says. He gave much of the credit to his leadership team within the company as well.
Over the past five years, De Fina has seen some strong changes within the security industry, including a shift in who is the decision-maker – more IT professionals, and fewer former law enforcement professionals are becoming lead security executives.
Moving forward, De Fina says he expects to see security architects and engineers continue to be deeply involved in new installations, especially when it comes to increasingly sophisticated security systems.
The departure is amicable, and for personal reasons. De Fina is not retiring, but will be moving to a consulting capacity instead.
"I still love the industry, still study the industry, hopefully I can still be of use," De Fina jokes.
His replacement has not yet been announced.