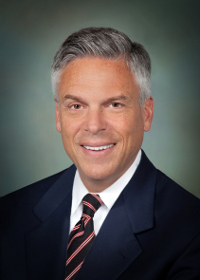 Jon Huntsman, Jr. -- Photo courtesy of ASIS International
Jon Huntsman, Jr., governor of Utah (2005-2009) and a candidate for the 2012 Republican Presidential nomination, will be a keynote speaker at the ASIS International 60th Annual Seminar and Exhibits (ASIS 2014) on Tuesday, Sept. 30, 2014 at the Georgia World Congress Center, in Atlanta, Ga. 
More than 20,000 global security professionals from both the operational and cyber security disciplines are anticipated to attend this year's event, which will be held Sept. 29–Oct 2. On the agenda – in addition to the keynote addresses – will be a comprehensive education program, networking events, and an exhibit floor that features a wide range of security products and services.
Huntsman served under four U.S. presidents in many critical roles around the world, among them ambassador to Singapore and most recently U.S. ambassador to China. The keynote address is open to all attendees.
"From his global expertise in trade to his economic successes in Utah, Huntsman has a wealth of relevant insight to share with the security industry," said ASIS President Richard E. Widup, Jr., CPP. "It is truly an honor to welcome him to ASIS 2014."
Huntsman has been widely praised for his business acumen, trade negotiations, and leadership at home and abroad. Having served as U.S. trade ambassador and deputy assistant secretary of commerce for Asia, he is well versed in the challenges and opportunities of the global marketplace. As a twice-elected governor of Utah, he brought about strong economic reforms, tripled the state's rainy day fund, and helped bring unemployment rates to historic lows.
Huntsman now serves on the board of Ford Motor Company, Caterpillar Corporation, and several other organizations.
Once again, the (ISC)2 Security Congress will be co-located with the Annual Seminar and Exhibits. ASIS is the leading organization for security professionals, with more than 38,000 members worldwide. (ISC)2 is the largest not-for-profit membership body of certified information security professionals worldwide.
More than 200 educational sessions will be presented at ASIS 2014 and the ASIS exhibits will feature more than 650 companies demonstrating cutting-edge innovations, products, and services to support the security industry worldwide.
Visit www.securityexpo.org for complete registration and housing details, as well as the most up-to-date information on ASIS 2014.