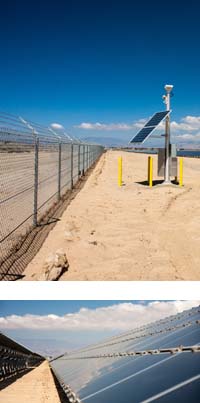 Alternative energy, especially solar, is remotely sited and vulnerable to vandalism and theft. So technology is unique and includes thermal cameras, remote video monitoring and on-site solar panels to power the cameras and image transmission. Photos courtesy of IASG
Oil and natural gas pipelines. Electric transmission towers. Drinking water reservoirs.
They are critical infrastructures but most often are protected by traditional security solutions.
Alternative energy sources, however, often call for different methods of security.
Take, for example, those solar panel farms. "They are typically sited in isolated geographic areas with little or no ambient lighting. They are highly vulnerable to vandalism, theft and terrorism," says Michael Bennett of American Integrated Security Group (IASG), College Point, N.Y. The firm "secures two out of every three megawatts of power generated through solar in North America," points out Bennett.
These farms are "very remote sites. Some are 20 miles from even a slightly urban area." So such enterprises demand rapid response, immediate notification upon incursion; and "they hate spending money using energy to secure" their energy-making businesses.
IASG has its own dedicated central station for remote video monitoring. It depends on thermal video, Internet connections, microwave, DSL commercial and cable as well as satellite broadband. "Alarm management is itself critical so we use metrics to determine if video or sensors show real behavior" instead of false alarms, adds Bennett. There can be voice warnings or strobe lights for on-site deterrence.