Hold it. Don't open that award envelope yet.
It seems that enterprise security leaders and integrators vary on some of the criteria for klieg light treatment of video management software and systems.
While end users and tech experts share common elements of a winning VMS, each looks at things from a distinct perspective, often based on the type of business, goals and complexity of the facility.
For instance, Paul Sarnese, system safety director for Virtua, Facilities Services in Marlton N.J., points out that several of his facilities are geographically spread out. "But we wanted all the facilities and corporate offices on one single video management platform."
The key to his VMS is that it is "intuitive, and training is quick and easy." He can also set user rights to view based on location and staffer, and there is the ability to share video clips in emails. "There is mapping capability with CAD files right in the software and, therefore, icons can display on location maps." There is also audit trail based on use of the cameras.
Web Friendly
A Web connection comes in handy, adds Sarnese. "We can connect in from anywhere and manage our system remotely." He suggests a next phase will be mobile apps for more functionality. Basically, "we went with open architecture," realizing that "not every VMS will work with every camera."
What makes a "winning" VMS for Sarnese? "We sole source to one integrator," who knows his culture, unique needs, IT requirements and existing equipment. "When it comes down to using the system, two things – user-friendliness and intuitiveness for our front-line staff" — are what count.
Agreeing with Sarnese, Jessica Clark, who is executive vice president of STS 360, a Plano, Texas, consultant and systems integrator, says, "A winning VMS is very easily identified; it's a non-proprietary system that is considered a valuable tool, not a laborious task to use or maintain, or it will never be fully adopted in an organization and employed to its potential."
She adds that it must be easy to use and navigate. For the administrator, basic administrative functionalities such as credentialing users must be able to be done on the fly or settings created in a batch, but still have a great deal of depth.
Point-and-Click
Darryl Bosak's take on a winning VMS: "From my end user's perspective, we're not dealing with technical people, so the entire Ottumwa Police Department appreciated a point-and-click solution. The user interface offers a simplified solution, but with a level of professionalism, quality and reliability required to serve and protect the city." Bosak is vice president of operations with Current Technologies Corporation, the Chicago-based integrator.
Open standards is an open-and-shut case for Perry Levine, director of business development – product portfolio for Siemens Industry, Inc. "The ability to support open standards, and not lock [anyone] into a proprietary solution for the VMS software, storage or end devices are key to have a winning solution." Levine emphasizes that "support of open standards and interoperability to the other existing subsystems such as access control are critical."
Beyond the common VMS elements, there are differences in the application details.
Responsible for the safety of more than 25,000 residents, the Ottumwa Police Department installed Milestone XProtect Enterprise video management software and 32 Axis network cameras to monitor the city streets, improving overall safety for residents. The VMS provides a user interface that is quickly learned and easily navigated by the dispatchers and 911 operators. The police now monitor live feeds and review recorded HD video archived up to 30 days for evidence.
Interoperability
The open platform software supports large numbers and many different brands of IP cameras over a wireless LAN network to power the system's networking abilities, which helped to ensure current and future surveillance needs could be met.
From the police station, administrators assigned to operate the software have the ability to control the cameras' images in real-time: to zoom in on an event, face or license plate, take screen "snapshots" for fast evidence, to move the cameras a full 360 degrees or to change the immediate views to other cameras in an instant.
For the Ottumwa application, there also is a privacy twist.
An initial perception "was that government officials would have unlimited access to the cameras, abuse the system and infringe on Ottumwa's citizens' rights," says Ottumwa Police Chief Jim Clark. "After many cases where the video led to more arrests and a decreased crime rate overall, residents realized we are not looking through their windows: the cameras are strictly used for crime-related surveillance and prosecution."
Ottumwa PD uses the recorded evidence to publicize convictions from the surveillance project, reinforcing use of the security solution and providing positive feedback to the community. Realizing more advantages of the VMS, police upload screen shots of suspects to the city's Facebook page or email photos to residents to help identify criminals, vehicles or other information.   
Single Command and Control
Says Levine, "It is good to be able to go directly to a camera in a small system: but, when there are multiple cameras with multiple IP addresses, it is much more effective to have the ability to view from a single focal point such as the VMS."
Jessica Clark adds, "What is important to the basic video surveillance system user is first and foremost the ease of navigating the GUI, and in a way that empowers them to use the system effectively and efficiently. If a system is a well laid out, stress-free and intuitive, a user will immediately adopt it as a valuable tool. If it's arduous and burdensome, the effectiveness and ROI is moot by the very fact that the user will not want to use the system, if they can avoid it."   
This article was previously published in the print magazine as "And the VMS Winner Is…"
---
Support Role for Winning VMS: It's the Camera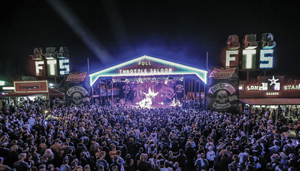 To hinder underage drinkers, security viewing images on the surveillance platform can note potential underagers and alert on-the-floor staff to take action before a purchase is made. Photo courtesy of IQinVision
Security cameras make it safer for television cameras to capture real-life antics at the Full Throttle Saloon in Sturgis, S.D., scene of the self-named hit documentary on TruTV.
With some 50,000 daily visitors, the saloon is the epicentre of the annual Sturgis Motorcycle Rally. "Each year, the Sturgis Rally grows in popularity and with that popularity comes more customers, new challenges and more excitement," notes Saloon owner Michael Ballard. "Sometimes people aren't enough to get the job done efficiently, and you need a little help from technology."
That's where Chris Donahue and Eric Soluri, security directors for the saloon, turned to high-definition megapixel IP security and surveillance cameras. "The tools we have allow us to leverage our manpower where it's needed for crowd control purposes, general traffic management and asset protection.  Without our 'eye in the sky,' as we like to call it, we wouldn't be able to do our jobs effectively," adds Donahue.
The Full Throttle has a mix of cameras located throughout the buildings and grounds. Of particular interest are areas where cash is counted and stored. In addition to keeping an eye on cash and assets, the team's surveillance technicians located in the properties' security control room keep a close eye on the crowd.
When there is an incident, security staff members are instructed to move involved parties into the direct view of the property's cameras. "We want to have crystal clear evidence in cases where any claim against the property, staff or another person, was to arise.  The high resolution camera assets serve a dual purpose for our venue, first a deterrent and second a non-refutable source of documentation," observes Soluri.
Donahue recounted an incident involving an individual who was suffering from dehydration and heat exhaustion. "Our surveillance technicians observed an individual who was laying his head on the bar. After zooming in on the image, enhancing the quality, the surveillance technicians determined that the individual was perspiring more than expected. They continued to observe his eyes and confirmed he was in distress. After dispatching ground security forces, the individual was rushed by ambulance to Sturgis Medical Center where he was treated…The case was severe, but our surveillance technicians were able to quickly dispatch the right teams to the scene to resolve the issue and get the individual the medical attention he needed."
For MGM's Security Director Ted Whiting, unique 360-degree technology "is a key to surveillance success at Aria," the Las Vegas resort and casino.
For years, Whiting had been studying how cheats operate. Whiting needed a way to track a criminal until he could capture a face on camera. At the Aria, he introduced 360-degree cameras.
"Video coverage is it. Without the coverage, all you have is 'I said you did it,'" says Whiting. The cameras offer a 360-degree field of view capable of spotting a cheat from across the gaming floor at one vantage point and tracking him or her through to a choke point, or narrow pathway. At those choke points, high definition cameras capture the cheat's face on video.   What's more, the 360-degree recorded video allows Whiting and his team to track a criminal back in time, which can help determine identity.
Whiting manages a surveillance system of more than 1,100 cameras in the casino, including 35 choke-point cameras and 50 360-degree cameras. He used one 360-degree camera to replace what would have been four or five pan-tilt-zoom cameras; the new solution is not only more cost-efficient, but also, with no blind spots, offers total situational awareness, according to the security director.ct that the user will not want to use the system, if they can avoid it."