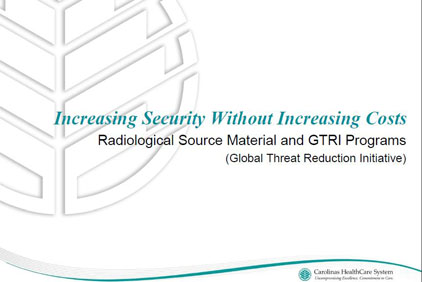 The Reducing Global Threats in Hospitals and Medical Centers Webinar focuses on one of the nation's largest healthcare companies going through the federally funded process of upgrading its facilities to prevent threats against unauthorized access to nuclear and radiological materials. 
The Carolinas HealthCare System has more than 650 locations throughout North and South Carolina, including academic medical centers, hospitals, healthcare pavilions, physician practices, destination centers, surgical and rehabilitation centers, home health agencies, nursing homes, and hospice and palliative care. With so many locations, and more than 48,000 employees, the company takes its responsibility to protect vulnerable materials at its sites very seriously.
In this webinar, Reducing Global Threats in Hospitals and Medical Centers, Bryan Warren, director of corporate security at Carolinas HealthCare System, discusses a program that some healthcare companies in the U.S. know nothing about or have not yet taken advantage of: the Global Threat Reduction Initiative (GTRI) program.
The GTRI program is a grant-funded process that offers facilities with at-risk materials, including nuclear and radiological materials, security enhancements and training to prevent and detect unauthorized actions, such as theft, unauthorized access or terrorist activities. The program provides facilities with free security assessments; upgrades to security such as biometric access controls, iris scanners, alarms and video monitoring; and training of local law enforcement on how to respond to situations such as attempted theft of materials.
Since 2004, more than 40 countries and 960 sites have taken proper security measures to upgrade their facilities and protect them from theft and sabotage. Unfortunately, so far only about 15% of hospitals in the U.S. have upgraded their facilities to GTRI standards, according to Warren. This is where the National Nuclear Security Administration's (NNSA) GTRI program comes into play.
During the webinar, Warren takes listeners through the specifics of the GTRI process, including what security equipment is included and where security integrators fit into the installation process. Listeners will learn how they can apply for the grants, how long the process takes, and what to expect along the way.
A knowledgeable Warren also tackles listener questions at the end of the webinar, which cover different training scenarios as part of the GTRI process, resources and links to find out more information, and obstacles that his company ran into when trying to implement the program—which they have done successfully three times over the last several years.