Industry Innovations
Enables View Changes without Lens Changes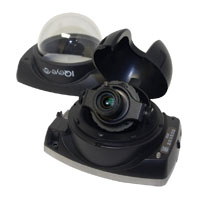 When you want to change a camera's position, field of view or area of interest, you typically have to either adjust or change lenses. With this H.264 mini-varifocal lens and large objective lens element, edge resolution is improved while enabling larger FOV without changing lenses. This eradicates the need to purchase multiple backup lens options. The tiny camera's power over Ethernet design saves time and money for installation and maintenance.
Find out more at www.iqeye.com


I want to hear from you. Tell me how we can improve.