Industry Innovations
Offers Alerts in High-Risk Workplaces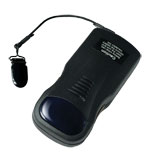 Within dangerous environments such as prisons or isolated stations, security officers may face violent situations without backup. Here's one possible solution: this holster-worn call transmitter that delivers wireless monitoring and tracking of lone workers, security officers and security personnel who may be vulnerable to attack or injury. The Active RFID tag delivers real-time location data identifying the individual in trouble and the location of the incident. An onboard tilt switch and pull cord enable automatic alarming when the staff member is knocked down or if the unit is grabbed by force.
Find out more at www.elpas.com


I want to hear from you. Tell me how we can improve.