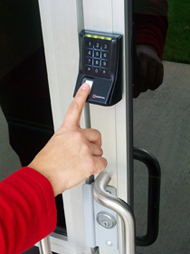 Retail, banking and convenience store sectors face unique challenges, making reliability and affordability of an access control system paramount.
Today's physical access control systems offer a greater level of security, convenience and accountability than ever before. Despite an industry wide trend toward greater sophistication, most systems still rely on legacy platforms that require a dedicated workstation or server in each location. And, since the scope of legacy platforms ranges from one door to hundreds of doors, there is usually a substantial range in price and complexity.
Retail, banking and convenience store sectors face the unique challenges of high employee turnover, "floating" employees, internal fraud/shrinkage, and cost center for key/lock/card management and, therefore, it is easy to see the importance of a reliable and affordable access system. A member of the Kaba Group, e-DATA and its Linux-embedded, IP-based platform and optional fingerprint biometrics, can help the retail sector with its needs.
With e-DATA, access control works with any IT infrastructure or resides securely on the WAN. Users manage their locations' access system from any Web-enabled device or browser, without the need for external servers or software installations. Traditional client/server systems rely on a local host and local software management for any access control changes.
Because e-DATA products feature an embedded Web server/software and data is stored in the control panel, the reduced total cost of ownership is an advantage. Benefits include:
no PC or server cost up front, and no server replacement cost 3 to 5 years later;
no database licensing cost;
no client software installation/seat licensing costs;
no e-DATA annual maintenance cost;
no software updates;
no Windows upgrade or migrating issues between operating systems – and no virus issues;
and no moving parts.
In today's challenging economy, cost does play a role. The estimated MSRP of a new legacy system controlling 20 doors is $29,000. Controlling 20 doors using e-DATA's system is $11,000, plus labor, power and locking hardware for both scenarios.  The company's advantages stretch to the networking/installation side as well:
Few components mean installation is simple and environmentally friendly
GUI is intuitive and easy to operate
Scalable over multi-sites with .NET support
Features open architecture
Supports standard card readers, plus e-DATA's fingerprint biometric readers