That is, if it works.
At 2:00 pm one day last November, the U.S. Department of Homeland Security and the Federal Communications Commission held a first-ever nationwide test of the Emergency Alert System. The plan was that all publicly-accessible television and radio stations would run the announcement.
Well, if a test is, among other things, supposed to show what could go wrong for later correction, this test proved a valuable failure.
There were problems in numerous cities. Some citizens never saw or heard the alert. In some places, audio was distorted. Lady Gaga sang "Paparazzi" in some reported examples.
Less than a month later, alerts were broadcast quickly and updated effectively just minutes after the tragic and fatal shooting of a Virginia Tech police officer on campus. Administrators there continue to improve the university's emergency notification system and its protocol. In a first Twitter message, the school reported: "Gun shots reported- Coliseum Parking lot. Stay inside. Secure doors. Emergency personnel responding. Call 911 for help."
So one primary element of success is a multiple channel system which provides necessary redundancy. At any given time, one form of communications might be more successful in reaching stakeholders than another, states Michael Mulhare, the university's director of the office of emergency management.
Enterprise security leaders can learn from both the national alert test failure and the success of the Virginia Tech system. Always test; and get the word out in diverse ways. Still, there are other choices and decisions, not the least of which is to go it yourself or go with a hosted service.
Hosted Versus Do It Yourself
Since mass notification is often complex, some enterprises may choose a completely outsourced, externally-hosted solution. There are benefits in such an approach: low initial cost, faster implementation, and flexible scalability. There are potential drawbacks: higher total cost of ownership and inability to customize or integrate with contact lists inside a firewall, to name two.
Then there is the overarching solution, some say the Big Brother answer.
Contained within the federal Safe Port Act of 2006, which created the Transportation Worker Identification Card or TWIC, is a plan to bring together the federal government, cellular telephone makers and wireless carriers in an effort to turn all cell phones into an emergency alert system in which the government can send out messages nationwide or by specific location.
There are private sector ventures, of course. In Japan, for instance, Apple iPhones have added early earthquake alerts. In the U.S., the approach is called Broadcast SMS, a way of sending one message to many recipients without the delays that come from traditional point to point systems. Alerts could come from a county or state government, National Weather Service, or one of several other vetted and certified government agencies. Weather alerts will likely be the most common use, but they could be generated for other reasons.
And there is the conspiracy rub.
Cell Phone Connection
Some folks do not appreciate the ability of government to get the "can't be blocked" word out. The design shares three categories of alerts with the national emergency broadcast system:
•  Imminent threat to life and property
•  Amber alert
•  Presidential alert
The cell phone emergency alert system can drill down to the county level, and will only alert those users who are in the area at the time. This works by the location of the cell tower, rather than global positioning.
 Beyond future applications, mass notification systems these days are most attractive to government, military, and educational institutions.
For some buildings, there are the Unified Facilities Guide specifications (UFG), for use in specifying construction for the military services. The guidelines continue to evolve and change, including the mass notification aspects, as Leslie "Buddy" Mayo, security manager of the Fort Lee Logistics Exercise and Simulations Directorate, knows. Working with his integrator, Alarm Tech Solutions, which handles Honeywell Security Group among others, Mayo is working on changes to the automated alert announcements system. "We also have alerting through the computer network but people have to be at the workstations." There also is a so-called giant voice public address system.
According to Thomas Perry of Alarm Tech Solutions, the UFG mandates that, for facilities with 11 or more persons, there needs to be voice, fire and mass notification technology. "A risk analysis can determine what needs to be in place to assure reaching all the people. It takes layers of getting the word out. It's a matter of redundancy."
And one of those means of getting the word out is outdoor audio.
Western Washington University's sprawling campus in scenic Bellingham stretches 215 acres, with nearly 15,000 students walking the grounds during the fall and spring semesters. The university gives prom-
inence to campus safety, recently upgrading its fire alarm system in 47 buildings and adding a mass notification system to improve audio quality and long-distance coverage.
Mills Electric Co., an electrical and systems contractor, installed the multi-zone audio system in conjunction with the university support staff.  Technomad Berlin narrow dispersion loudspeakers power three outdoor zones at campus-designated "gathering areas." The high-power waterproof amplifier modules drive live and pre-recorded messages to the loudspeakers for campus-wide broadcast.  The project also marries all indoor/outdoor public address points and associated pan-tilt-zoom cameras to an existing Edwards campus-wide fire alarm system. The system ties to a central network infrastructure, enabling administration, campus police and other offices to deliver voice notifications to any single location, multiple zones, or every point in an "all-call" scenario.
Major Campus Upgrade
Cory Kovacevich  notes that the overall system represents a major upgrade for the campus, enabling text-to-speech translation and remote access to make announcements over the system from off campus — in addition to video integration, multi-zone capability and superior audio quality. "The Berlins put out some serious sound," says Kovacevich. "We had recently broadcast a test message from the rooftop and saw people more than 100 yards away stop, turn around and look directly toward the loudspeakers. The university is very happy with the power, sound quality and clarity of the voice."
At the University of the Sciences in Philadelphia, finding a system that could easily tackle their specific issues as well as provide individual and mass notification response was key to Director of Security Shawn Woods. "We wanted to look at a system that was new, up to date, and added additional features that allowed for better two-way communication,"
Woods says.
The university went through a dramatic overhaul of their security, response and notification system.  At the core of this upgrade was Talk-A-Phone's NFPA 72 compliant WEBS Contact platform, which allows it to broadcast live and pre-recorded audio messages to any exterior and interior paging units and emergency phones strategically placed throughout the campus. At the same time, personal notifications via SMS, e-mail or RSS can be routed to the appropriate segments of the population.
Adds Woods: "The University of the Sciences is located on the west side of Philadelphia and covers approximately five square blocks.  The size of our campus makes mass notification difficult.  We needed a way of contacting and providing instructions to all of our students and staff in case of an emergency." Being able to provide detailed instructions and information to a specific location or group at the push of a button can save security personnel valuable time during an emergency. It allows operators to segment a population of any size geographically and demographically.
Prerecorded Messages
"We have about ten prerecorded messages ready to go in case of an emergency. Some of the messages are things like police activity, chemical spill, fire and active shooter," explains Woods. His mass notification server resides on a dedicated server, which can be accessed by authorized personnel from any remote station on the network. Depending on a scenario and a specific location, a notification profile can then be executed to cover the appropriate segment with the right message. Authorized personnel can also broadcast unscripted messages to cover any situation at hand.
There also are WEBS emergency towers. These highly visible emergency communications towers feature an all-LED blue light at the top and are capable of broadcasting audio messages.
Another source, Gai-Tronics, has Red Alert emergency telephones designed for maximum environmental sustainability, high audio quality, and monitoring capability. In addition to providing hands-free, two-way communications, the telephones can tell security its location, report call activity, activate up to two peripheral devices and lets security know when it is experiencing problems.
At UCLA, the "BruinAlert," based on AtHoc technology, unifies and manages alerts to campus AM radio, cable TV, outdoor sirens, cell phones, landline phones, SMS text messages, e-mails, RSS feeds and digital display boards.
At the University of Central Florida (UCF), in Orlando, and the second largest university in the nation with more than 56,000 students and nearly 10,500 employees, across 11 regional campuses, UCF's Director of Emergency Management Jeff Morgan applied his security experience to help develop a mass notification system. "I like to refer to what we needed as layers in an onion," says Morgan. "We wanted a mass notification solution that had several layers, layers for redundancy. It is important to design a system that is both integrated and redundant for several reasons."
Law Enforcement Advice
Morgan says that, since the university borders two counties – Orange and Seminole – reached out to them to see what type of public warning systems they had in place. Both counties utilize the Roam Secure Alert Network (RSAN) emergency text and voice alerting system from Cooper Notification.
UCF officials had to determine how they were going to get students, staff and faculty to sign up for UCF Alert. Morgan says that when they conducted research on either choosing an opt-in or opt-out option, they found that with opt-in, only 20-30 percent of students would sign up for e-mail and text message notifications. So "we chose an opt-out option, in which we signed up 100 percent of the UCF community."
While UCF was implementing UCF Alert, it began installing WAVES High Power Speaker Arrays on the campus for exterior voice alerting. This intrusive system sends out emergency messages in real time and has the capability of alerting the entire campus or individual areas, depending on the scope of the emergency. 
"Our rule for sending out messages is that we don't send out a notification unless it's life threatening or has a large impact on our campus community," says Morgan.
Beyond government, military and university applications, there is technology that aims at the healthcare arena.
For example, Inovonics' Radius is a mobile duress and situational awareness solution that utilizes wireless positioning technology. "At Avera Queen of Peace Hospital, we place a high degree of importance on employee safety, and initially implemented mobile duress alarm system to provide staff members with a wireless panic button in case of a potentially harmful event," explains Glen Vilhauer, operations supervisor at the hospital. However, "with Radius, we have been able to expand the coverage of the duress system beyond the main hospital building to outlying clinics and parking lots."
Best Means the Most Methods of Delivery
The best of breed mass notification systems send information over many different forms of communications.
Landline Phone (recorded voice)
Fire, Life Safety System
Mobile Phone (recorded voice or SMS text message)
E-mail or RSS
Social Network Sites
Digital Signage
Alert Beacons
Loudspeaker or Public Address Systems
Facsimile
Television, Radio Stations
Emergency Phones on Campus
Don't Forget the Visitors
Getting the word out cannot disregard visitors on campus. In addition, there has been increased focus on access control of these visitors.

During Loyola University's search for a one card student ID system, it recognized that such a system wouldn't necessarily be suitable for areas of the campus that are frequented by non-students. A particular problem was posed by the fact that Loyola is a Chicago-based urban campus with other institutions nearby. "How to manage our libraries was the concern that drove our initial interest in visitor management," says Frank Dale, manager of physical security. Prior to the EasyLobby deployment, visitor logs at Loyola were kept by hand and on a building-by-building basis – there was no automation. Now, an important expansion of EasyLobby took place in the residence halls at the Main and Water Tower campuses, where it is used to manage student visitors. According to Dale, the typical Loyola residence hall receives approximately 100 visitors per day. The visitor management system is used for reconciliation at the end of visiting hours so that campus administration knows which guests are still on-campus and that have checked out.
VoIP Capabilities Add to System's Future, Too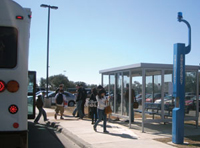 For schools and colleges, mass notification can include stanchions such as this one from Stentofon throughout the campus as well as at parking lots and bus loading and unloading areas.
The University of Texas at San Antonio (UTSA) takes a proactive approach to mass notification, emphasizing importance of audio communications to ensure they are doing everything possible to be prepared if such an event should occur. There, UTSA employs a Stentofon AlphaCom 138 and six AlphaCom Ms, which create a seven node AlphaNet. There are seven masters and 83 substations on the system. All stanchions and substations located throughout the university provide emergency/security communications to designated master stations.
In addition at UTSA, the AlphaCom exchanges are in the process of being upgraded to the latest VoIP technology to connect to the university's IP network and allow for future expansion possibilities. The IP communication solution is an integrated audio platform that provides voice, image and data links by using standard Ethernet network architecture allowing integration of all streams into one cohesive solution. The system employs standard VoIP protocols for audio encoding and control, and uses standard TCP/IP protocols for video and data transmissions, providing an area-wide network or broadcast and communication system. It is possible for external data systems to provide ASCII data commands or contact closures to the AlphaCom to start the same sequence of events as explained above. Additional features such as standard intercom calls, archive logging of events and real time audio announcements are just a few of the many standard features offered in the AlphaCom E intercom system.