Today, guarding firms provide more than officers and officers provide more than physical protection.
Based on responses to Security Magazine's Annual Guard Firm Ranking Report and additional interviews and research, it's apparent that there is significant growth in the use of security officers beyond bread-and-butter guard tours, parking lot entrances and lobby duty.
Because of the fallout from 9/11 and natural disasters, enterprises, law enforcement officials and Homeland Security have centered on the fact that security officers are more often first responders, who need specialized training. At the other end of the business model, many enterprises now see the need to view and train security officers as providers of employee, visitor and customer services. They are the ambassadors at Philadelphia's Comcast Center, for example.
Overall, technology has impacted the ranks of security officers and contract guarding firms. Two-way radios were an essential tool of security officers in the past. Thanks to the growth of cellular telephones, PDAs and smart guard tour systems, officers are more connected with security systems and the control room. While some enterprises are trading off officers for security video and analytics, many officers are now video savvy as they more efficiently monitor images.

HOMELAND SECURITY ASSIGNMENTS
Protecting against terrorism has been an additional responsibility for most of the 1.2 million private security forces. The counter-terrorism role of security officers has become an integral part of many private and public sector security plans. With an estimated 28 percent of these private security forces assigned to the nation's critical infrastructure, it is clear that the lack of counter-terrorism training is a huge risk.
Today's threat environment requires that post orders provide greater detailed guidance from a response perspective. Guidance must exist beyond directing the security officer contact 9-1-1, as today's security officer must be able to take other appropriate actions that result in quicker response. Beyond notification of local first responders, security officers must be able to capture specific details that may be required as part of an investigation.
There are some more recent wrinkles to contract guarding firms and homeland security.
SAFETY ACT CERTIFICATION LEVERAGES LIABILITY
Just ask Jeffrey Miller, who is director of strategic security for the National Football League. The NFL Best Practices for Stadium Security just received Safety Act certification which expires January 31, 2014.
As part of the Homeland Security Act of 2002, Congress enacted several liability protections for providers of anti-terrorism technologies. The Safety Act provides incentives for the development and deployment of anti-terrorism technologies by creating a system of "risk management" and a system of "litigation management." The purpose of the Act is to ensure that the threat of liability does not deter potential manufacturers or sellers of anti-terrorism technologies from developing and commercializing technologies that could save lives. The Act creates certain liability limitations for "claims arising out of, relating to, or resulting from an act of terrorism" where qualified anti-terrorism technologies have been deployed.
Homeland Security also recognized that the universe of technologies that can be deployed against terrorism includes far more than physical products. Therefore, the defense of the homeland will require deployment of a broad range of technologies that includes services, software, and other forms of intellectual property. Qualified anti-terrorism technologies have been very broadly defined to include "any qualifying product, equipment, service (including support services), device, or technology (including information technology)" that the Secretary, as an exercise of discretion and judgment, determines to merit designation under the statutory criteria.
A growing number of the largest guarding companies have Safety Act certification.
PERSONAL/EXECUTIVE PROTECTION IN THE ERA OF MUMBAI
Many guarding companies listed in Security Magazine's Annual Guard Firm Ranking Report offer services beyond officers. One important offering is executive protection, especially worldwide.
Many companies support the notion that employees are their most valuable assets, but few have actually had to calculate the actual costs associated with protection failures. Recent focus regarding the protection of executives has shifted from protection to risk management, including access to alerts and real-time information resources, threat assessments, contingency planning, travel tracking and evacuation programs and insurance to minimize financial loss and corporate exposure. The threats facing executives vary widely depending on individual and corporate wealth, company size, industry and business practices, operational environments, and culture and business partners. The most frequently targeted executives are financial/banking services, pharmaceuticals and energy, especially executives based overseas. The risks range from kidnapping for ransom or extortion, carjacking, explosives and eco-terrorism, according to experts at Andrews International.
The range of threats and the associated risks pertaining to mobility, health and family safety result in very different challenges than protecting a facility. Providing adequate protection that serves the company's business interests, yet respects individual freedoms is often a major challenge to corporations. Four principles are used by guarding firms to guide protective operations:
Threat assessment
Advance planning
Logistics, and
Emergency response
Threat assessment – Conduct a thorough threat assessment including research and operational activities to identify, assess, and manage environmental and specific risks, such as those associated with business practices, affiliations and partners, countries of operation, corporate and individual media exposure, controversial products or services, political or social unrest, cultural issues and individual or corporate wealth or perceived wealth.
THREATS ARE NOT THE ONLY INDICATION
In addition to these threats, also consider specific threat patterns of potential attackers. A recent U.S. Secret Service study on the behavior of known assailants revealed an interesting contradiction: those issuing threats typically do not attack, while attackers often do not issue threats. While you cannot ignore specific threats, the most serious threats are unlikely to be announced.
   
Today, special attention must be placed on kidnapping and terrorism. In many instances, these attacks may have little to do with the individual and more to do with what the victim represents, i.e., money, attention or access.
   
Advance planning – Advance planning requires research and travel to identify variables and contingencies to develop protective solutions. Begin with a comprehensive advance-planning process that addresses itinerary, location and transportation, including "what-where-when". The advance planning should be divided into three phases:
   
Phase 1 - Pre-advance – initial planning to identify the scope and objectives of the project, dates and timing, locations, key personnel and special requirements.
   
Phase 2 - Trip advance – finalize arrangements including contacting key participants such as hotel managers and transportation while prioritizing key aspects of the
project.
   
Phase 3 - Site advance – physically visit each scheduled destination to finalize logistics and contingencies for each element of the itinerary. Identify specific risks and challenges associated with routes, entrances, exits and other factors, as well as surveying each location, including hotels, airports, meeting rooms, corporate offices, and outdoor venues.
   
Logistics – Solid logistical planning dictates that you thoroughly understand requirements, where and when you need them, and the most efficient process to maximize the use of personnel, vehicles, and equipment. You should incorporate logistics that cover:
   
Information infrastructure – the ability and flow of effective communications relies heavily on technology and protocols established for transmission, receipt, processing and exchange of information with the protection team, executives, corporate contacts, vendors, suppliers, and third-party practitioners.
   
Strong integration – success requires complete operational integration with agents, vendors, suppliers, and others to support protection by identifying roles and responsibilities and ensuring the resources, authority and accountability necessary for success.
   
Emergency response – Despite thorough threat assessments and advance planning, security must be prepared to respond. This requires consistent, realistic training focused on the most common occurrences, such as medical emergencies, as well as rare attacks. Effective risk management and protection requires balancing business and security objectives, personal freedoms and threats, and planning and response.
   
Professionals should be prepared to protect and react in normal and emergency situations by ensuring that proactive threat assessments, planning, and logistics have been properly handled, and by identifying and planning for every possible contingency to avoid threats and reduce risk.
A DANGEROUS MISSION
Security officer work is dangerous, whether on routine tour, guarding a bank outlet, working a store or responding to a higher level threat. According to the Bureau of Labor Statistics and OSHA fatality reports, nearly as many security officers are killed in the line of duty every year as are police officers.
There is no doubt: Violent crimes at worksites continue to endanger lives, increase liability and threaten profitability.
While strangers can account for such actions, often the most difficult challenges arise from disturbed or disgruntled employees who act out, or from domestic violence that follows an individual to his or her place of employment.
Numerous security guarding firms have responded to the potential of workplace violence. For example, Guardsmark's learning and development program includes an interactive CD-ROM on the subject, as well as videos and periodic bulletins about:
Warning signs
Triggers
Incident reporting
Threat assessment
Site analysis
Monitoring of physical access and common areas
Visitor tracking
Safe termination practices
To handle all types of challenges, training of security officers also has improved.
Web-based training is growing rapidly due to tactical and strategic advantages including potential cost-savings, availability, flexibility and timeliness.
A related and often over-looked expense is opportunity cost (or time) lost when choosing one option (travel time and non-billable hours) over another (training). As hourly employees, security officers must be paid for their time and while many security clients want additional training, many are reluctant to pay the additional hours necessary. These costs can be reduced if the training is convenient, easily available and results can be demonstrated or tracked.
WEB-BASED TRAINING
A strategic benefit of Web-based training is the ability to educate a disbursed, mobile workforce.
Web-based training makes it possible to provide new training simultaneously to all employees without requiring additional travel time and costly classroom time. It also provides a library of courses that can be accessed by new employees who must not only learn new information but also existing information.
For instance, G4S Wackenhut's training and research center recently launched its state-of-art online training Web site. The Learning Management System was designed specifically for the 38,000 G4S Wackenhut employees.
Dr. Michael E. Goodboe, chief learning officer, stated, "It offers our security personnel easy access to the best training programs in the security industry. The introduction of this Web site marks the culmination of years of research and development; yet it will continue to evolve and expand. Our focus has always been on hiring and training the best employees in the security industry, and (this method of training) allows us to rapidly grow our training programs to best serve our employees."
On the technology side, there are two essential hand-held devices for security officers: a flashlight and a guard tour device. At the Marriott Hotels, for example, employees on patrol use a sophisticated guard tour system, which boasts programmed-in stops with exception reports to identify potential problems.
Whatever the post orders, technology or unique assignments of security officers, the bottom line is the feeling of safety and security for employees, visitors and customers.
Take for example the major credit union GECU. For more than 75 years, GECU, an El Paso, Tex., credit union, has served its members and developed into El Paso's largest locally owned financial institution with more than $1.2 billion in deposits and $1.4 billion in assets. As it continues to grow with 15 locations, including branches and new satellite centers in local schools, GECU holds true to its mission statement -- people helping people.
OFFICERS PROTECT CREDIT UNION
There are many challenges to protecting a financial services firm. Growing institutions like GECU need coordinated security across multiple sites. When GECU looked to enhance its security program, their goal was to create a professional, highly-skilled, visible presence at each location, giving credit union members, employees and the community a feeling of safety and security.
Another security challenge GECU faced was the recent addition of satellite branches located in El Paso high schools and operated by the students. The new security provider had to consider the mix of student safety and security along with the security of GECU members and employees, and their financial assets.
GECU Risk Management Manager Maria Guerrero was looking for a seamless security program across all GECU sites. She was looking for a dedicated team, a go-to person and someone who could manage the security officers while she focused on the larger security picture and other responsibilities.
"We were very impressed with the presentation that AlliedBarton gave," said Guerrero. "Their commitment to training practices and customer service, and the professionalism they portrayed was exactly what we were looking for. They met all of our requirements and were very member-oriented."
The security services firm suggested establishing an account manager, dedicated solely to the GECU account, who would put together a committed team and would be Guerrero's go-to person. The account manager would serve as the main point of contact for all security matters and would facilitate open lines of communication across each branch, its employees, security officers and GECU senior management.
Under the direction of account manager Victor Romero, the security team took action in turning the program around. "We knew that in order to create a successful program, in response to these challenges, we had to develop a positive relationship and partnership with the GECU management and its members," said Romero. "Each branch and satellite has a manager on-site that we communicate with daily. In addition, it is important to follow consistent security practices across all locations and share information with all managers. GECU has an open door policy, and we are an integral part of their team."
"Establishing an account manager was such a relief for us," said Guerrero. "Victor responds to our every need. If there is extra security required for an event, I know that Victor has the additional resources, and he quickly responds."
This highly trained team, which has earned the respect of the GECU managers and risk management group, has taken on a lot of responsibility. Each morning Romero and his team complete a security check of the buildings before the GECU staff enters, adding an extra layer of safety and security for employees and members. The security officers monitor the lobby in each service center.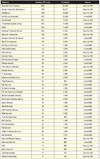 6th Annual Top Guard Listing
Collected by Security Magazine, Jan. 2009, and from The Security Letter, June 2008
This unofficial matrix, based in part on responses to SecuritMagazine, also includes data from other sources. Security Magazine does not purport data to be a complete list or one that is up to date relative to 2008 or to reflect correct or changing conditions, actual revenue and employee staffing levels. Security Magazine thanks The Security Letter and Robert McCrie for his listing data from his June 2008 issue. Subscriptions at The Security Letter, 166 East 96th Street, New York, NY 10128. If your firm wants to be listed or to update this listing, e-mail Security Magazine at security@bnpmedia.com. Revenue has been rounded up.