Compact Thermal Imagers Launched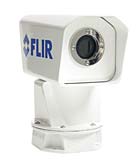 A new infrared camera comes from FLIR. The SR-Series consists of four available infrared cameras with varying focal lengths. All SR-Series cameras are built around highly reliable uncooled infrared sensors and utilize a composite video output, making them compatible with legacy network installations. The cameras include image processing technology, delivering image contrast regardless of scene dynamics. Easily integrated into existing CCTV networks, SR-Series cameras use a thermal imaging technology that is passive, but still able to detect intruders at ranges in excess of 1 mile.
Find out more at
www.flir.com


I want to hear from you. Tell me how we can improve.