Business goals, including efficiency, shareholder satisfaction and a workable level of local control, drive development of a global access control upgrade plan at industrial giant Rockwell Automation.
Emphasis was uniquely placed on the front end of the process via effective communication among the Rockwell Automation global security team, which is made up of detail-oriented engineering consultants and local Rockwell Automation business units.
The plan
Once the existing electronic access control system at Rockwell Automation Global Headquarters became obsolete, the system manufacturer decided to migrate many of its product lines into a single new system. However, since development of this new system was not yet complete, expected limitations and future expansion capabilities of this manufacturer's new system were unknown.
In the planning stages, Rockwell Automation realized the importance of having both control and efficiency in an enterprise access control system. Moreover, as a global company, it was important for employees to have access to multiple locations without having to be issued several different access control credentials.
An additional and integral part of the plan was to identify a means to automatically gather human resources data immediately upon termination of an employee. It was determined that this could be accomplished through a database provisioning link between the human resources database and the access control system.
As with many global Fortune 500 companies, Rockwell Automation found it essential to establish a fiscally sound approach to project development in order to maintain shareholder satisfaction. Additional return on investment was identified through costs savings on alarm monitoring systems. Many sites currently have contracted off site alarm monitoring; this could be reduced or eliminated if the Global Command Center were to perform this function.
Solution path
During initial conversations with Schirmer Engineering, it was evident that the type of upgrade Rockwell Automation was considering was not only feasible but also achievable in a shorter time frame than initially expected.
The first step in the solution process was to retain a security consultant who had specific experience with this type of project; Schirmer was the logical choice with a multitude of similar projects on-going. In particular, two Schirmer projects mirrored the type, scope and complexity that Rockwell Automation envisioned. Schirmer advocated two phases of work where value could be recognized. Phase one consisted of selecting the manufacturer, while phase two consisted of the development of a comprehensive specification/solicitation document.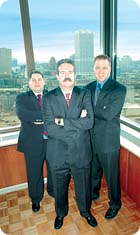 Validation
All of the manufacturers reviewed were fairly comparable, but on a project of this scale, there was a need for due diligence. Not only did Rockwell Automation and Schirmer collectively drill each manufacturer on technical questions, but also followed up with a written questionnaire. Also, as part of this process, we requested five references from each manufacturer and followed up on every one. Schirmer developed a laundry list of questions which were consolidated into 16 questions approved by Rockwell Automation, identifying quality of service, warranty work and other customer impacted issues.
Each question had a rating and over-all scored weight; the sum of each question provided a total raw score insuring impartiality and giving us a bird's-eye view of each manufacturer's strength and weaknesses respectively. At the conclusion of this process, the information allowed the end-user/engineering team to internally meet and qualify three manufacturers for further consideration. Schirmer issued letters to each of the manufacturers requesting an additional meeting that would stress the technical capacities of the systems in greater depth.
Avoid procurement issues
An essential part of the process was impartiality. Rockwell Automation had no direct contact with any of the bidders during this process with Schirmer acting as the Owner's representative handling scheduling and any correspondence between the vendors.
The second part of this process was buy-in which was immediately obtained by management. However, there were other business units within Rockwell Automation that also had to be part of this process. Of these, the two most important entities with which the team needed to align itself were Corporate Real-Estate and Information Technology. Rockwell Automation saved time by identifying these groups early on, which allowed for easier implementation of the program.
During the initial stages, Information Technology and Corporate Real-Estate participants were initially not asked to meetings. Schirmer cautioned that such involvement early on might be too mundane and deter them from participating in later stages of the process. Therefore, these groups were invited later in the process when specific types of architecture and databases that would be used were already established. This allowed the team to identify manufacturers from the short-list that would best integrate with existing information technology systems at Rockwell Automation and identify the right questions to ask.
The money game
Without a doubt, the reason the team was able to obtain buy-in from management for this process was because we indicated that there were inefficiencies and those inefficiencies would affect the bottom line if not properly controlled. This being said, when a global manufacturer decides to standardize a project, there is leverage or buying power that can be employed. This leverage was used to identify additional cost efficiencies and discounted pricing that probably would have not been realized. This provides a win-win situation with the manufacturer and client. Rockwell Automation obtains immediate discounts and the selected manufacturer obtains an annuity client who was planning on many upgrades throughout the world over a period of time.
Teeth
Rockwell Automation, initially with this type of procurement, was concerned on how they would validate the installation criteria. How could they verify that these new security products were installed with the same criteria throughout the implementation? Schirmer answered this question with a comprehensive forty-plus page generic specification which would be applied to all projects considered under this work. The specification details the contract requirements, products to be used and, most importantly, the standard of care when deploying these systems, which all needed to be considered. As part of this specification, requirements for the contractor's employee background investigations and work provisions such as training and warranty items were incorporated into a document that will give Rockwell Automation contracting "teeth" they would otherwise not have.
In the words of the character Hannibal Smith, from the TV show, "A-Team", "We love it when a plan comes together."
The Company's Culture
Rockwell Automation, a $5 Billion Fortune 500 company, is a leading global provider of industrial automation power, control and information solutions serving customers in more than 80 countries.
Physical security programs at Rockwell Automation are essential in sustaining competitive advantage and providing customers with the highest level of service delivery. In efforts to proactively identify and develop solutions for problem areas, Rockwell Automation recognized a lack of companywide standardization in its physical access control systems. Apparently, too many fragmented systems and methods were being used to control access worldwide.
In addition, much of the existing security equipment was out of warranty and not maintainable. Rockwell Automation further realized that each business unit manager was responsible for selecting, purchasing, installing and maintaining their own fragmented system. Consequently, Global Security was often not consulted prior to a business unit manager selecting a system or integrator.