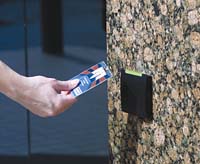 Demand for smart labels in the United States is projected to expand over 14 percent annually through the year 2007, approaching eleven billion units valued at $460 million. By 2012, demand will surpass 30 billion units, worth over $1.2 billion. Smart labels will penetrate both existing and new labeling applications, based on their ability to add value to labels' basic identification function along various parameters. Smart labels in supply-chain management applications will reach 7.6 billion units by 2012, accounting for one-quarter of smart label demand. These and other trends are presented in Smart Labels, a new study from The Freedonia Group Inc., a Cleveland-based industrial market research firm. By far the best gains are expected in the nascent radio frequency identification (RFID) label segment, where the market size will nearly triple each year.
In the near term, the greatest growth will be in the labeling of mail and packages, crates and pallets, airline baggage, library books and military assets. Over the longer term, falling prices, greater economies of scale, technological advances and the establishment of uniform RFID communications standards will support the development of additional applications. However, consumer privacy concerns will remain a major hurdle, especially in the key retail segment.
Basic electronic article surveillance (EAS) anti-shoplifting labels will continue to dominate into the next decade, based on successful security modality and widespread use in retail. EAS label sales will continue to benefit from falling unit costs, source tagging initiatives and the opening of apparel, or "soft goods," based on the transition from EAS hard tags to labels.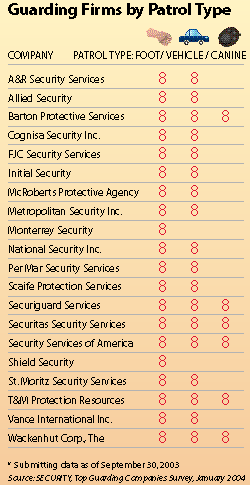 It's in the Cards
Smart card use among Fortune 500 companies is on the way up. Gemplus's 2003 "U.S. Corporate Security Systems Study" shows rising interest and commitment to smart card-based enterprise security. Gemplus International S.A., is a provider of smart cards. The study by Frost & Sullivan, a consulting company, provides insight into the present security systems, needs, and prospective future trends of Fortune 500 companies.
Based on interviews of senior executives, there is a profound interest in using smart cards as part of their physical and/or logical security systems. The latter is an important area for security to address.
The Federal Bureau of Investigation and the Computer Security Institute, in a report of 2002 incidents, found that 90 percent of large corporations and government agencies detected computer security breaches. The traditional employee badges used within most corporations today are unable to address all these electronic security issues. Results from study indicate an increased interest by Fortune 500 companies to deploy a single token for both physical and logical security. Smart cards respond to this challenge by offering a versatile platform to combine building access and network security on one card.
"More than one-third of Fortune 500 companies surveyed, 39 percent to be precise, plan to use smart cards to enhance and strengthen their corporate security systems within the next three years," says Dave Ludin, of Gemplus. "This research shows that already 30 percent of Fortune 500 companies are currently using or testing smart cards within their security systems."


Government Agencies to Increase Security Budgets
Analysis from Frost & Sullivan, Santa Clara, Calif., reveals that government spending on security totaled $7.49 billion in 2002. Total market revenues are expected to reach $16 billion in 2009.
Although the Department of Homeland Security is still a young organization, it is one of the largest markets for security solutions and system providers.
New security threats have prompted the government to invest heavily in high-end defense systems such as chemical, biological and explosive detection equipment. Increased security awareness has also generated interest in testing new technologies.



SIA to Launch Project Manager Program
The Security Industry Association (SIA), Alexandria, Va., will introduce its newest educational offering, the Certified Security Project Manager (CSPM) program, at the ISC-West show, March 31-April 1, 2004, in Las Vegas.
SIA has worked closely with Nadim Sawaya, president of Enterprise Performance Consulting, to develop this three-part program that aims to promote professionalism for project managers in the security industry. In designing the program, Sawaya assembled an advisory board of subject matter experts who provided expert advice and counsel for the design, development and delivery of the Certified Security Project Manager program.
"The Certified Security Project Manager program will empower project managers with the tools, skills and knowledge to manage their jobs effectively," Sawaya says. "This program is specifically designed for the management of security projects. Project management is the most critical factor for successful security systems programs."
The goal of CSPM is to provide a professional credentialing program for security project managers. The program will certify individuals who have demonstrated their proficiency in every aspect of project management, as it relates to security systems integration. The certification program is a combination of educational training, practical experience and a final certification exam. Participants will receive 40 contact hours of training, as well as 20 hours of self-study in areas such as estimating and financial aspects of security projects; contracting law, codes and risk management; and security video and access control systems design and application.
"CSPM not only provides an excellent return on investment for its participants through the skills it teaches, but also to the employer through improved margins and performance improvement. With this program, SIA is continuing its commitment to advance professionalism in the security industry," says Richard Chace, executive director of SIA.
Both events are free and sponsored by SDM and SECURITY magazines.


Polaroid Awarded RTA Contract
Polaroid Corp., Waltham, Mass., has been awarded a five-year contract to provide the Regional Transportation Authority (RTA) in Chicago with card-production services for its reduced fare permit photo ID cards for seniors and people with disabilities. Polaroid Commercial ID Systems will produce the reduced fare permit cards in its Ft. Wayne, Ind., RTA facility.
WDOT Selects Viisage
The Wisconsin Department of Transportation has awarded Viisage, Littleton, Mass., a contract extension to continue production of the state's digital drivers' licenses through 2005. The extension, which is the third awarded since the original contract inception, announced that the company a contract extension to continue production of the state's digital drivers' licenses through 2005.
U.S. Air Force Contracts with Advantor
Advantor Systems Corp., Orlando, a security design and integration firm, has contracted to upgrade the security at all U.S. Air Force Reserve Command Facilities. Under the terms of the contract, Advantor will provide design, integration, installation and sustainability services for each base to comply with the stringent Priority Level 1-3 non-nuclear standards.