There are challenges these days in the guarding business. Mergers and acquisitions continue a move to consolidation, especially at the top. There is pressure on pricing and training. There are liability headaches.
While the U.S. Department of Commerce estimates more than 12,000 separate firms offering officers, the top firms surveyed by Security magazine employ about one fifth of the total full-time security officers in the United States while bringing in about $8 billion in revenue. For the Security magazine guard firm ranking project, Security magazine surveyed North American guarding companies in late 2004, asking top executives to describe their companies, the number of officers they employ and their revenue. This time around, the Security research was augmented by ranking information from the Security Letter of New York, edited by Dr. Robert McCrie of John Jay College; and data through Jeffrey Kessler of Lehman Brothers, in his Security Industry Annual Report 2004.
Additional materials are from the November 2004 Report to Congress by the Congressional Research Service: "Guarding America – Security Guards and U.S. Critical Infrastructure Protection."
For this special report, Security also surveyed buyers of contract guard services. Among results: A vast majority (81 percent) think that security officers are effective at their job while nearly four in ten (39 percent) believe that, compared with three years ago, contract security officers are better today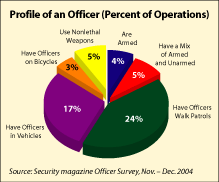 Some facts from the diverse research:
n For organizations with security departments and officers, one-third have a proprietary force, while almost half (49 percent) have a contract service and 18 percent have a mix of contract and proprietary.
n The top contract security guard firms listed in this special Security magazine report have guarding revenue of a little over $8 billion.
n Most officers are unarmed but nearly one in ten (nine percent) are armed or the operation has a mixture of armed and unarmed officers, depending on post, assignment or location.
n Most contracted security officers work in corporate and office buildings as well as retail and healthcare environments.
n Reliability of the guard firm and its officers and training are the two most important elements say buyers who evaluate guard sources and contract services.
n Price and turnover are, in contrast, less important to end users.
n Availability of quality candidates is on the minds of the executives at the helm of the top security guard firms with the state of the economy often tipping the scale one way or the other.
n A significant number of guard firms seek a closer, more long lasting relationship with end users.
n Litigation, unionization and pressure on pricing also are major factors.
Jeffrey Kessler, an analyst at Lehman Brothers who tracks some of the largest firms, writes in his report that "only the very largest companies are able to provide the capital expenditures required for scheduling, billing and payroll software for running large, disparate workforces demanded by national accounts with multiple sites.
"Internally, the big guard companies, which have invested in technology, are far better equipped to monitor their spreads between billing rates and wage costs. Consequently, there is no reason to believe that the top five guard companies cannot dramatically increase their marketshare over the next five to 10 years, without sacrificing margin and quality to the customer."


More than patroling
Kessler's report adds that corporations are increasingly demanding guards who can act as immediate responders, managing and monitoring premise control equipment and taking on responsibility beyond physical security, such as responding to crises and monitored alarms, as well as special events. "As the private sector realizes the necessity for quality security services, it is willing to pay more for the smart, high-end guards, which in turn leads to better officer training conducted by the individual guard companies. Ultimately, increasing customer willingness to pay for higher-end security should bolster margins in this currently lower margin business."
According to the Security magazine survey of end users, nearly four in ten security organizations (39 percent) prefer to deal with national and large regional firms. It's a strategy reinforced by Kessler at Lehman Brothers. He writes that "large corporations with multiple locations tend to prefer dealing with a single security service provider that is able to manage and coordinate manned security across the entire enterprise."
Still, about one half of respondents to the Security survey prefer to deal with a small local firm or believe that size doesn't matter. Adds Lehman's Kessler, "The international scope of the leading firms – while a considerable advantage in certain aspects – poses an additional challenge…With integration, efficiency and overhead control challenges facing the large guarding companies, even some large corporations still prefer contracting the smaller firms because this grants them more control over the service they receive, and permits them to train the guards to their own standards."
There also are issues related to legislation and regulation. In the U.S. market, regulation is mostly on a state-by-state basis. The largest guard firms have, in recent years, concentrated on federal help to speed up background checks through federal law enforcement databases. Interestingly, about six in ten of Security magazine end user respondents (62 percent) believe that increased U.S. federal regulation of the security guard field would be beneficial. Guard firms are less sure. Homeland security activities may tip over guard regulations from the states to a federal posture. Activities in some other countries may also have impact.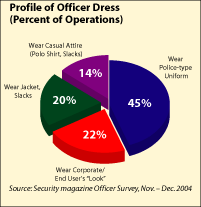 Ontario, Canada's Officer Plan
For example, last month, the Ontario, Canada, provincial government proposed sweeping legislative changes impacting security officers and their firms.
"Professionals offering protection services to Ontarians should be properly licensed, trained and equipped," Community Safety and Correctional Services Minister Monte Kwinter said. "We need to ensure that security personnel have the training they need to keep us safe as they play a larger role in safeguarding Ontarians."
The proposed legislative changes:
mandatory licensing for all security personnel including those in proprietary, in-house and government operations;

licence portability (allowing an individual to change jobs within the industry without having to reapply for a license);

training standards; and

standards for uniforms, equipment and vehicles used by security personnel.
Most U.S. states require that guards be licensed. According to the Security end user survey, a majority of guarding companies find the variety of regulations to be a challenge. To be licensed as a guard, individuals usually must be at least 18 years old, pass a background check and complete classroom training in such subjects as property rights, emergency procedures and detention of suspected criminals. Drug testing often is required, and may be random and ongoing depending on the state and the company's requirements.
Training is another challenge identified in the Security Top Guarding Companies survey. The amount of training that guards receive varies by location, assignment, guard firm and regulations. Overall, training requirements are higher for armed guards because their employers are legally responsible for any use of force. Armed guards receive formal training in areas such as weapons retention and laws covering the use of force.
Good training is a winning situation, not only for the contracting client but also for the officers. According to the Occupational Outlook Handbook of the Bureau of Labor Statistics, U.S. Department of Labor, "Opportunities for most security officer jobs should be favorable, but competition is expected for higher paying positions at facilities requiring longer periods of training and a high level of security."



Side bar: Wackenhut Honored as Military Employer of Year
Palm Beach Gardens, Fla.-based Wackenhut Corporation has been selected as Transition Assistance Online's [TAOnline.com] 2004 Military Employer of the Year for the firm's "exemplary commitment to recruiting military talent and supporting their transition into civilian careers." Wackenhut is the U.S.-based division of Group 4 Securicor plc.
In presenting the award, Beth Doling of TAOnline.com/Lucas Group said, "Demonstrating that (Wackenhut) initiates innovative recruiting efforts and pledges a sizeable amount of total recruiting budget toward military transitioning, TAOnline.com felt 100% that you are the example by which other companies should follow in their efforts for military recruitment."
The Wackenhut Corporation has a long history with the U.S. Armed Forces. Its elite Custom Protection Officer Division was created with the U.S. Armed Forces in mind. This program mandates prior military service as a qualifier for employment.
Rene Pedrayes, Wackenhut's regional vice president, added, "Our Custom Protection Division is deployed to service locations where the need for quality, well disciplined, expertly trained security personnel is in demand. Venues that typically look for off-duty or contract police service or proprietary services employ our Custom Protection Officers. These include locations such as transit systems, courthouses, prisoner transport and booking operations, healthcare facilities, residential security programs, to include special response teams and K-9 handlers, and many other commercial and private sector applications."


Sidebar 2: Top 15 Guard Firms by Revenue
Securitas Security Services USA
Allied-Barton Security Services
The Wackenhut Corporation
Guardsmark*
Initial Security
US Security Associates*
Transnational Security Group*
ABM (ACSS, SSA)+
Day & Zimmermann Security Services
MVM Inc.*
Cognisa Security, Inc.
Covenant Services Worldwide*
Professional Security Bureau*
Command Security Corp.*
FJC Security Services
Source: Security magazine Top Guard Firms 2004; the Security Letter 2004* (conducted through December 2003); Security Industry Annual Report 2004, Lehman Brothers+; and the November 2004 CSR Report to Congress.


Side bar 3: Mission, Vision and Values
Bill Whitmore has more than merger on his mind. Last year, when two of Security magazine's top ranked guard firms – Allied and Barton – came together to form Allied-Barton of King of Prussia, Penn., President and CEO Whitmore was more focused on mission, vision and values than acquisition.
"Our mission must be very focused and focused on winning and keeping customers," he told Security magazine's editor in an exclusive interview at the American Society for Industrial Security international conference and exposition in Dallas. "Our job is to find good people (to be officers) and train them well," Whitmore said. The executive's remarks match end users who feel that reliability, solid training and professional supervision are the top three elements most important to executives who contract guard services.
The merged firm, which is the largest American-owned security services company in the United States, also reflects the movement of some guard firms to specialization in certain geographic and vertical markets. Whitmore said, "The transaction strengthens and diversifies our position" in such verticals as Class-A office buildings, corporate complexes, hospitals, universities, financial institutions, tollbooth operations, residential communities, regional shopping malls and other commercial facilities.
Whitmore's company also sees value in offering value-added services, reinforcing Lehman Brothers' Jeffrey Kessler's idea that corporate customers are increasingly demanding guards who can act as immediate responders beyond typical physical security. For example, points out Whitmore, his officers may have training through the American Red Cross Community CPR, first aid with automatic external defibrillator training as well as course work in fire and life safety.
From a first career in law enforcement, Bill Whitmore now has a firm handle on the private security side. Previous to his Allied-Barton assignment, Whitmore spent two decades helping grow SpectaGuard. In creating a strong Allied-Barton team, Whitmore recently named four key division presidents: Laura Cerar, west; Patrick McNulty, south/midwest; Ronald Rebena, midsouth atlantic/north central; and John Redden, northeast.
In beating the drum within his own company as well as providing a simple but effective set of values to potential clients, Bill Whitmore believes in being "great" – growth on individual officer, team and company levels; responsibility to customers, employees and the community; empowerment or what Whitmore sees as "development programs" for officer skills and confidence; achievement through recognization and rewarding; and trust. "You just got to build trust, respect and integrity in every relationship and interaction," concludes Whitmore.