For years I have written about the critical importance of having the proper flashlights and emergency lighting available at all times. You never know when the next disaster, natural or manmade, might strike.
Almost all of us have gone through minor blackouts and other short-term power outages, but unless you experience, firsthand, the impact of a major disaster, it is extremely difficult to fully appreciate the impact on one's life.
Unfortunately, this last summer, I, along with millions of others, experienced the powerful force of three major hurricanes during a six-week period.
What surprised me the most was that almost an hour before Charlie was directly overhead, its outer rain and wind bands knocked out our power for days to come. Thankfully, I had taken my own good advice, and we were well stocked with various high-quality and dependable flashlights and other emergency lighting products.
In 2005, we are fortunate to have many fine manufacturers of quality flashlights and emergency lighting. They offer a wide array of items to fit virtually every lighting need, from a powerful tactical flashlight to a long-lasting LED keychain light.
Here are some of the flashlights and emergency lighting products.


Night Ops Gladius | www.Night-Ops.com
The Gladius is one of the best tactical flashlights I have ever seen or used. The flashlight comes from the folks at BlackHawk Products. It features a high intensity LED with multiple functions such as constant on, adjustable light levels and even a strobe mode. Anyone in law enforcement, the military or security should strongly consider this exceptional new flashlight.
HDS EDC Ultimate | www.HDSystems.com
With its pocket clip, the HDS EDC Ultimate is easy to carry on your person, but offers a variety of amazing and useful features. Imagine a flashlight, about 3 inches long that has the following functions (to name just a few): A powerful LED light source, an emergency strobe, an SOS signal, a locator flash, as well as multiple power settings.
SureFire | www.SureFire.com
A favorite of both law enforcement and the military for years, SureFire offers a multitude of flashlights for a variety of uses. The L1 LumaMax would be an excellent addition to security's emergency preparedness plan. This quality mil-spec flashlight uses a single lithium battery, but still offers the option of a low-output beam.
C. Crane Co. | www.ccrane.com
The company's Web site is like a virtual emergency kit; almost anything your department might need during a disaster is available. Their Freeplay Plus not only offers a detectable three LED light source, it is also an AM/FM and Shortwave radio. And, don't worry about electricity; you can charge it using its wind-up generator or its solar cells.
ASP | www.asp-usa.com
I have used ASP products for years, and I really like two of their latest lights. The ASP Elite is an LED keychain lightweight three modes: constant on, alert strobe and international SOS. All this in a light under 3 inches in length and under 1 inch in width. The new water resistant ASP Triad is just over 5 inches in length, made of aerospace aluminum, and its dual contacts provide both intermittent and contact on/off activation modes.
Lightwave | www.lightwave-usa.com
The Lightwave Tec3000 features seven LEDs and has about 700 hours of battery life on only three C-batteries, with a floodlight-type light beam. The Lightwave Infiniton C1 has a single powerful Hi-Fux LED, and offers a spotlight-type light beam.
Princeton Tec | www.PrincetonTec.com
Just about any lighting products you might need for your disaster kit, Princeton Tec makes it. I like both the Princeton Tec Corona and the Aurora headlamps, as you need to have your hands accessible in an emergency. The Corona features eight LEDs and has four levels of brightness available, while the lightweight Aurora has three LEDs that offer about 160 hours of use on one set of batteries.
Eternalight | www.techass.com
EternaLight makes some of the most distinctive lights on the market today. The EternaLight ErgoMarine is only about the size of a pager, yet is can continuously provide light for about 30 days on one set of three AA alkaline batteries! In addition, it offers many modes of use, including constant on, flash, strobe and SOS.
INOVA | www.InovaLight.com
INOVA flashlights, made by the Emissive Energy Corp., offers a wide range of lighting products from keychain lights to high-intensity LED flashlights. For example, the T1 and T3 are powerful tactical Made-in-the-USA flashlights that may be used by police or security officers.
Safe-Light Industries | www.PALights.com
The PALight's Safe-Light is one of the most unique lights I have ever seen. It fits in the palm of your hand, yet it offers a powerful LED light with multiple lighting modes including night-light, high beam and even an emergency flashing signal. A 9-volt battery and magnetic clip is included.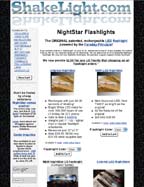 Nightstar | www.ShakeLight.com
The NightStar is one of the most amazing flashlights I have ever seen. It uses no batteries, yet it produces a strong LED light beam. How does it work? Just shake the Night Star for 30 seconds, and it will provide about 20 minutes of light.

Omniglow | www.omniglow.com
OmniGlow is the maker of a complete line of light sticks. First used by the military and law enforcement, the light sticks use no batteries, produce no flame, heat or sparks, are non-toxic and non-flammable, are very easy to use – and they are an excellent source of emergency light for up to 12 hours.

Nicaboyne | www.nicaboyne.com
Nicaboyne makes a distinctive product that integrates dual LED lights with a useable pen. This LED light pen has many uses, such as the ability to write and take notes in low light conditions. People who work at night, including those in law enforcement, security and the military, might want to take a close look at the light pen.

Maglite | www.MagLite.com
Years ago, when I was a law enforcement rookie, the first real flashlight I purchased for duty use was a MagLite. Even today, MagLite is a leading maker of flashlights, including the MagLite 2-Cell D, the Mini MagLite and the pocket-sized MagLite Solitaire.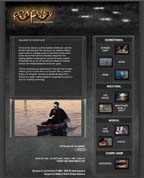 FoxFury | www.FoxFury.com
FoxFury makes a line of high-tech LED headlamps. For example, the FoxFury Safety Edition model features an amazing 24 LEDs that can illuminate an area of up to 200 feet in front and up to 60 feed in width. With batteries, this headlamp weights under 12 ounces including the batteries.

Coleman | www.coleman.com
Coleman, a well-known name in outdoor living products, has a new line of flashlights available at reasonable price points. The Coleman Widebeam Flashlights feature a new technology that provides a 50-percent broader beam.

Dakota SOS Torch Watch | www.DakotaWatchCo.com
For those folks who don't want to carry an extra flashlight on their person, the Dakota SOS Torch combines a quality quartz watch with powerful LED lights, and features a dial light, a flashlight and even a SOS signal – all built into an attractive wristwatch. It uses a unique charger that allows an 8-hour charge to operate the watch for about a month.

Coast | www.CoastCutlery.com
Coast offers an extensive line of LED light products. For instance, they make the TekTorches Personal Emergency Light, which is small enough to include on a keychain. It also includes a reflector tube that can be used as an emergency flasher. Another Coast item is the LED Lenser Tac Torch, which features a high intensity LED light that can operate for up to 50 hours on one set of batteries.

Longbow Gear | www.LongbowGear.com
If you are looking for a very powerful flashlight in a very small package, than you may want to take a look at the Longbow Micra LED flashlight. With a single 1 watt LED and a single 3-volt lithium battery, the flashlight is rated to produce about 21 lumens of light out to a range of about 130 feet. The Longbow Micra is small enough to keep almost anywhere so you are never without access a bright flashlight.

Terralux | www.TerraLUX.biz
TerraLUX makes a flashlight enhancement to convert a traditional bulb to a LED. This upgrade is available for different types of flashlights, including the popular MiniMag model. Converting a flashlight from a regular bulb to a LED light source may offers advantages such as an increased battery life, a nearly indestructible LED with an approximate 100,000 hour lifetime, and a bright white light beam.

Photon Micro-Light | www.PhotonLight.com
The Photon Micro-Light by LRI is a basic lighting tool for everyday life, as well as emergencies. It is about the size of a quarter, yet it will provide a strong LED light beam for about 12 hours of continuous use.
For more information on these flashlights and emergency lighting items, log on to the Web sites mentioned above.
Final thoughts
Take it firsthand from me, the right selection of quality flashlights during any catastrophe is an unquestionable must have. Along with the availability of proper food and water supplies, appropriate emergency lighting is the basic foundation of any prudent emergency plan.