Surveillance in the Sky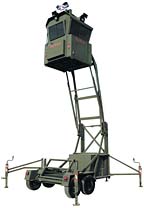 New Heights Manufacturing, Atlanta, produces Sky Watch, a unique family of products that combines mobility, surveillance and deterrence in one package to protect and multiply the capabilities of field and security forces. Sky Watch is a mobile tower with a totally enclosed heated and air conditioned cab/booth that can lift an officer up 24 feet into the air.


I want to hear from you. Tell me how we can improve.