Toolmakers Expose Jobsite Security Problem
A study by Towsen, Md.-based DeWalt identifies jobsite security (and the resulting loss of productivity) as a primary concern among professional contractors and other construction end users. The power tool manufacturer's findings are supported by existing industry research and expose an estimated $1 billion in annual losses, stemming from the lack of jobsite security.
The company interviewed more than 200 end users on jobsites across the country and worked with an independent research company, which polled more than 1,500 construction end users and buyers.
The study also found that 97 percent of construction industry professionals surveyed were concerned about jobsite security; tool theft, material theft and truck/van protection were top three types of jobsite losses; 60 percent of those surveyed said tool theft is the No. 1 concern and has the greatest financial and economic impact; replacement cost, lost time and decreased personal productivity are the top three reasons for jobsite security concerns; more than 50 percent of respondents had equipment stolen in the past 12 months; more than 75 percent of jobsite theft occurs at night and on weekends; and 77 percent of jobsites have experienced theft up to five times each year over the past three years.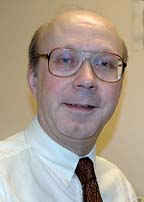 Cops, Geeks and Bean Counters
A clash of cultures in three distinctly different corporate departments is hindering companies in their attempt to upgrade their security efforts, concludes a report by the Conference Board. The report is based on the board's ongoing research and discussions with top-level security experts at major corporations.
It suggests that security functions are scattered among a trio of "corporate silos": physical security forces, security personnel in IT units and risk management executives. Many firms find it difficult to effectively coordinate and control urgently needed security activities among these departments, with many major decisions made by middle managers.
"To effectively manage their total security needs, companies must bridge this clash of cultures and create a common frame of reference for this function," said Tom Cavanagh, the board's corporate security specialist. "Walling off assets produces silos on the organization chart and it also produces a culture in which vital information may be hoarded rather than shared. As the Federal 9/11 Commission has found, the consequences of organizational silos and information hoarding within the government can be dire indeed. Similar problems often bedevil the private sector."
The three units also have different reporting relationships. Physical security is often lodged in middle management and reports to operations managers at the business unit or facility level. Risk management is run by actuaries who generally report through a chain of command to chief financial officers. IT security is vital to all areas of global companies since it manages day-to-day operations.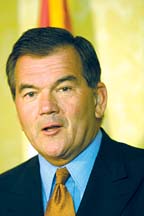 DHS Secretary Talks Ports
Secretary of Homeland Security Tom Ridge, speaking at the Asia-Pacific Homeland Security Summit in Honolulu, addressed one of the largest security issues in last year's campaign: ports. He called for an international "culture of cooperation," between Asia-Pacific nations and the United States.
Said Ridge, "Just as we strive to close gaps and vulnerabilities at our own borders by pooling resources and engaging our entire country and citizenry, we must do the same with our international allies and friends. For the first time ever, we have one global standard for ship and port security, and we are moving forward rapidly to implement that standard."
The secretary stressed adherence to standards, and the use of biometrics and other currently available technologies, including electronic seals and container-tracking devices, to improve port and land-sea borders. For a full transcript of Secretary Ridge's statements, visit www.dhs.gov/dhspublic/interapp/ speech/speech_0227.xml.



Innocent Until DNA Matches
In October, President Bush signed an amended version of the Justice for All Act into law. The bi-partisan election-year act includes much of the 2003-proposed Innocence Protection Act, which makes post-conviction DNA testing available to anyone declaring their innocence in federal cases. The law will require federal and state forensic facilities to streamline their testing protocols.
"We have the means at our disposal to minimize the possibility of error and, especially where lives are at stake, we must use them," said bill co-sponsor Rep. William Delahunt (D-Mass.)
The five-year, $1 billion program contains substantial funding and incentives for states that adopt similar DNA testing policies and streamline the significant backlog of 350,000 untested DNA evidence samples in various criminal cases.