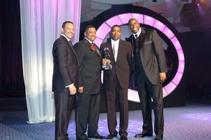 Carter Brothers Will Receive the National Urban League's First Entrepreneurship Award
Leader in the Security and Fire Safety Industry received honors at 51st Annual Equal Opportunity Day Awards Dinner
Carter Brothers received the first Entrepreneurship Award from the National Urban League, the nation's oldest and largest community-based organization dedicated to empowering African Americans to enter the economic and social mainstream.
Established in 2001, by NFL great Cris Carter and his brother, business executive and entrepreneur John Carter, Carter Brothers has established itself as one of the fastest growing companies in the electronic security and fire alarm industries. From the beginning the two entrepreneurs focused their attention on providing products and services to assist in securing, and maintaining the integrity of each client's facility.
Carter Brothers was chosen to receive the award because of its continuous expansion and growth. In 2007, Carter Brothers acquired fire safety leader Edwards Service from GE Security. The acquisition netted the organization $32 million in revenue and a presence in 9 states. Carter Brothers' combined 2007 fiscal year earnings are projected to reach upwards of $97 million. The award also takes into account, Carter Brother's philanthropic support of various non-for-profit organizations.
"Since its beginnings the National Urban League has been a truly visionary organization," said Cris, Carter Brother's chairman. "The organization is in the forefront of advancing economic empowerment amongst African Americans. We are honored to receive this very prestigious award from such a vital organization."
The award will be presented to Carter Brothers by business mogul Earvin "Magic" Johnson, chairman and chief executive officer of Magic Johnson Enterprises.
About Carter Brothers
Carter Brothers is a full-service provider of electronic security, fire, life safety products and project management services. Carter Brothers is headquartered in Atlanta and provides electronic security systems and services including closed circuit television, intrusion detection, access control, and related fire and life safety products. A National Minority Supplier Development Council Corporate Plus© Member, Carter Brothers has over 200 employees and has established itself as one of the largest minority-owned electronic firms in the country, with 50 locations nationally.