At Northwell Health (Northwell), a 21-hospital health system with 900 ambulatory sites and 85,000 employees, the security team has foregrounded training to prevent and respond to active shooter incidents.
As New York's largest medical provider, Northwell employs around 1,000 security officers — approximately 75% of whom are proprietary — to protect facilities across the New York City metropolitan area. One hundred and forty-eight of those officers serve Long Island Jewish Medical Center (LIJMC), one of Northwell Health's flagship hospitals. The security officers jointly serve LIJMC and Cohens Children's Hospital, protecting the combined 700-bed, three-million-square-foot campus with a mix of armed and unarmed officers.
According to Kenneth Solosky, Director of Training for Corporate Security at Northwell, training plays a critical part in the health system's holistic security program, which relies on a multi-layered approach to security including technology, education and risk assessments to ensure safety across Northwell's facilities.
In 2022, the health system hosted an active shooter response training with LIJMC's armed security officers led by the Nassau County Police Department's Bureau of Special Operations (BSO). Feedback from the training led to a follow-up event this year geared toward LIJMC's unarmed security officers.
"We asked [BSO] if we could replicate the training and give the armed unarmed officers specific jobs, tasks and responsibilities during an active shooter incident, and they exceeded my expectations," says Solosky.
The training addressed what unarmed security officers can do while their colleagues and law enforcement partners engage with an armed threat.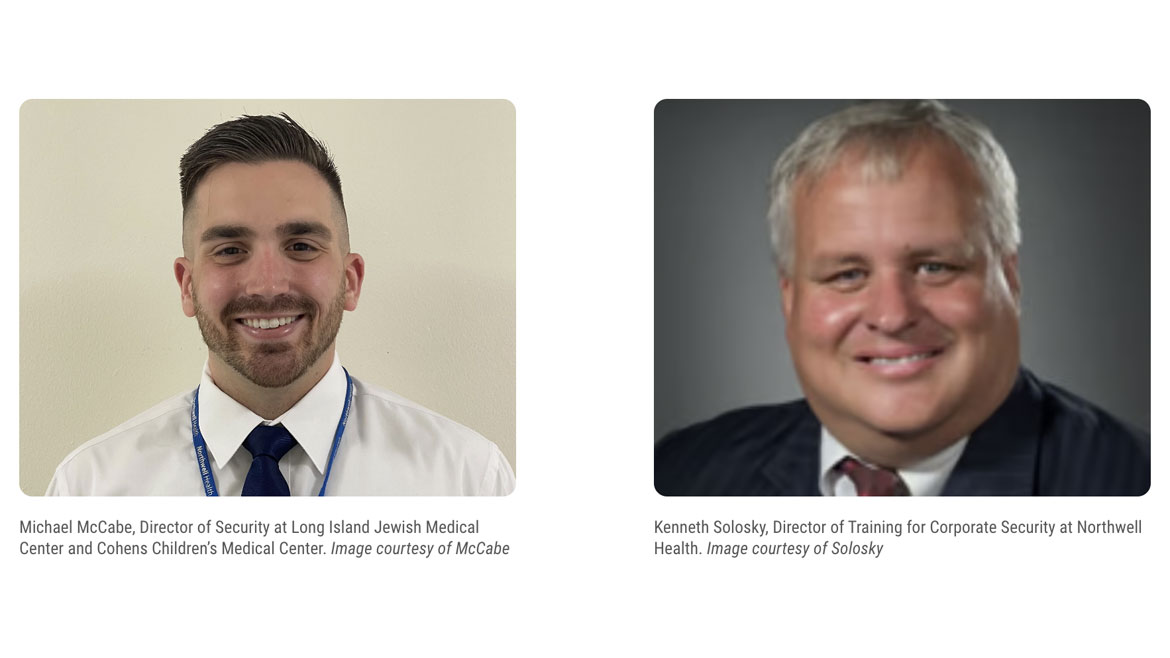 "We made it abundantly clear — we're not exposing [unarmed officers] to any danger, and we expect them to do no confrontation in any way, shape or form," adds Solosky.
Instead, the training focused on ways unarmed security officers could aid law enforcement and armed partners should an active assailant initiate an attack. Responsibilities for unarmed security officers during an active shooter incident include intelligence gathering, directing police officers to the scene, and assisting with evacuations, among others.
Michael McCabe, Director of Security at Long Island Jewish Medical Center and Cohens Children's Medical Center, says security officer feedback following the unarmed training has been overwhelmingly positive.
"Anybody who's ever been in leadership before knows you can never make everybody happy. But after this training, we did not have one person come back to us and give us negative feedback," says McCabe.
McCabe, who started at LIJMC as an unarmed security officer in 2017 before being promoted to his current role, says this training has met a need for more advanced on-the-job education for the hospital's unarmed security officers.
"It's very possible in any healthcare facility for a security officer to show up to a scene that suddenly turns into an active shooter situation, and those security officers have to be able to manage that scenario more effectively. This training gave them those tools to be more effective, be safe and be empowered to respond appropriately," says McCabe.
Going forward, Northwell is continuing to invest in training, including hiring an instructor to give regular module-based trainings on a number of security tactics, as well as working with their healthcare provider partners on a simulation-based training program to give security officers hands-on experience with behavioral health calls.
"Training is one important part of our entire security initiative," says Solosky. "With 85,000 employees, we're not immune to the ills of society. This training is part of a larger initiative to prevent violence across the health system."