Being on the cutting-edge of stadium innovation is celebrated from the top down at Mercedes-Benz Stadium, the Atlanta, Georgia-based stadium home to the National Football League's (NFL) Atlanta Falcons, Major League Soccer's (MLS) Atlanta United and numerous other major events each year.
In 2022, the team at Mercedes-Benz Stadium hosted approximately 50 major public ticketed events, bringing 2.1 million guests safely through the door. Across the stadium's public events, tours and private events, Mercedes-Benz Stadium hosts an average of three million visitors each year. Operating and securing one of the U.S.'s foremost event centers necessitates collaboration between all stadium stakeholders, from the leadership team to operations, guest services, security and more.
"What we like to do here at Mercedes-Benz Stadium is push the levels in all these areas. Our owner puts an emphasis on making sure that we have our ear to the ground, that we are a lab for the next level of the guest experience," says Joe Coomer, Vice President of Security at AMB Sports + Entertainment (AMBSE), the organization comprised of the Atlanta Falcons, Atlanta United and Mercedes-Benz Stadium.
"I think one of the things we celebrate at Mercedes-Benz Stadium is being the very first in the cashless space for our fans," Coomer adds. "The next frontier upon us is frictionless. How do we get our fans in the building in that post-COVID climate?"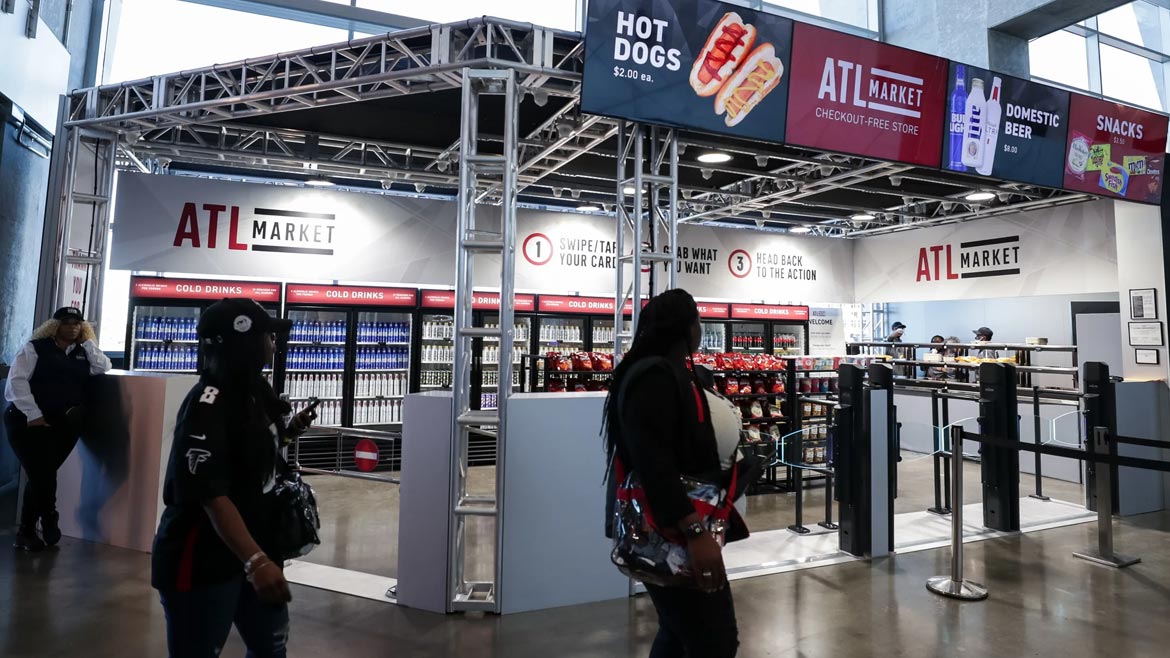 ATL Market in Mercedes-Benz Stadium, a cashless retail space. Image courtesy of AMB Sports + Entertainment
Assess security risk
To tackle that question and move toward a frictionless entry process, the Mercedes-Benz Stadium security team initiated a coordinated technology implementation that started with assessing risk.
The team assesses risk on an ongoing basis to determine where best to leverage technology and assign resources. Security meets weekly to brief on current risks; liaises with local, state and federal public safety partners; and analyzes threats across the event industry to build threat mitigation strategies.
"We talk about what's industry-related, what's happening in venue security," Coomer says. "We are very tuned in on what's taking place at these venues — in Paris with the bombing of the soccer stadium, and the Ariana Grande concert over in the U.K. We had good contacts out in Las Vegas to discuss the Route 91 Harvest Festival active shooter, and most recently in Houston last year at the Travis Scott concert. We look at these incidents and ask, 'What's causing these issues? What are we doing to mitigate them?'"


Identify and mitigate the security challenge
In analyzing past incidents and the threat landscape of the stadium, Coomer and his team identified security screening and weapons detection as a critical component of the frictionless entry process.
The Mercedes-Benz Stadium security team safely facilitates entry for millions of patrons per year by balancing speed and guest experience in the screening process.
"The most important thing is getting folks in safely, and then our guest services hat comes on — how do we get these folks in the building to their delight?" Coomer says.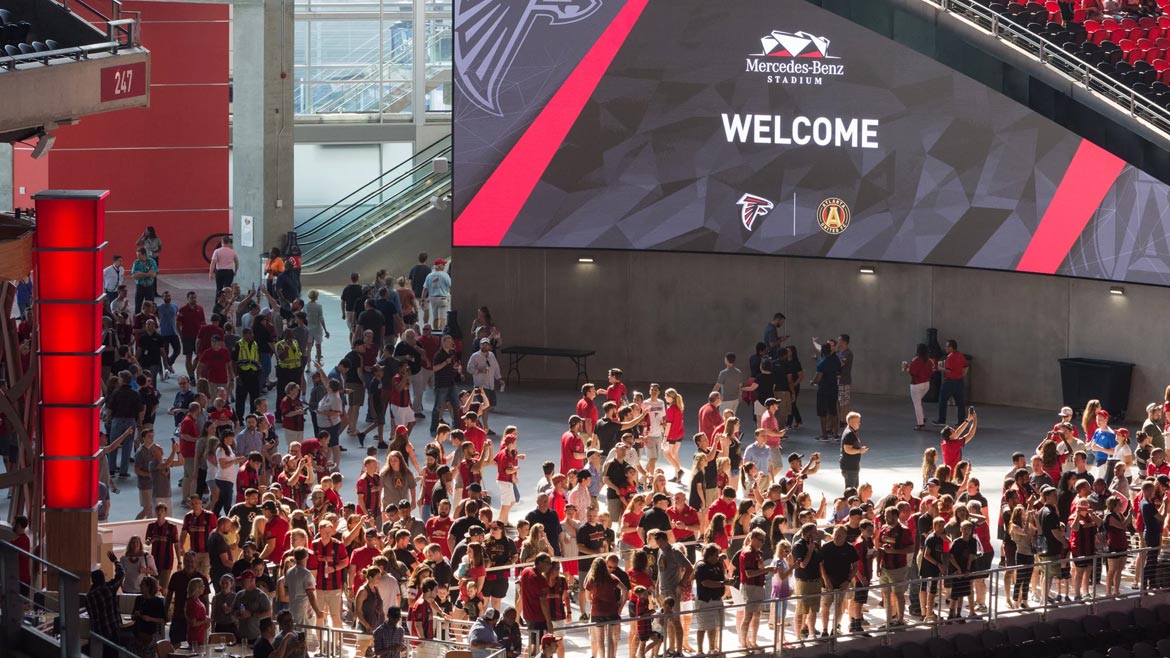 Image courtesy of AMB Sports + Entertainment
It comes down to frictionless entry, Coomer adds. When the stadium opened in 2017, they deployed more than 140 magnetometers across seven different gates. "Our main problem was the humans and the human fatigue," says Coomer.
With thousands of patrons ingressing through magnetometers prior to each event, security officers manning the technology faced the challenge of fatigue. To mitigate the issue, Mercedes-Benz Stadium looked to weapons detection screening that took a more hands-off approach.
"That's when we took the step to the next generation of screening," Coomer says. The stadium tested a number of screening technologies against their magnetometers to ensure safety was benefitted by the screening tools that required less employee-patron interaction.
After testing, the stadium implemented a new weapons detection technology from Evolv, which is combined with the NFL's clear bag policy and X-ray scanning requirements to detect any objects that could present a security threat within the stadium. "What we've been able to speed up in the industry is the screening process — you have to open the gate," Coomer says.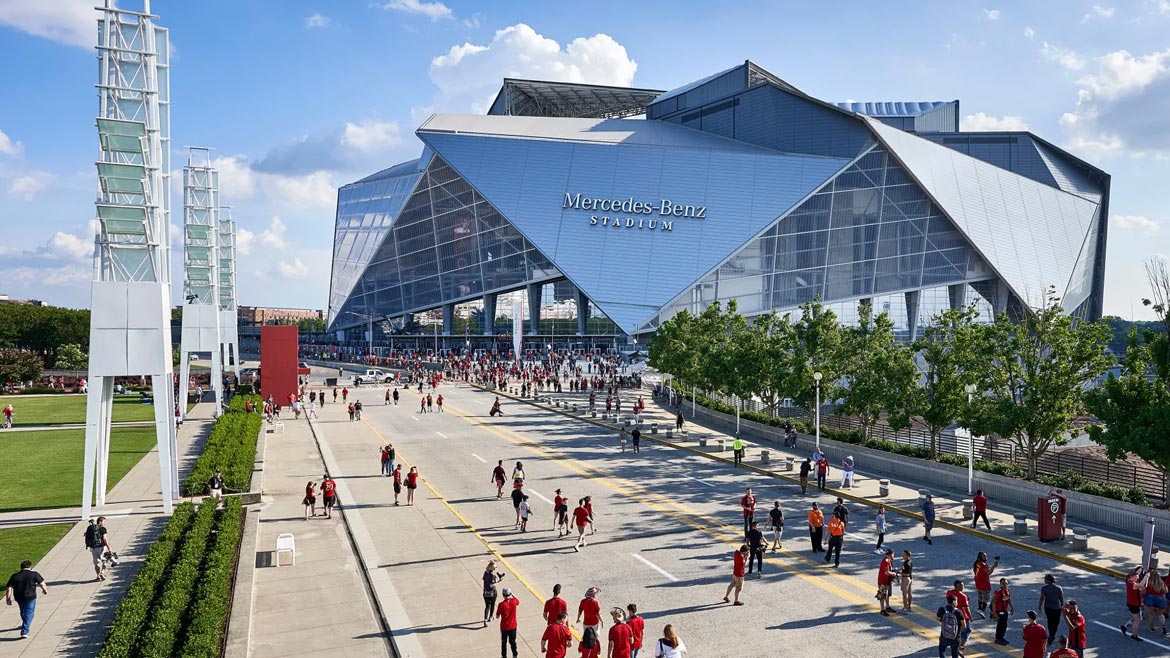 Image courtesy of AMB Sports + Entertainment

Solicit guest and security officer input
Woven throughout the security technology at Mercedes-Benz Stadium is a team that understands the importance of security and feels like a valued part of the security department, according to Coomer. From training employees to recognize security threats to soliciting feedback from frontline workers and fans, the security team pairs technology with a security-aware community of employees and patrons.
Both during and after implementing the new system, Mercedes-Benz Stadium security leadership initiated a survey process to assess how fans and frontline security officers responded to the change in screening and determine if the human fatigue error was corrected, as well as whether any new pain points were appearing.
"When we did our surveys with our fans and employees after testing the new tech, we were conscious about how less touching is better for our employees' safety," Coomer says. "On the other side of that, our fans said, 'I don't want you touching my bags.' So I think that's the benefit of this next generation of inspection that's upon us."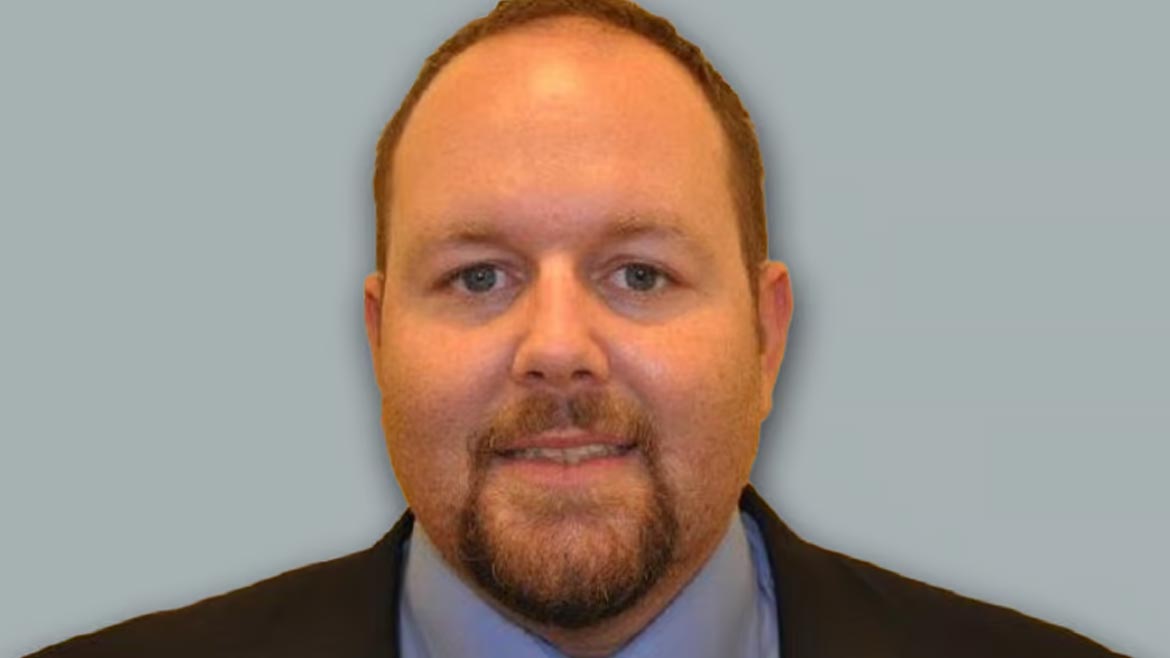 "The most important thing is getting folks in safely, and then our guest services hat comes on — how do we get these folks in the building to their delight?" // Joe Coomer
The fan surveys helped uncover a new challenge brought about by the more covert screening. "When we first switched over to the new weapons detection screening, the comments that we started to see from fans at first were, 'I'm not even getting screened anymore.' So we had to be intentional on our messaging to folks," says Coomer. The stadium security team put up signage in the screening area to alert fans about the new procedures.
In addition to fan surveys, the Mercedes-Benz Stadium security team conducts focus groups internally with security and guest services personnel. "You'd be amazed how many great ideas they have that you'd never hear about otherwise," says Coomer. "That time spent with frontline staff helps get those ideas that may not have materialized in any other way."
Determine key performance indicators
Once security leadership solicits feedback from their patrons and employees, another consideration to take into account is defining key performance indicators (KPIs) for the technology to assess its long-term success.
"This is something that we sit down with our vendors and our contractors to determine, and even as a department," Coomer says.
When KPIs depending on the threat level and technology have been defined, security leaders should consider how they'll track the data in the future.
"Ask yourself how you are metering [your KPIs]. How are you understanding them? Hold yourself accountable… across the board — with your guard forces, your management team and with your technology," Coomer says.
Set security technology up for success
Security leaders looking to implement new technology can use the above framework to help determine the right tool for their team and organization. Assessing risk, determining the security challenge, testing solutions, soliciting stakeholder feedback, and defining KPIs for the future has helped the Mercedes-Benz Stadium security team smoothly transition into a frictionless entry system for their patrons — and the process helps in current and future technology implementations, as well.
As of Security's interview with Coomer, the Mercedes-Benz Stadium team was just weeks away from deploying robotic K9 patrol units. Sparked by the risk of workforce shortages and human error in patrols, the stadium security team responded with testing and implementing the technology.
Armed with a pathway to success, Mercedes-Benz Stadium's security team is "so excited to get the technology online." By identifying security challenges, testing technology, and using a data-driven approach to determine its effectiveness, the stadium aims to stay on the cutting edge of security and innovation.