As the year ends, Security magazine highlights physical security products that were introduced to the market in 2022. Covering new security technology, including access control, video surveillance, emergency and mass notification, alarm monitoring, risk assessments, and more, we spotlight innovative security technology that can help enterprise security teams build successful programs.
---
Allegion
Enables Touchless Access and Accessible Operation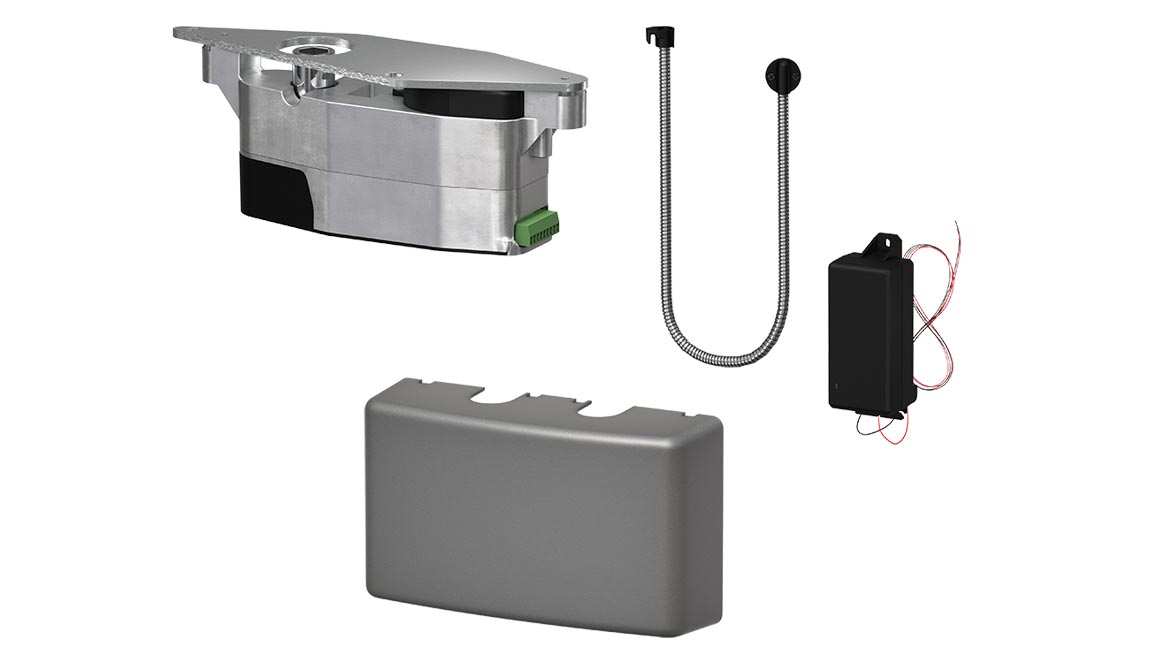 Allegion's LCN 6400 Compact series low-energy automatic operators for touchless access and accessible operation on interior doors is designed for use in a variety of institutional and commercial facilities. The solution has the ability to convert existing LCN 4040XP mechanical door closers to touchless solutions for automated opening and closing when combined with an actuator. The solution helps address risk mitigation in high-traffic areas by enabling hands-free operation of an entryway. The electrified module connects with a mounting plate and four screws to drive open the mechanical closer. The operators are ADA compliant. Image courtesy of Allegion
Find out more at www.allegion.com
---
ASSA ABLOY
Integrates With Existing Access Control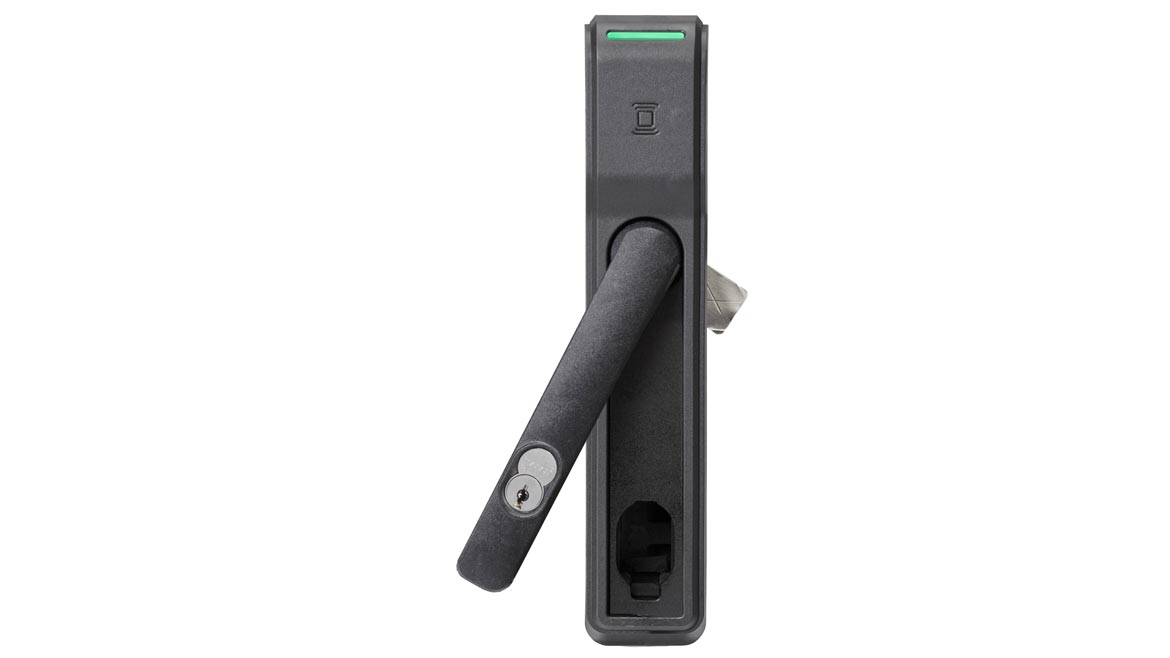 The ASSA ABLOY HES KS200 Series Cabinet Lock is designed to integrate with existing access control systems and protect critical assets from intrusion and downtime. Designed to install easily on most swing handle server cabinet doors, the KS200 comes standard with lock monitoring and utilizes a Small Format Interchangeable Core (SFIC) mechanical key override. An additional optional extended DPS monitoring sensor can be connected to ensure that the cabinet is closed, locked and secure. The hard-powered KS200 features HID multiclass SE contactless card technology. Image courtesy of ASSA ABLOY
Find out more at www.assaabloy.com
---
Axis Communications
Allows for Deep-Learning Analytics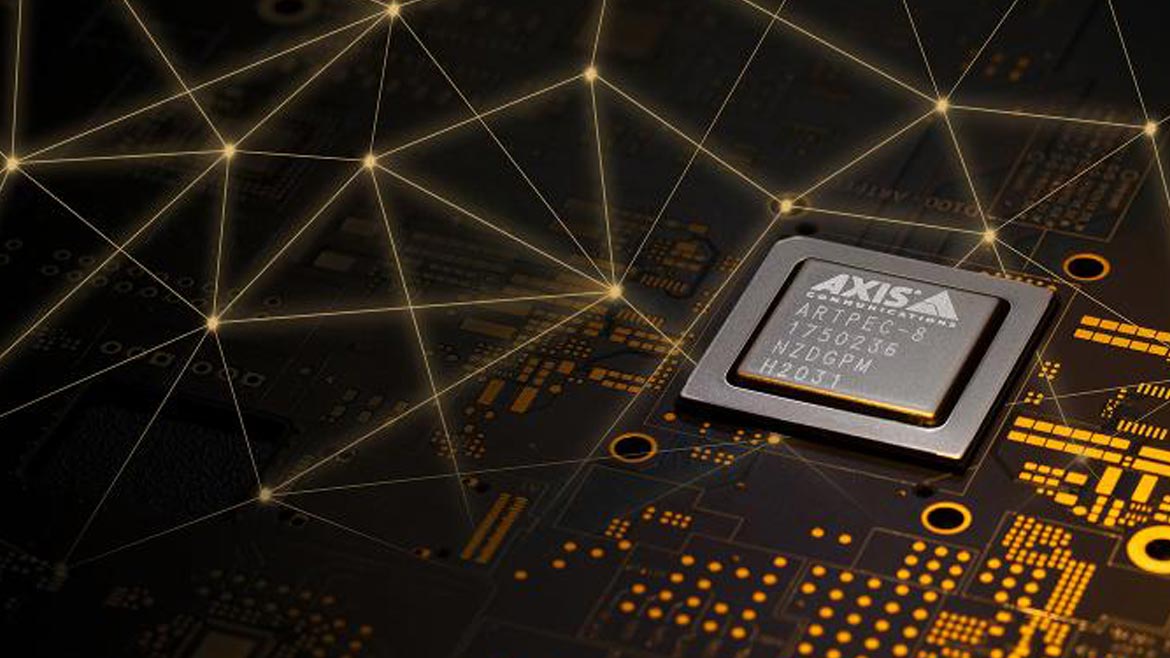 Axis Communications' ARTPEC-8 system-on-chip, made for network video, supports analytics applications based on deep learning on the edge. Its deep learning-based analytics allow for alerts to help users act to protect people and property. ARTPEC-8 also helps improve difficult light conditions and can increase the performance of analytics applications. ARTPEC-8 builds on cybersecurity features introduced with ARTPEC-7, including signed firmware and secure boot. ARTPEC-8 supports Edge Vault for secure storage of cryptographic keys and certificates. Image courtesy of Axis Communications
Find out more at www.axis.com
---
Bosch
Video Surveillance Cameras for Challenging Lighting Conditions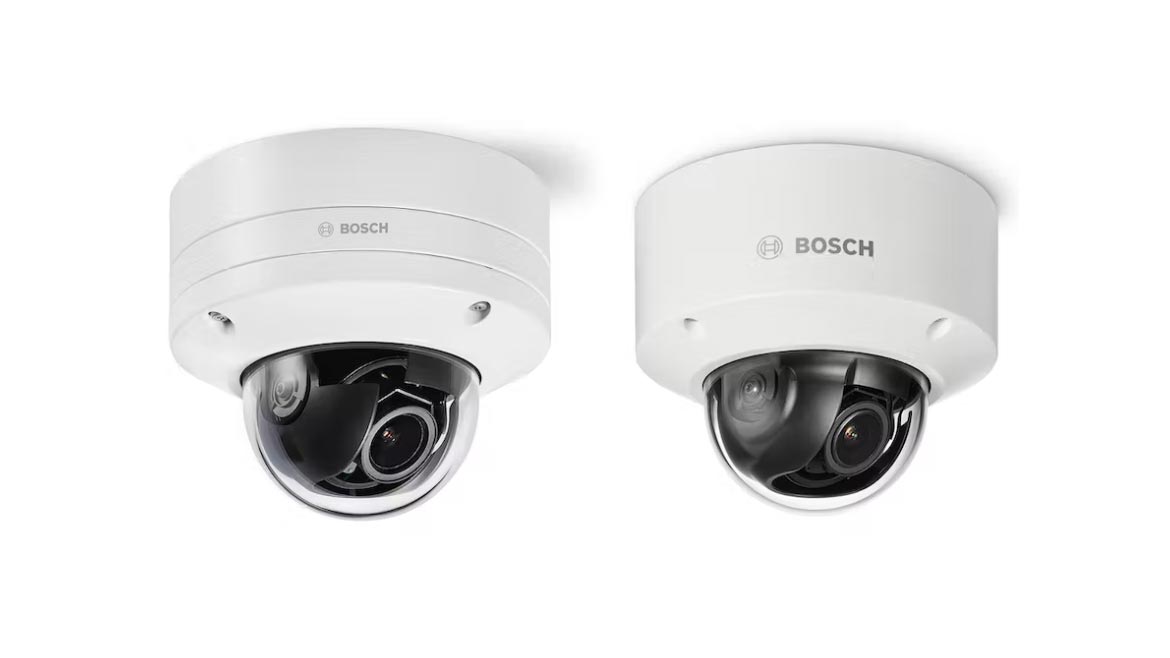 Bosch's FLEXIDOME IP starlight 8000i X series cameras feature HDR X to optimize video capture in scenes with fast moving objects with a dynamic range, ensuring exposure while reducing motion-related artifacts and blur in the daytime. The starlight X technology helps to improve image quality during the day and helps capture near-dark scenes. The camera's built-in artificial intelligence (AI) featuring Intelligent Video Analytics and machine learning offers relevant data supporting predictive solutions in mission-critical applications. The camera is water-, dust- and vandal-resistant. Image courtesy of Bosch
Find out more at www.boschsecurity.com
---
Databuoy
Panic Button Alerts Security and Sends Notifications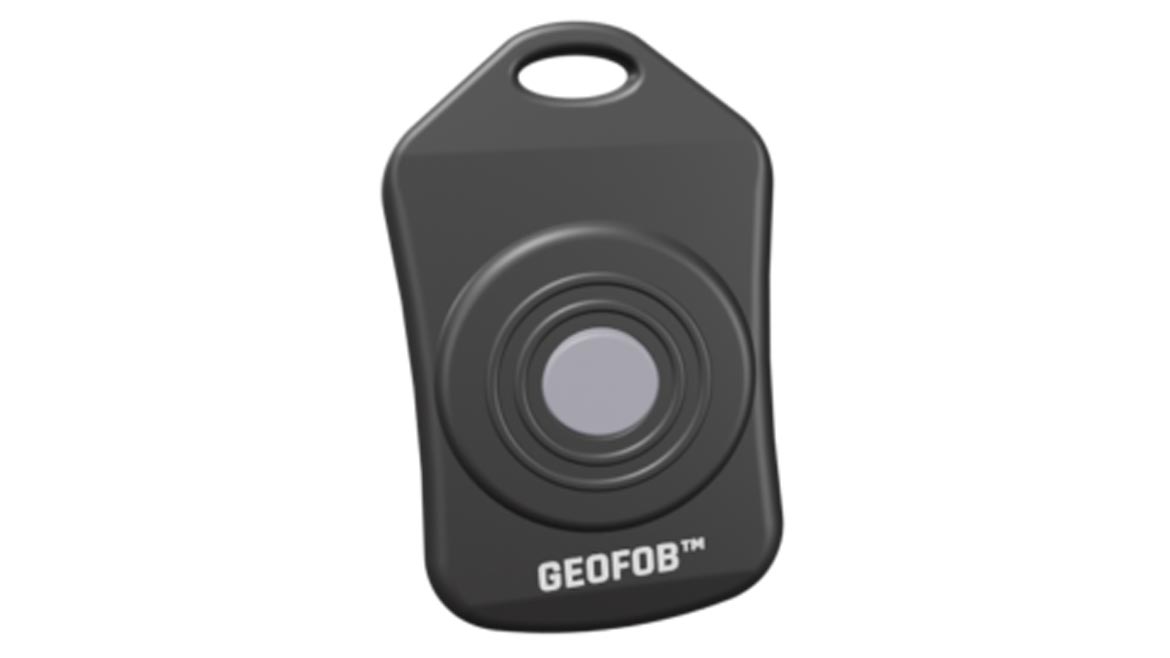 Databuoy's Geofob mobile panic button integrates with the company's existing network of smart sensors and uses a patented localization method. Users have the capability to know if an employee, contractor, or operator needs urgent assistance, along with their identity and exact location. With the push of a button, the Geofob integrates with video to capture imagery from nearby cameras to enable situational awareness. When the button is pressed, the Geofob silently vibrates to provide feedback to the user that the panic message has been delivered. Optionally, the solution can also capture audio from the Geofob and surrounding sensors when the button is pressed. Image courtesy of Databuoy
Find out more at www.databuoy.com
---
Evolv Technology
Allows for Weapons Detection and Physical Security Screening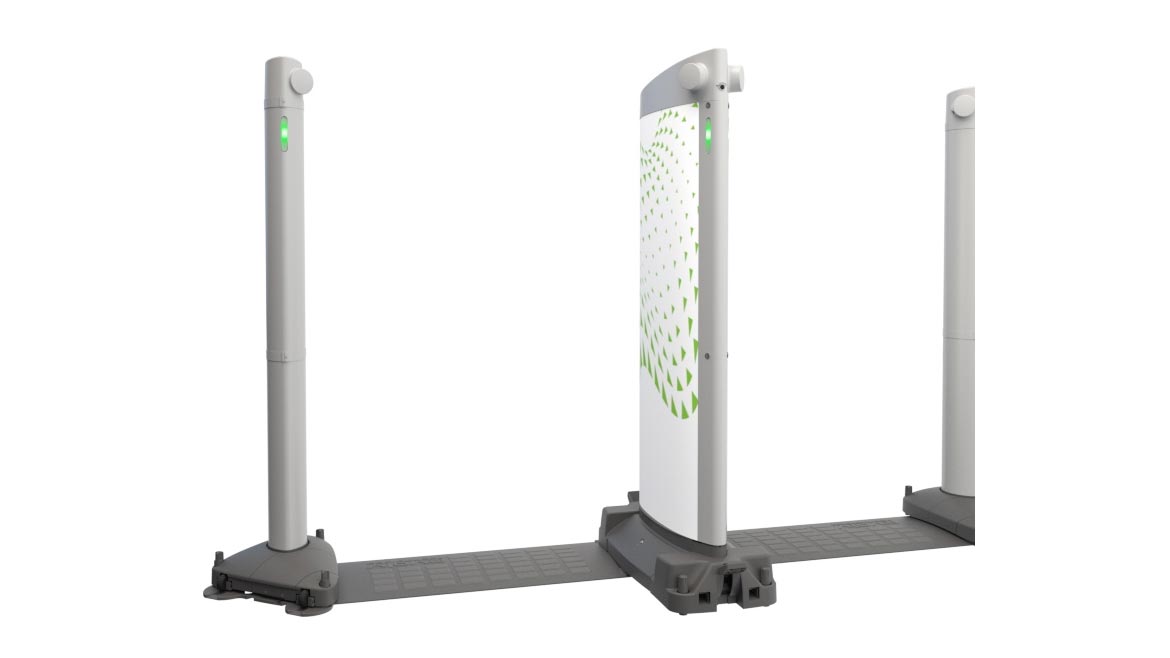 Evolv Technology's Evolv Express 3.0/5.0 is a weapons detection system that combines sensor technology with AI, security ecosystem integrations, and venue analytics to help ensure threat detection. According to the company, Express has the capability to screen 4,000 people per hour without having visitors empty pockets, remove bags, or stop. Operators can see where the potential threat is on a person's body or in their bag, with visual alerts to help focus security professionals on addressing threats. Users can deploy the system for indoor or outdoor screening, and there are multiple deployment options, including single or double-lane configurations. The solution has been awarded the DHS SAFETY Act designation. New updates to the platform include an enhancement to analytics and outdoor capabilities. Image courtesy of Evolv Technology
Find out more at www.evolvtechnology.com
---
Fivecast
Automates Intelligence Analysis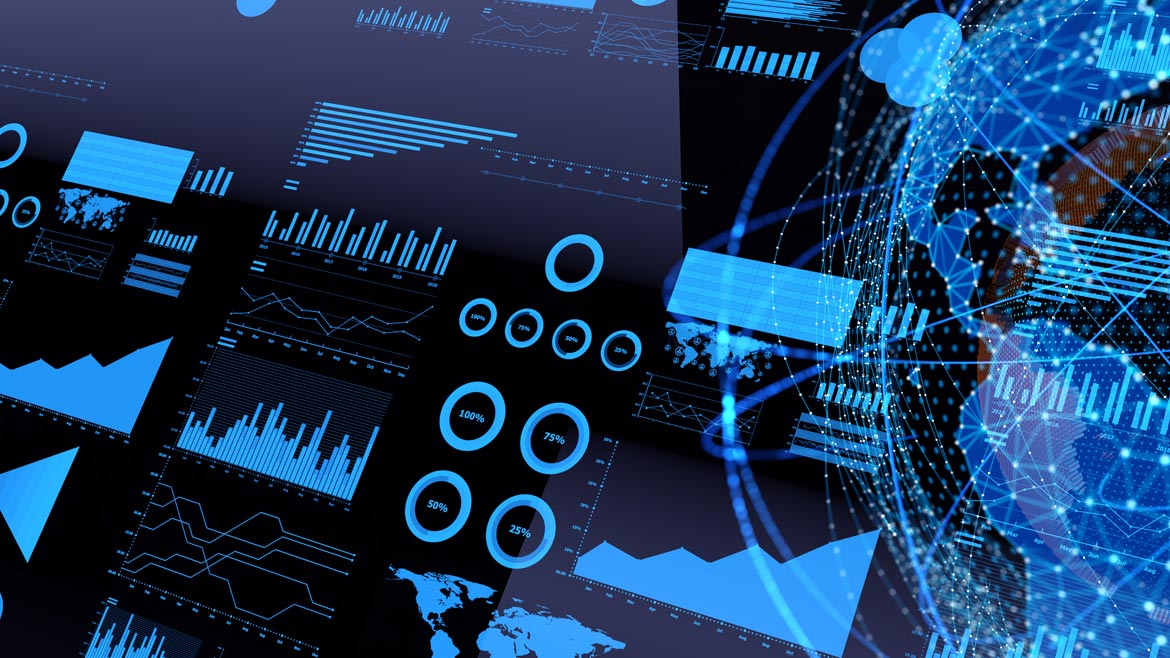 Fivecast ONYX is an open-source data collection and analysis platform that addresses high-priority use cases for the national security, law enforcement and defense markets. Its data collection technology enables analysts to perform discovery across a range of surface, deep and dark web data to resolve identities and their account handles. In addition, the platform provides a customizable risk assessment framework, using AI and machine learning to uncover threats hidden in large amounts of unstructured multimedia data. Use cases vary from managing risks associated with extremist threats to security vetting, insider threats, fraud detection, protective security and more. Olemedia / E+ via Getty Images
Find out more at www.fivecast.com
---
Hakimo
Filters False Alarms in Security Operations Centers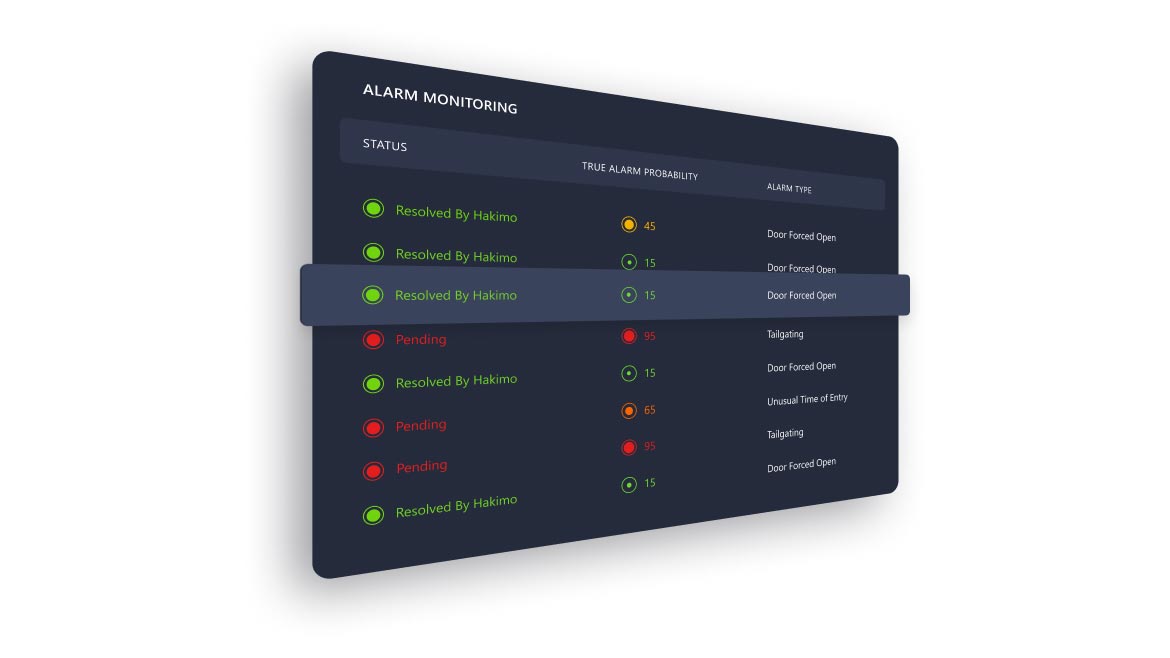 Hakimo's smart monitoring software powered by AI helps to manage enterprise physical security operations and to streamline the workflow of a security operations center. In addition to detecting tailgating using existing cameras, the software uses video analytics to auto-resolve false alarms and reduces nuisance alarms. Its data analytics algorithms analyze alarms across time and diagnose faulty hardware such as door sensors and point out anomalies in cardholder behavior, such as the same card being used at multiple locations within a short duration, unusual time or location of usage, and more. Image courtesy of Hakimo
Find out more at www.hakimo.ai
---
Honeywell International
Improves Situational Awareness With Alarms and Maps
Honeywell Pro-Watch 6.0, the latest iteration of its Pro-Watch Integrated Security Suite, provides incident workflows and system health dashboards to help enable compliance needed for highly regulated industries. New features allow security operators to access incident reports with evidence attachments. Operators can also manage both access and video control through a unified mobile app. The solution features alarm management, allowing operators to search, filter and rollup events by severity and time. The solution integrates across Honeywell access control platforms and Honeywell Vindicator panels. Image courtesy of Honeywell
Find out more at www.honeywell.com
---
IPVideo Corporation
Enables Environmental and Safety Monitoring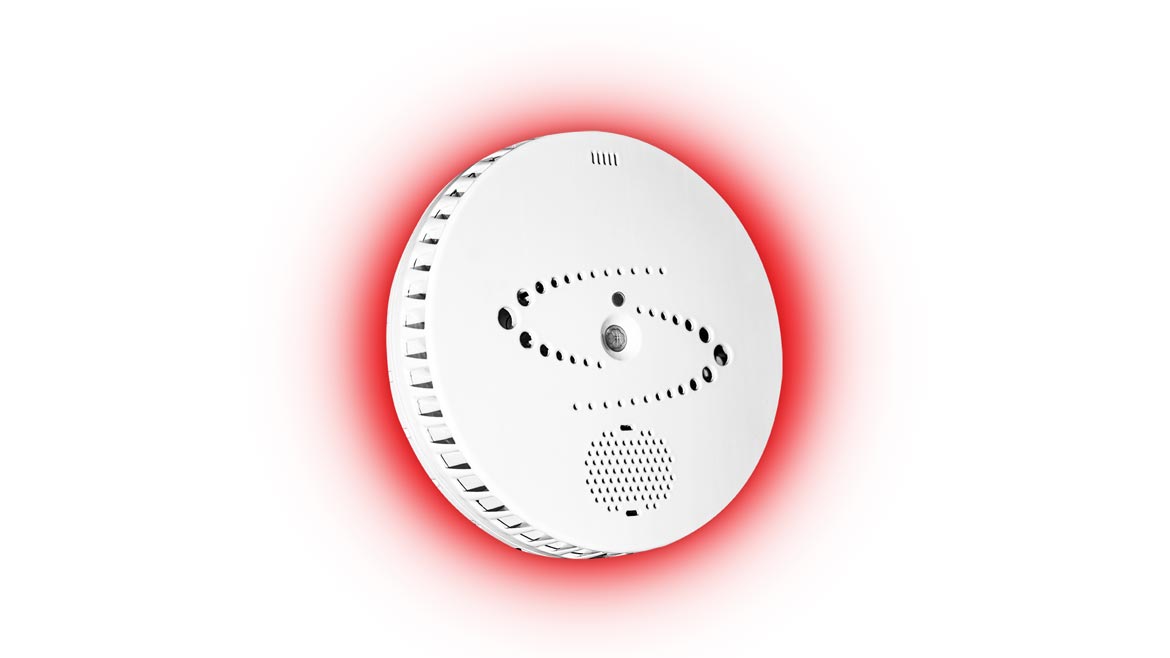 IPVideo Corporation's HALO 3C now delivers a panic button, two-way audio communications, indoor health index, emergency escape, alert lighting, motion detection and people counting. Existing features include gunshot detection, noise alerts, and emergency keyword alerting. The solution does not use a camera or record audio to address facility privacy areas. The update allows users to receive push notifications of any HALO alert and provides air quality and health indexes, sends alerts when either index falls into danger zones, and provides critical automated reports. HALO 3C comes with LED colored lighting options that can be programmed to show escape routes for safety, such as a red, yellow, and green pattern, or colors for different alerts, such as purple for air quality alerts or blue for health alerts. Image courtesy of IPVideo Corporation
Find out more at www.ipvideocorp.com
---
OnSolve
Delivers Critical and Time-Sensitive Security Alerts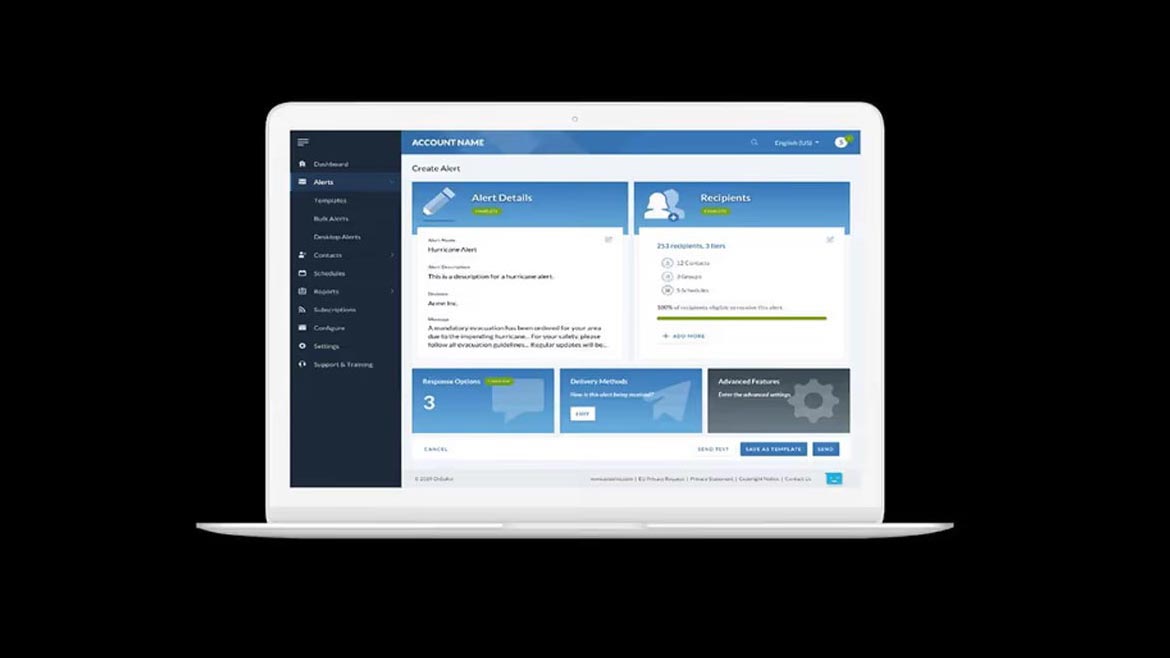 The OnSolve Platform for Critical Event Management offers an integrated suite of products: OnSolve Risk Intelligence, Critical Communications and Incident Management. The platform leverages machine learning and AI to ingest thousands of verified data sources to identify critical events and deliver alerts to stakeholders. With the platform, organizations can activate crisis response plans; filter out irrelevant data so staff can monitor only critical events that impact their people, places and property; target alerts to desired people; and improve response times so users can activate their business continuity plans and collaborate from various locations. Through the OnSolve integration engine, users can orchestrate tasks such as wellness checks and alerts to impacted areas, disable building access and more. Image courtesy of OnSolve
Find out more at www.onsolve.com
---
Quanergy System, Inc.
Tracks People and Vehicles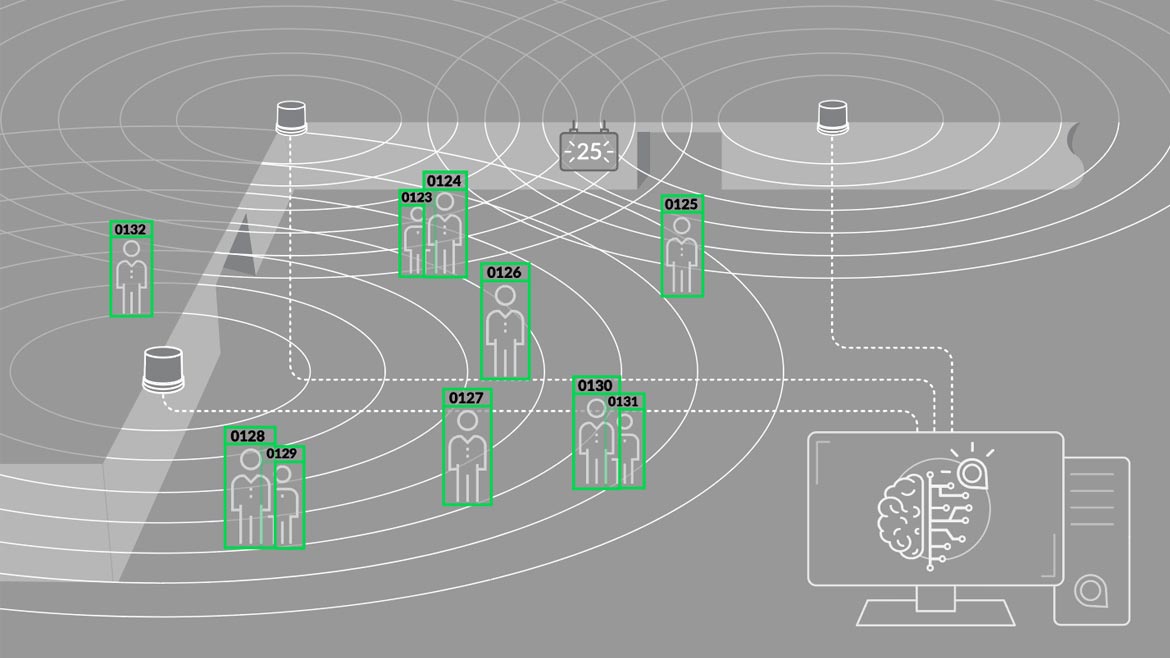 Quanergy System, Inc.'s QORTEX DTC 3D LiDAR Perception Software helps enable tracking of people and vehicles for security, smart space and smart city applications. The solution generates data that includes location, direction, speed, and type of objects detected. Through its API, users can build analytics and business intelligence tools to monitor and automate critical processes such as reducing traffic accidents, protecting sensitive environments, and increasing efficiency in retail environments. The solution operates in several lighting conditions and is compatible with video management systems. Image courtesy of Quanergy System, Inc.
Find out more at www.quanergy.com
---
RaySecur
Automates Mail Security Screening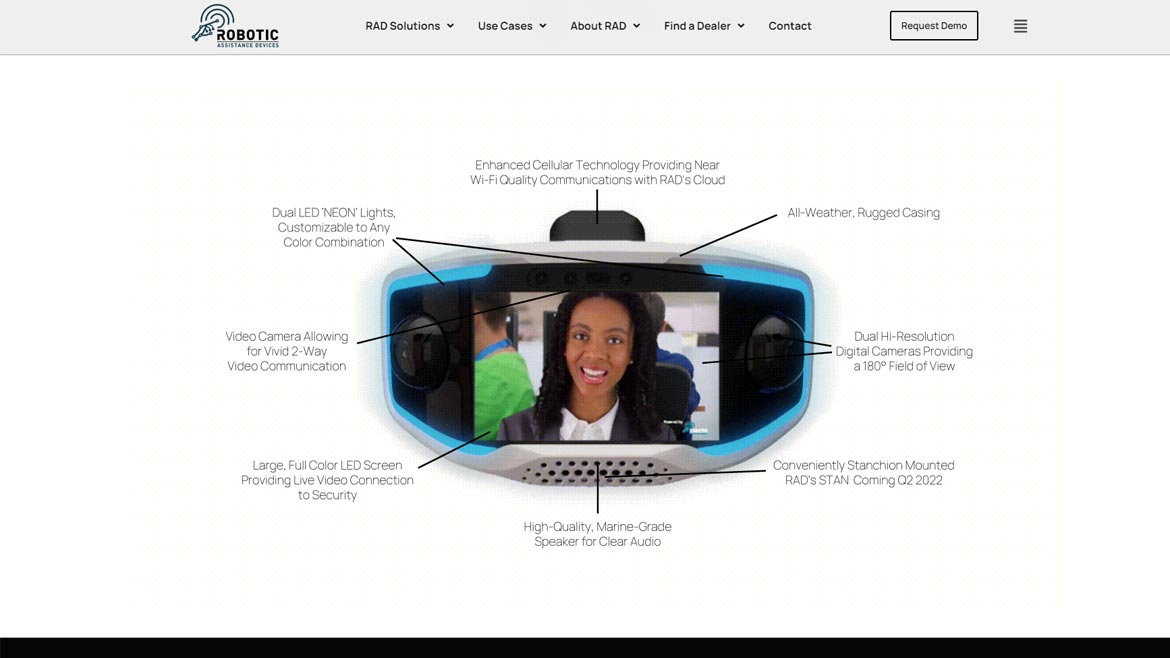 RaySecur's mail threat detection MailSecur with Johnson Controls Inc.'s C-CURE integration, MailSecur + C-CURE, helps to close gaps in mail screening vulnerabilities while providing building security management. The integration allows security executives to implement automated building operation responses tailored to specific threats. An API enables plug-and-play integration with Johnson Controls' security solutions for automated threat responses across building systems and data sharing between. The solution can detect all Department of Homeland Security (DHS) designated substances, including powders and liquids sent in letters and small packages, as well as letter bombs, hoaxes and traditional threats. Image courtesy of RaySecur
Find out more at www.raysecur.com
---
Resolver
Gain Corporate Security Insights for Incidents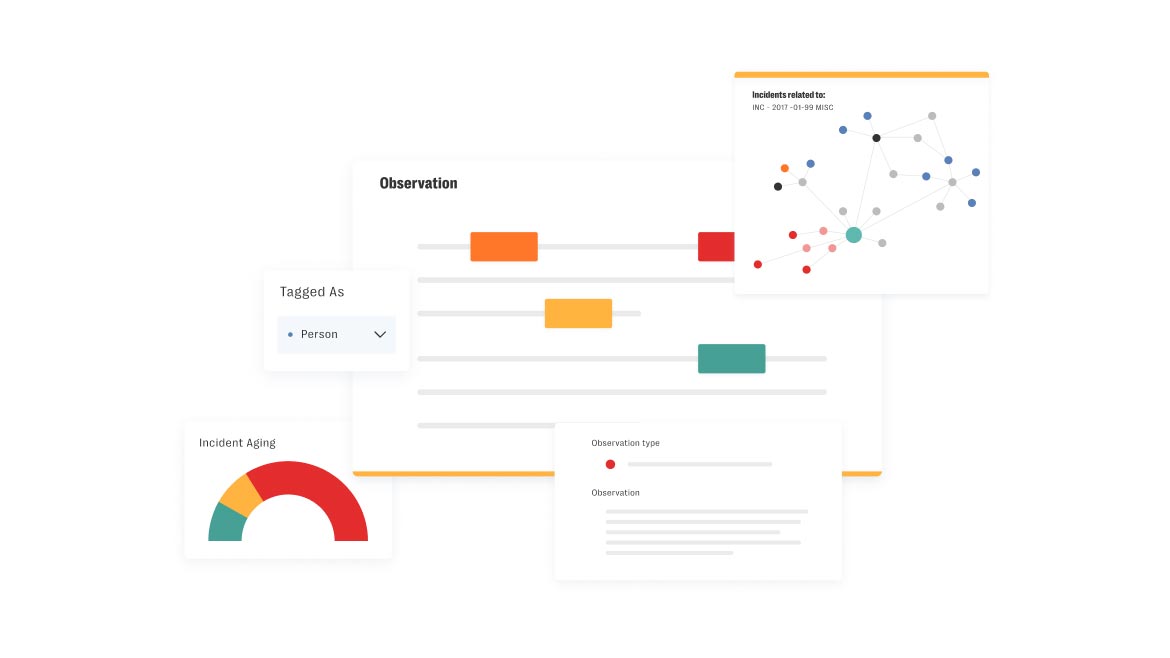 Resolver Inc. announced the 3.6 release features for its cloud-based incident management software. With the additional features, corporate security teams can gain visibility and insights to protect their organizations. Capabilities include confidential reporting to enable employees to report incidents from anywhere and minimize fear of retaliation, as well as email data collection and hotline reporting to improve corporate security and case investigation teams' ability to bring data into Resolver's incident and case management applications. Security teams can also leverage data from existing processes via integrations.
Image courtesy of Resolver
Find out more at www.resolver.com
---
RightCrowd
Prevents Access Control Threats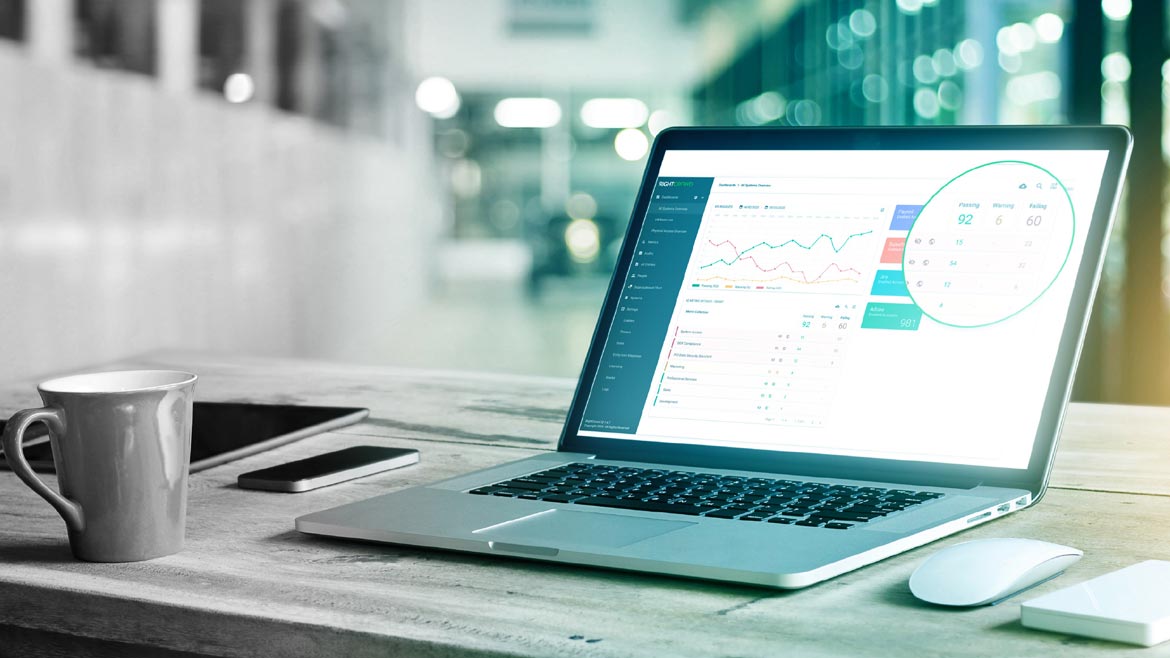 RightCrowd Access Analytics is a software solution that allows physical security, operational technology (OT), information technology (IT), HR and business teams to collaborate, review and take action against inappropriate access from both physical and digital assets and enterprise systems. Based on daily input feeds from business systems, people systems and physical access control, the software flags incorrect or out-of-date identities and access permissions. Security operators can review access to secure areas, critical infrastructure, security systems, applications, file shares and more. With daily, automatic policy checks, security leaders can demonstrate compliance with their organization's security, safety and other policies at any time. Image courtesy of RightCrowd
Find out more at www.rightcrowd.com 
---
Robotic Assistance Devices (RAD)
Enhances Security and Situational Awareness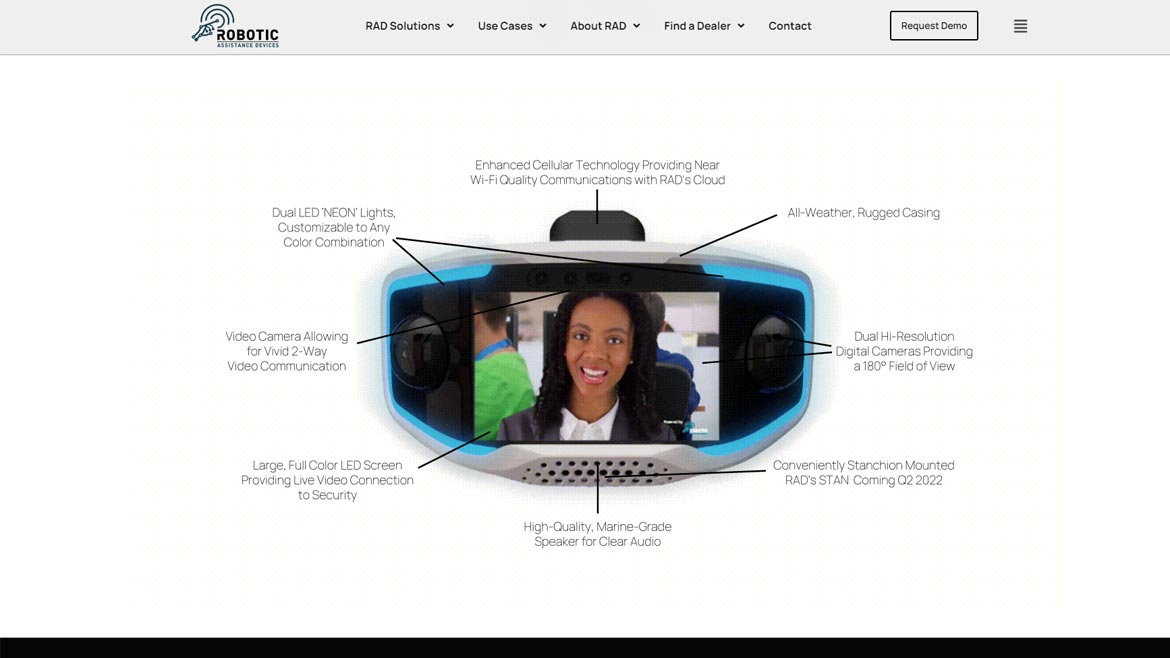 Robotic Assistance Devices (RAD)'s Autonomous Verified Access (AVA) is a compact and stanchion-mountable unit that provides a 180-degree field of vision with access control over gates and other controlled points of entry. AVA uses AI-based technologies to enhance an organization's situational awareness, communication and control. The solution can be used for logistics and distribution centers, storage yards, parking structures and lots, corporate campuses, and anywhere that needs increased visibility. The solution features a video camera that allows for two-way video communication; cellular technology that provides Wi-Fi communications with RAD's cloud; all-weather, rugged casing; and more. Image courtesy of RAD
Find out more at www.radsecurity.com
---
Salient Systems
Monitors Patron Activity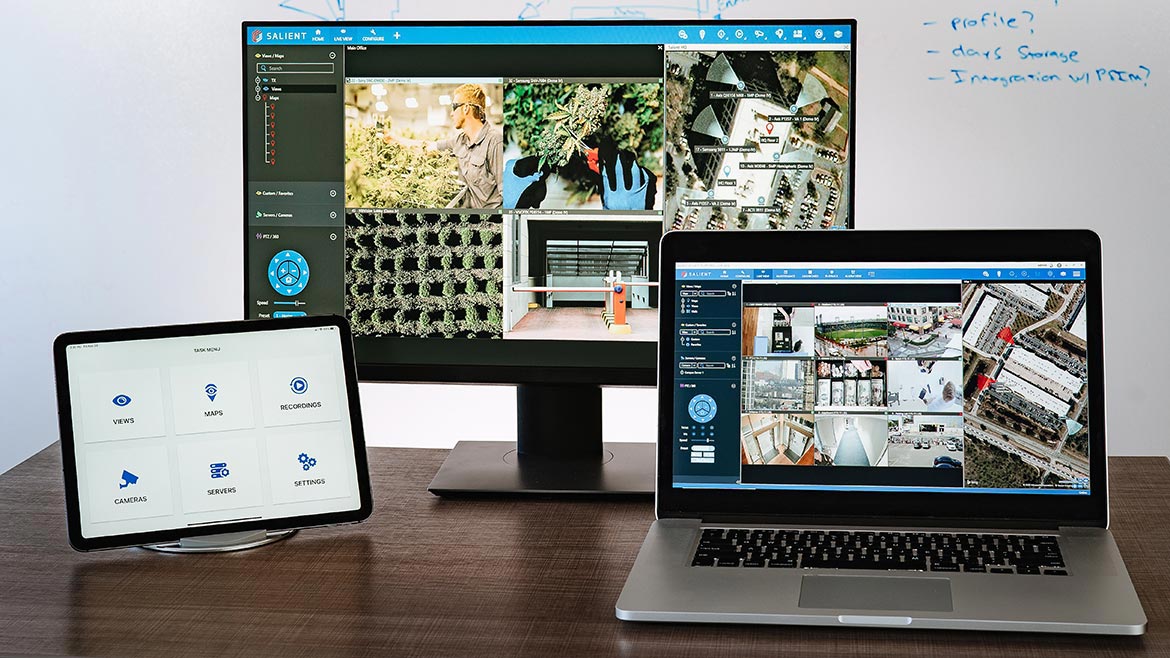 Salient System's CompleteView video management software (VMS) platform aims to help security teams view, record and manage video surveillance data. Built with an open architecture, CompleteView VMS can be integrated with cameras, access control systems and analytics solutions. In an event venue application, CompleteView can determine the percentage of people visiting specific merchandise displays through heat mapping. It can also monitor queue length, notify attendees of wait times via signage, and analyze queue length patterns by time of day at specific concessions or kiosks for better staffing. Image courtesy of Salient Systems
Find out more at www.salientsys.com
---
Shooter Detection Systems and Siemens
Tracks Gunshots With Audio and Video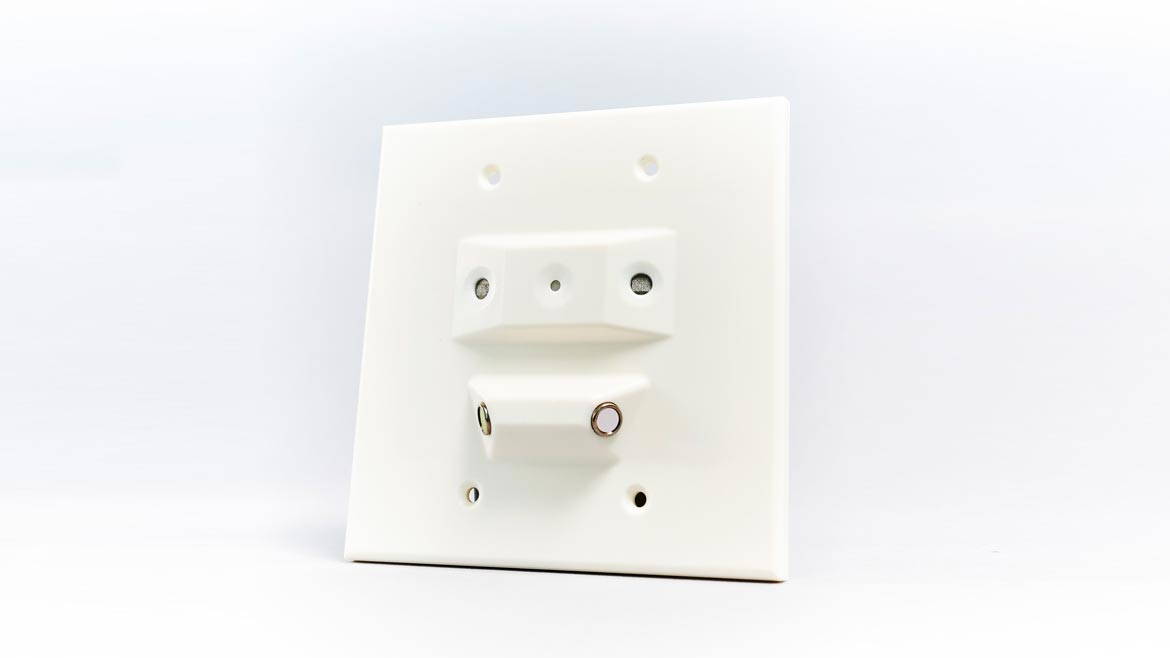 An integration between the Guardian Indoor Active Shooter Detection System from SDS and the Siveillance Video system software from Siemens aims to improve public safety in the event of an active shooter event. Guardian Indoor Active Shooter Detection System is a smart sensor network that utilizes acoustic detection software and infrared detectors to detect gunshots inside a building. The sensor transmits shot location information to Siemen's video management system, which aims to help security professionals visually track the path of gunshots. By integrating these systems, shooter detection inputs can trigger automatic responses such as restricted access control and mass notification alerts. Image courtesy of Shooter Detection Systems and Siemens
Find out more at www.shooterdetectionsystems.com
---
SureView Systems
Allows Security Teams to Share Information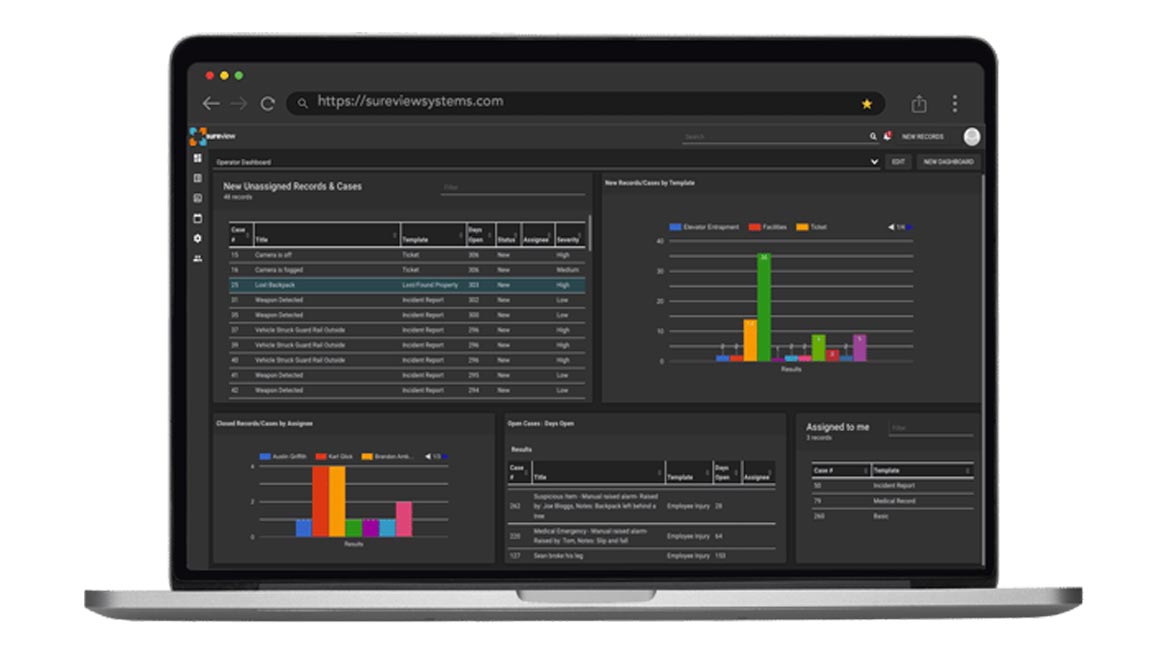 Cases, SureView's investigative and record management platform, allows for critical incident information sharing between teams, including security operations center operators, field teams, investigations, risk management or law enforcement. The software as a service (SaaS) platform can adapt to organizational workflows, creating delivery of information from responding to investigations teams. Whether triaging an event or investigating afterward, Cases allows security teams to track any incident. When connected to SureView Response, incident records can be opened as part of the response to alarms. A record can be a service ticket, an account of a slip and fall, a report of loitering in the lobby, or a notification from an employee of a suspicious incident or person. Image courtesy of SureView Systems
Find out more at www.sureviewsystems.com
---
Vector Flow
Monitors Physical Security Devices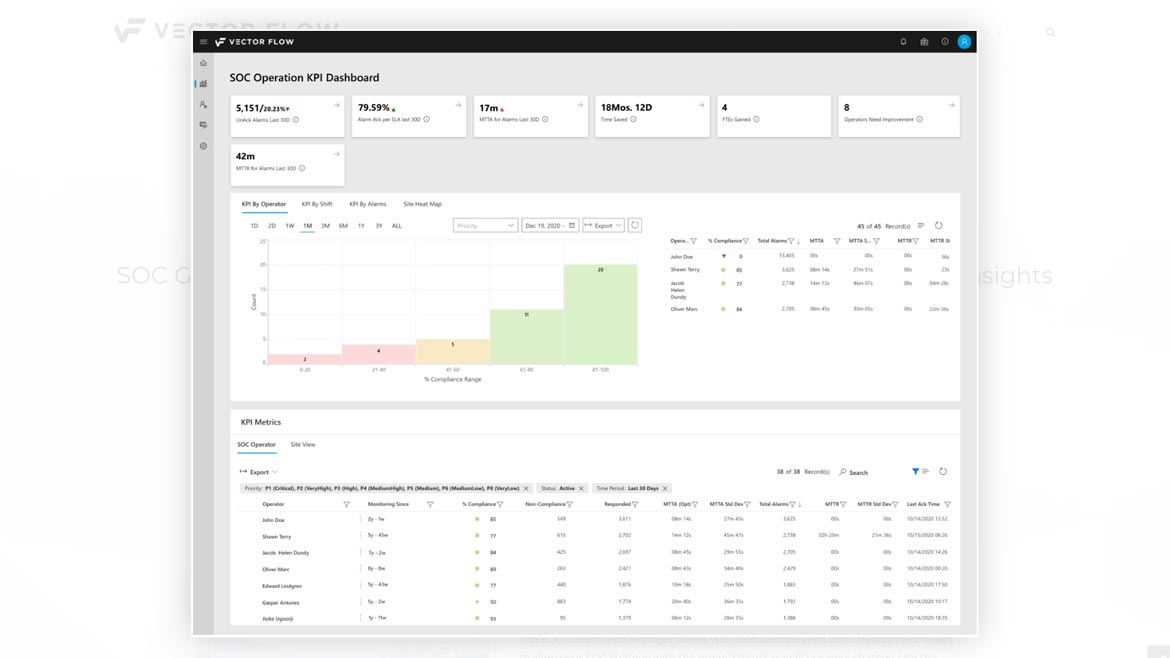 Vector Flow's SOC Automation Suite includes three AI-driven modules: SOC Alarm Reduction, SOC System Health and Predictive Maintenance and SOC Governance. The SOC Automation Suite can monitor connected physical security devices and detect failed devices or early warning signs of device failure. With the SOC Governance module, security management can monitor and assess the organization's current security state and analyze the performance and outcomes for each SOC operator with metrics such as unacknowledged alarms, mean-time-to-acknowledge (MTTA), and critical alarms by site. Image courtesy of Vector Flow 
Find out more at www.vectorflow.com