✕
Protecting a casino comes with a wide array of sector-specific security issues. Securing a casino resort on the Las Vegas Strip is another challenge entirely.
The security team at Caesars Entertainment (Caesars) rises to meet that challenge each day. The Caesars security team is responsible for the safety of the organization's more than 50 properties and locations, including nine resort facilities in Las Vegas — Caesars Palace, Flamingo Las Vegas, The LINQ Hotel + Experience, Harrah's Las Vegas, The Cromwell, Paris Las Vegas, Planet Hollywood, Bally's Las Vegas and Rio All-Suite Hotel & Casino. The heart of the organization's security team sits within its namesake property — Caesars Palace.
4,000 guest rooms, two casino floors, a nightclub, the Colosseum concert venue, shopping facilities and a convention center make Caesars Palace a busy tourist destination, and still just one destination across Caesars' vast portfolio. In order to secure the organization's facilities, the Caesars security team prioritizes external collaboration and interdepartmental communication.
The multi-layered physical security strategy at Caesars has been built from the ground up, with the Security Intelligence Center (SIC) acting as a hybrid fusion center, global security operations center (GSOC) and emergency operations center; the Security Dispatch Center monitoring for threats on Caesars Palace property and communicating with security officers; the Gaming Surveillance team that specifically ensures the safety and integrity of the casino floor; the Investigations department pursuing incidents that occur in and around Caesars' facilities; the K9 units that deter and detect explosives; and the armed Special Response Team (SRT), which conducts high-visibility patrols of Caesars' locations and responds to major security incidents.
*Click the image for greater detail
Security team members monitor video surveillance feeds in the Security Dispatch Center and the Gaming Surveillance space (shown above).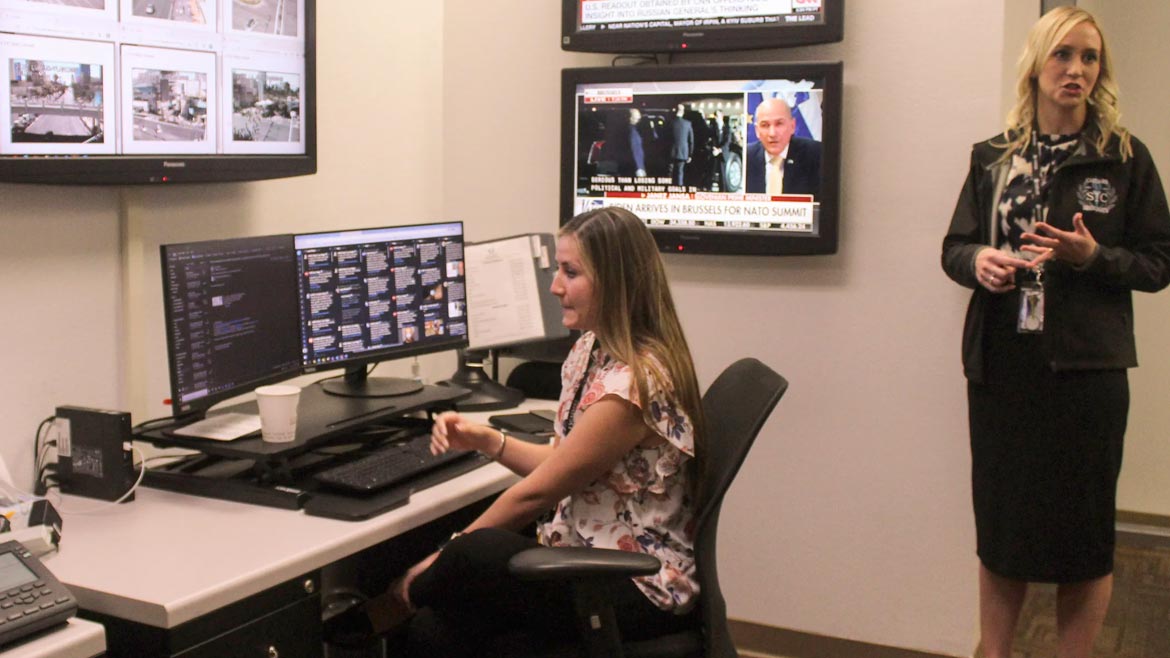 *Click the image for greater detail
Cali Gleason (right) explains how the SIC collects open-source intelligence from news channels, social media, publicly available surveillance feeds, and threat monitoring solutions.
The Security Dispatch Center acts as the security hub of Caesars Palace. Dispatchers monitor video surveillance footage and send out officers to mitigate security risks while receiving calls from around the property, centralizing security operations for Caesars Palace.
The security team uses video surveillance, license plate recognition (LPR) and facial recognition technology to secure the properties from new and returning threats. "This property has existed for 55 years. As it's grown, so has our security posture," says Rick Vonfeldt, Director of Security and Surveillance at Caesars Entertainment. "Now, we have hundreds of employees and security officers, and we have thousands more cameras than we had before. We're always adding cameras — as the property evolves, our technology is evolving too."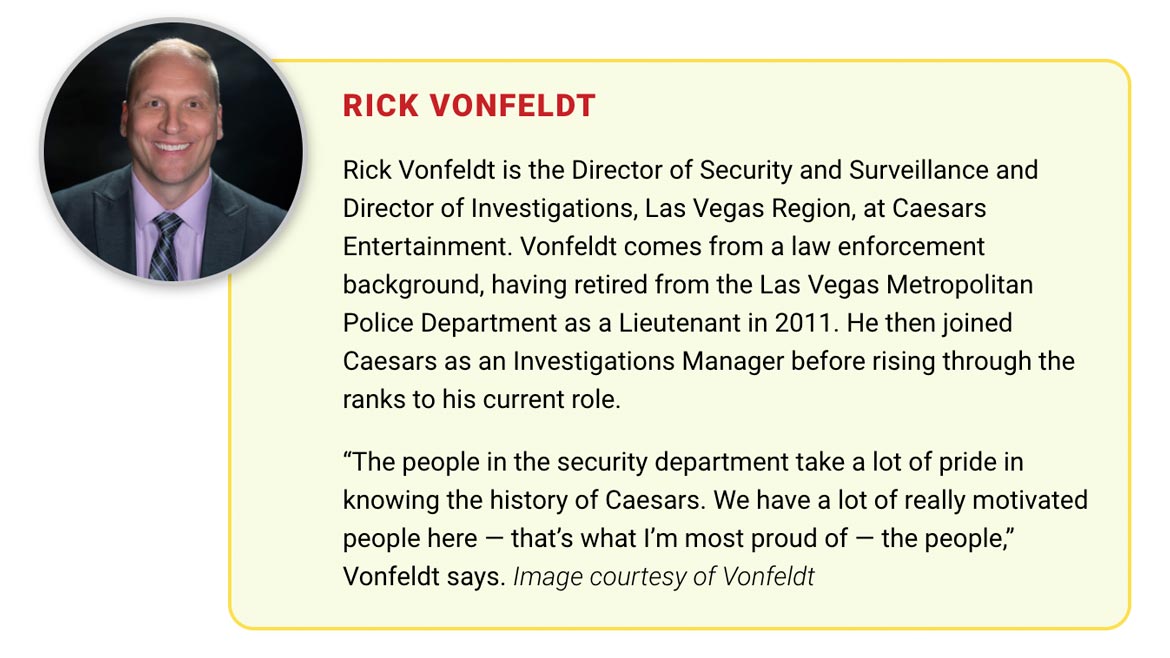 *Click the image for greater detail
Facial recognition helps the team identify flagged individuals entering the properties. With their LPR system, security is immediately alerted to the presence of stolen or felony vehicles. These technologies help the Caesars team provide law enforcement with detailed information on security threats while protecting facility entryways.
"The hardest part of securing a hotel casino is that these places were built to invite people in, to have fun and enjoy themselves. But that's also where the challenge is because you have multiple entrances that you can't always monitor. That's why we bolster our security posture with technology," Vonfeldt says.
Expanding the Security Program
Caesars' security has grown significantly over the past years, due in no small part to the fatal shooting that claimed the lives of 59 concertgoers in Las Vegas and injured over 500 others on October 1, 2017. On October 2, the Caesars Entertainment security team and stakeholders met to gather as much information about the incident as possible, as well as to determine how to adjust their security strategy going forward.
"After October 1, Caesars hired a consulting firm to come in, look at our security measures and ensure we are doing the very best we can to protect our properties and our guests," Cali Gleason, Caesars' Corporate Director of Intelligence, says. "They suggested we form a corporate security entity and gave us some recommendations on how to better our security posture and procedures within the company." From that analysis, the organization formed the SIC, led by Gleason, as well as the SRT and the K9 explosives detection unit, led by Steve Martinez, SRT and K9 Program Manager.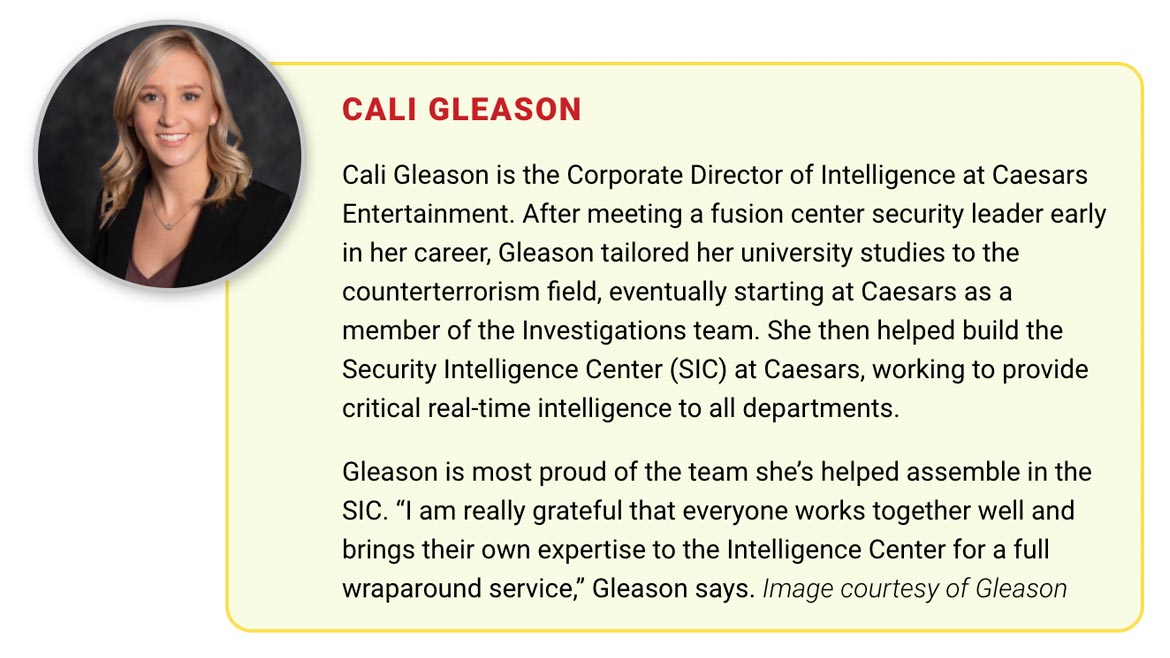 *Click the image for greater detail
The Security Intelligence Center acts as a central hub for threat intelligence across all nine Caesars locations in Las Vegas. Gleason has led the SIC since its inception on New Year's Eve in 2018. When creating the center, the team envisioned its hybrid role, bringing in best practices from traditional fusion centers, GSOCs and emergency operations centers. Mixing the intelligence and emergency management fields with business acumen positions the SIC to accomplish its goal: identifying and communicating potential risks to Caesars' properties.
The SIC relies on open-source intelligence and proactive threat detection to identify physical security risks to Caesars' properties. In addition to threat monitoring solutions, SIC analysts use social media and other websites to gather security intelligence.
"We're pulling in information, assessing it, and then determining how it impacts or potentially could impact our business. Then, we're making those notifications and giving recommendations to our security leaders, like Rick, Steve and Eric, so they can make decisions based on the intelligence we're providing them," Gleason says.
The SIC also looks at global threats and the risks they pose to Caesars' locations. "Whether it's executive teams, Food and Beverage, Hotel Operations or other entities of the business, we can protect the organization by sharing intelligence," says Gleason. For example, if the SIC receives intelligence from the local fusion center on an international terrorist organization encouraging supporters to poison food supplies, the SIC can prepare an information sheet and distribute it to the Food and Beverage team, alerting employees and reminding them of the collaborative nature of security. "We can take what's happening in the world, put it into context, and then translate that to our business," Gleason says.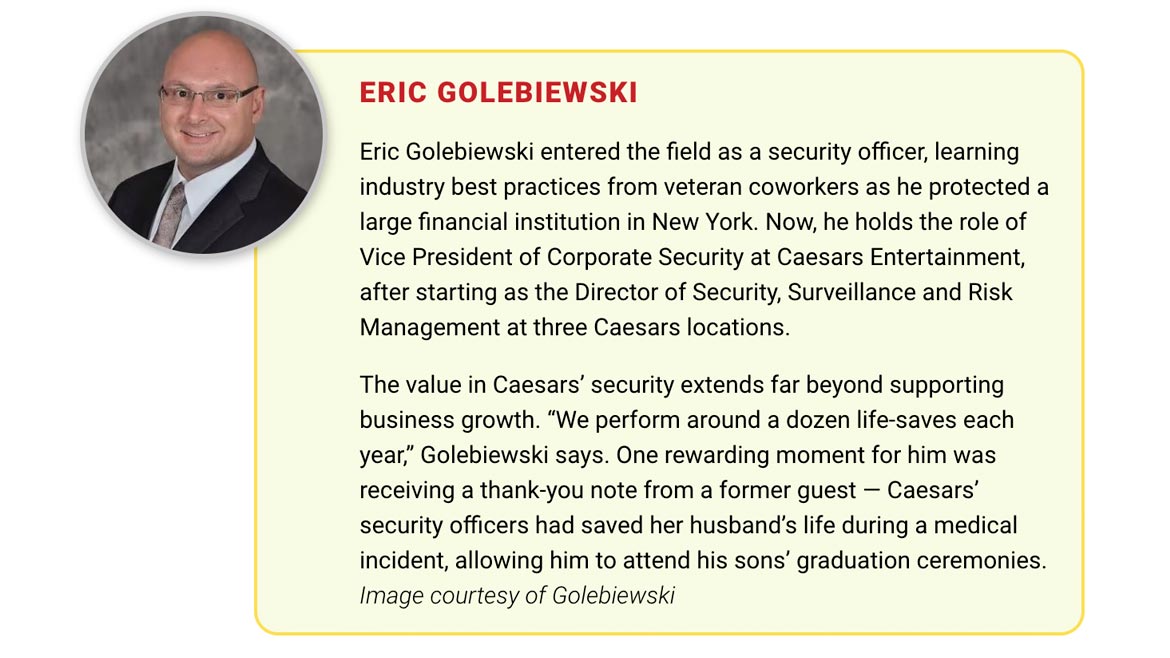 *Click the image for greater detail
With nine employees, the SIC leverages monitoring services and the diverse experiences of their staff to provide real-time intelligence to relevant stakeholders. Some SIC employees bring military experience to their roles, while others come from law enforcement, emergency management or criminal justice, which helps widen the breadth of intelligence uncovered by the team.
Eric Golebiewski, Vice President of Corporate Security at Caesars Entertainment, believes that a wide range of experience is critical to building a successful security team. "A lot of our philosophy is based around diversity of thought," he says. "When we bring in security, we want somebody who knows private security; somebody who knows law enforcement, whether it be federal, local or state; and somebody with military expertise because they each bring a different skill set that is invaluable to their position. Then they learn from each other based on the strengths that they bring to the table."
Forging External Security Partnerships
Learning opportunities don't begin and end within the Caesars security team. Gleason leads an intelligence sharing group involving other properties on the Strip, providing another avenue for real-time information sharing and communication.
The group has helped local law enforcement connect smaller threats to the larger picture. Due to the unique location of the Strip, nine Caesars properties and their competitors are within walking distance of one another. While convenient for hotel and casino guests, the proximity of these entertainment venues also entails a higher risk level. Gleason's intelligence sharing group helps streamline communication between all properties on the Las Vegas Strip and the Las Vegas Metropolitan Police Department (LVMPD) to mitigate the risks of repeat offenders.
By coordinating with other Las Vegas properties, the team at Caesars Palace can stay up to date on security threats. According to Golebiewski, "We look at security as less of a competitive advantage, and more of a community of interest. If there's a bomb that goes off at a strip property, it's going to shut the whole city down and be detrimental to everybody's business. Everybody's working collaboratively to make sure that nothing happens in our community."
Communicating in Times of Crisis
On top of their external collaboration, Caesars has teams dedicated to deterring and responding to larger incidents. The Caesars K9 explosives detection team helps both in security and loss prevention efforts.
"Being a major casino operation, we do get bomb threats on occasions, and our dogs are on property, ready to check out the threat," Martinez says. "If there are packages or bags that have been left unattended, our dogs go there within minutes, sniff and determine it's safe. That way, there aren't evacuations. There's no panic — we do this all while our guests are enjoying themselves."
❮
❯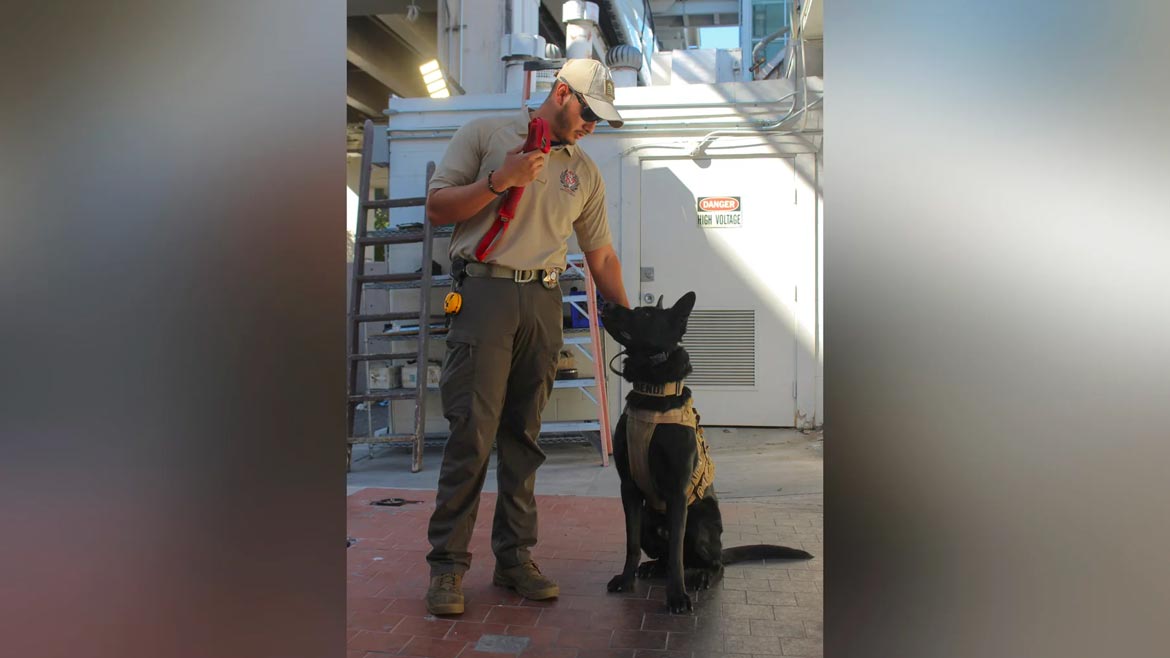 K9 handlers train with their dogs formally once a week, while incorporating more frequent, informal individual handler-dog training sessions throughout the week. The team works with outside partners to educate their K9 units. One such partner is the Las Vegas Fire Department, which brings in new training aids — safe substances that mimic the smell of explosives — for the dogs to identify.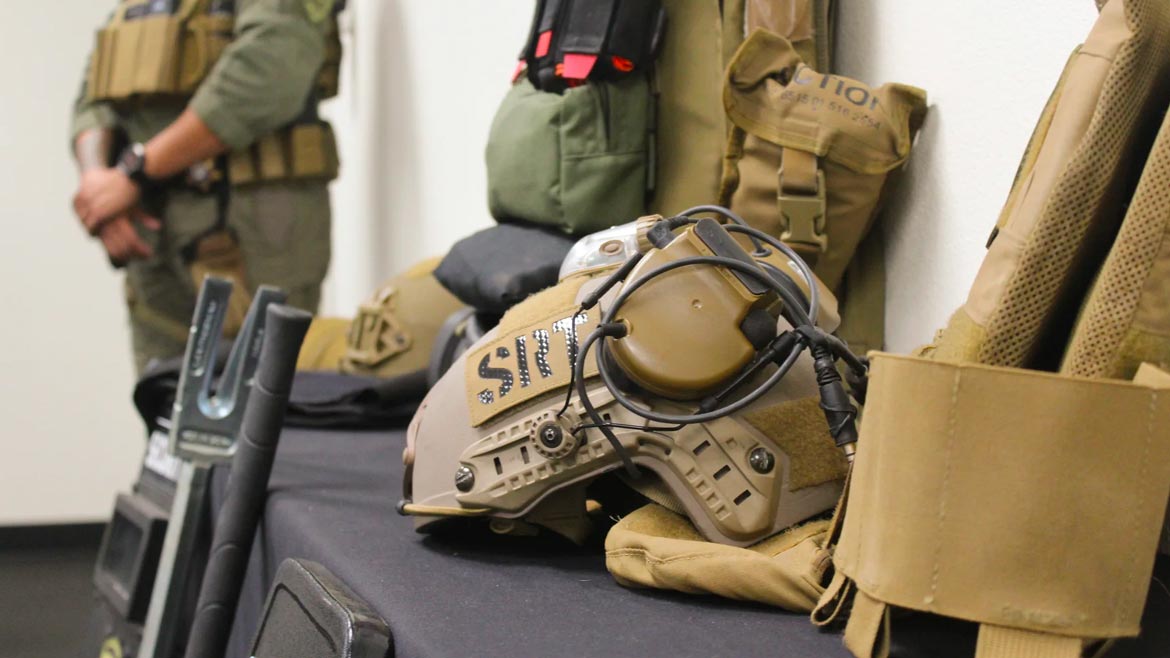 SRT gear includes a badge, tourniquets, thermal and night vision tools, a firearm, plastic bags, bulletproof plates, a rifle and rifle bag, ballistic helmets and shields, a Halligan tool, soft armor, and a medical bag.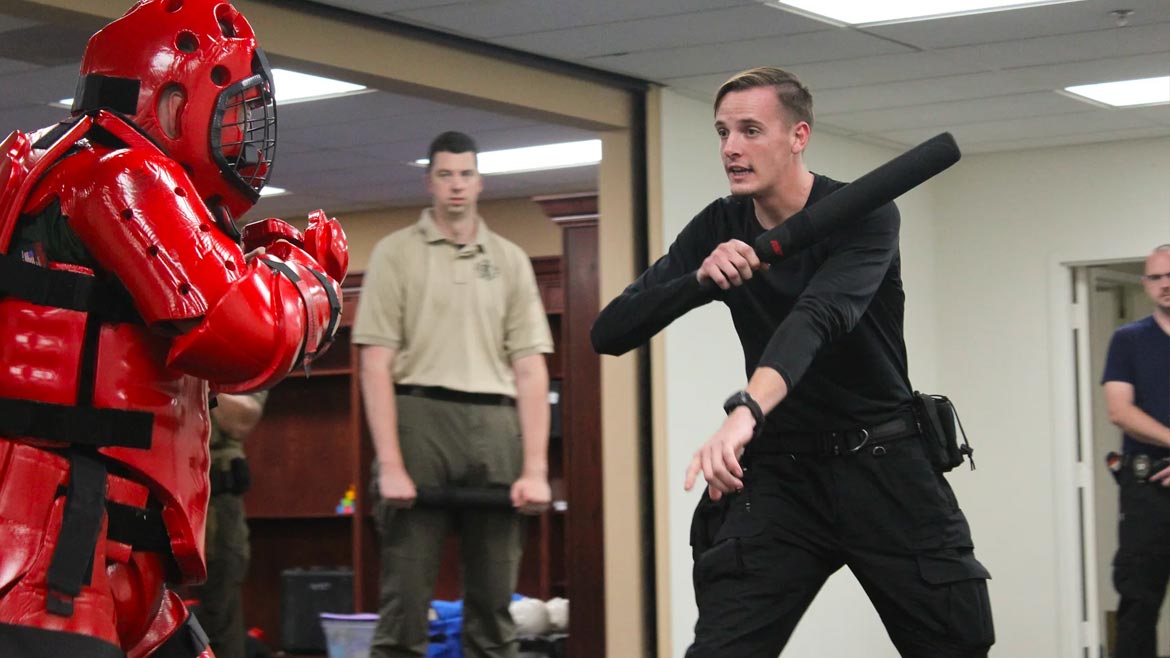 A Caesars trainee preparing to become a security officer participates in CODES tactical training, practicing verbal de-escalation and baton use.
The K9 units are trained for the singular purpose of explosives detection, but they bring other security benefits as well, according to Martinez. The traditional view of K9 units as narcotics detection tools helps deter individuals from bringing illegal drugs onto Caesars' properties. Additionally, Caesars is piloting an expansion of the K9 unit's scope: the violence response program. K9 units trained in violence response can work alongside the SRT to prevent violent attackers from causing harm.
The Caesars Special Response Team is comprised of highly-trained armed officers with law enforcement or military backgrounds. "We have one of the toughest qualifications I've ever seen in my 32 years of law enforcement," Martinez says. The SRT officers are trained in conjunction with LVMPD and Special Weapons and Tactics (SWAT) teams in order to serve Caesars' locations in their two-pronged role.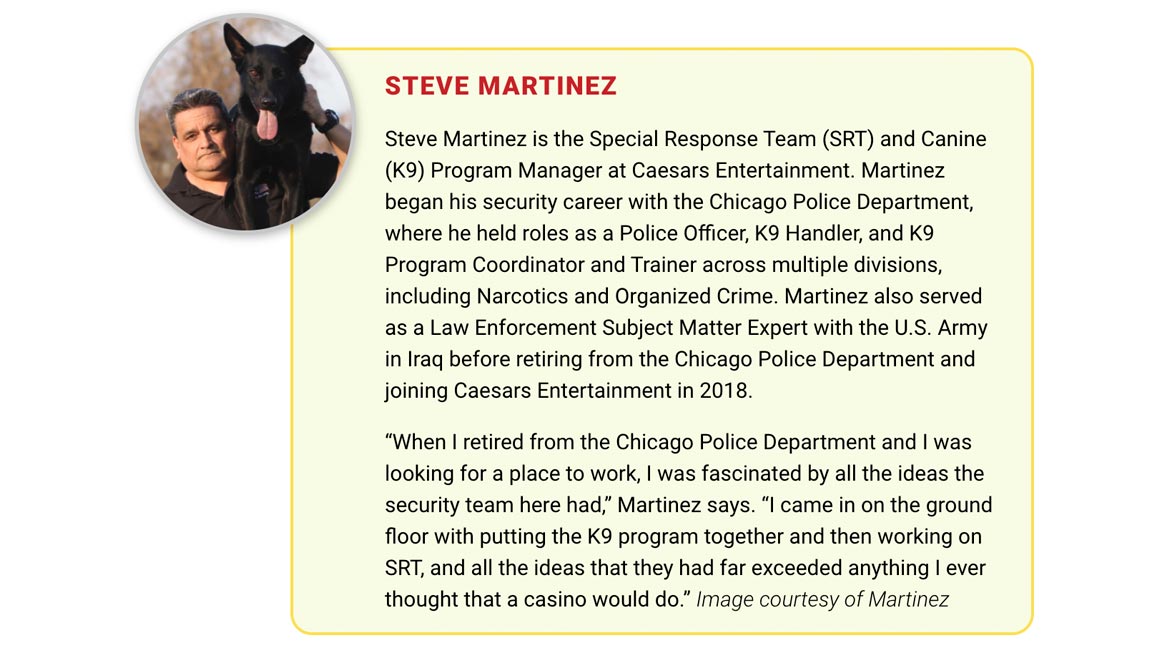 *Click the image for greater detail
"Typically, our SRT team is an active shooter response and an active shooter deterrent. We conduct high visibility patrols in order to deter an active shooter from coming into our property. And then, thanks to our training, if there was an active shooter, we would be able to neutralize that threat pretty quickly," Martinez says.
The armed officers conduct patrols of the Las Vegas casino and resort properties in order to deter potential security incidents, but they also respond to and mitigate security threats.
In the event of a potential security incident, all hands are on deck to prevent violence. For example, if hotel guests report hearing gunshots, the SRT is immediately dispatched to the room in question, according to Martinez.
"While they're en route, the SRT is in communication with the SIC, who is at that moment working to find out who is registered in the room," Martinez says. "They can look at the social media accounts and what's out there on the internet and give us a pretty good picture of what type of situation our team might be getting into."
Once the SRT engages with an attacker, they rely on their experience and training to stop the security threat from escalating.
Caesars Entertainment trains their security and SRT officers with a combination of in-house and external education. Security officers at Caesars must complete an in-house, 56-hour training program that combines classroom education and tactical training through the Caesars Officer Defense Education System (CODES). Members of the SRT complete an additional 32 hours of tactical training before joining the team. In addition to educating security and SRT officers, the training team also teaches hotel and casino staff how to keep themselves and their guests safe.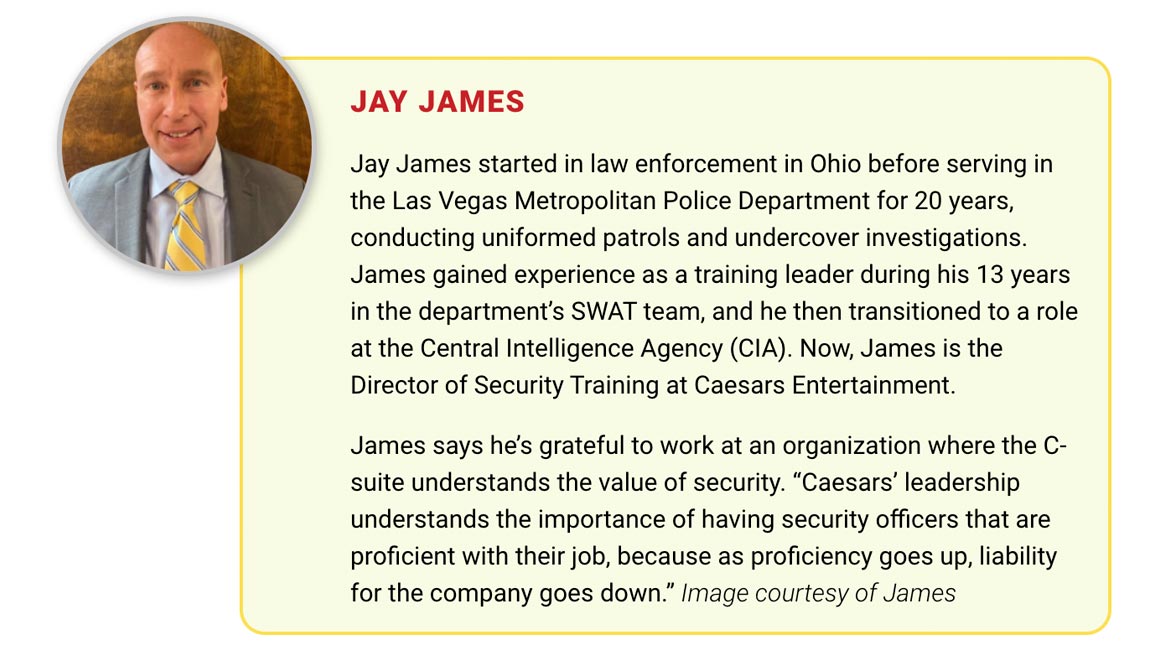 *Click the image for greater detail
Of course, none of Caesars' security operations would be possible without solid, specialized training. Developing an in-house training program has allowed the security team to hone the skills of their officers to exactly what Caesars needs. "I think that Caesars employees know more of what Caesars needs. They're more involved in the day-to-day operations," says Jay James, Director of Security Training. While the training team has external educators come in for standardized procedures, such as CPR and AED training, the Caesars Training Academy also uses its own, unique security officer training with specific casino applications.
From the Security Dispatch Center to the K9 units, the security team at Caesars stays in constant, real-time contact with one another to protect their patrons, employees and the wider Las Vegas community.
"Everybody works together. We rely on each other. Surveillance is watching as security officers move in. The SIC sends the SRT information on a room they're going to, and K9 is standing by for room breaches, in case there's explosives in there," Martinez says. "We're all working together. It's amazing to see it happening live."