Bill Zalud, a veteran and longtime Security magazine editor, shaped the industry with his research and insights throughout his career. In honor of his memory, the International Foundation for Protection Officers (IFPO) and Security magazine partnered to create the Bill Zalud Memorial Award for Professional Excellence.
The award honors security professionals or organizations that:
Have demonstrated professional excellence or outstanding service in the security profession; 
Who display a commitment to the IFPO's professional development opportunities to their employees and the security profession; 
And who excel in making IFPO educational opportunities available to their employees.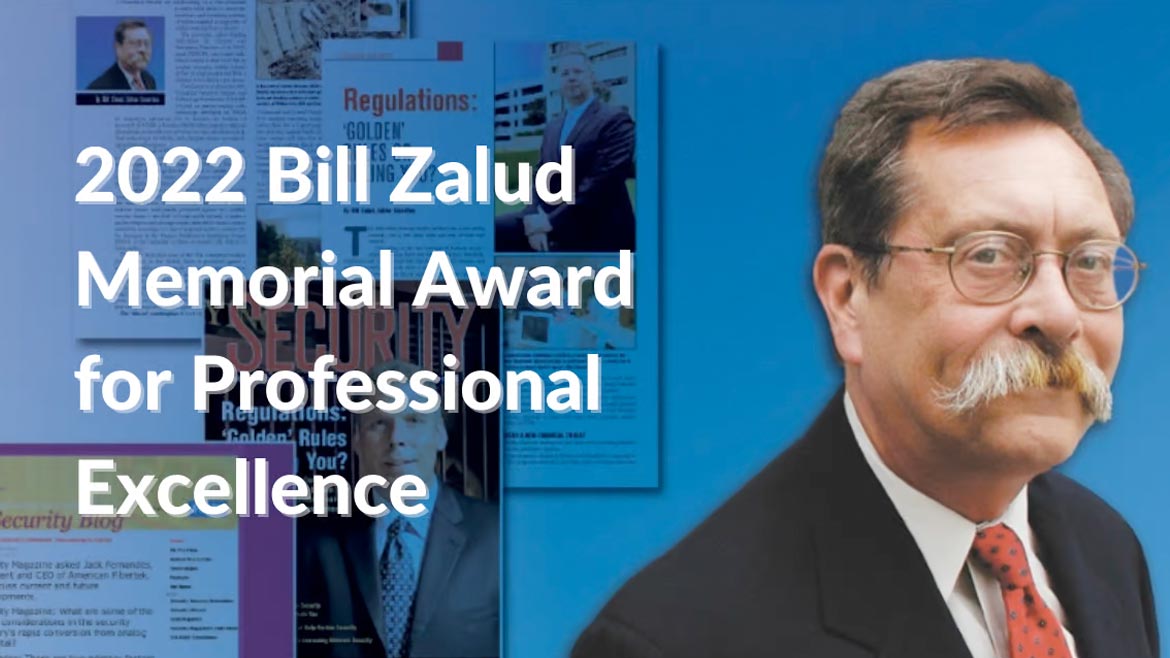 This year, the award recognizes Garry Bergin and Paul Kellett, both Peace Commissioners appointed by the Irish Minister for Justice and Equality, for their outstanding service. Bergin and Kellett received the honors from Lord Mayor of Dublin Dr. Alison Gilliland at the Mansion House in Dublin on December 17, 2021.
"It was my pleasure to acknowledge Garry's and Paul's most prestigious achievement. It gives our city great joy to see two of its sons rise to the pinnacle of their profession and to be recognized among their global peers," said Gilliland.
Garry Bergin is an experienced, passionate risk management and security professional. He holds the roles of Commercial Manager and Security Consultant at Manguard Plus, Vice Chair of the Institute of Strategic Risk Management (Ireland Chapter), Director and Board Member of the Security Institute of Ireland and Member of the IFPO United Kingdom & Ireland Security Advisory Board. He is currently pursuing a Professional Doctorate in Business Administration at Portsmouth University, in which he is focusing on the development of international security training. 
A Director, Board Member and Lecturer with the Security Institute of Ireland, Bergin achieved the eleventh rank by the International Fire and Security Exhibition and Conference (IFSEC) in the Commercial Security (Thought Leader/Academic/Association Figure) category. Bergin has also been selected as a judge for the Irish Outstanding Security Performance Awards (OSPAs) for 2021/2022.
Paul Kellett, a dedicated civil servant and security leader, is the Chief Officer of the Irish Prison Service and a veteran of the Irish Defence Forces, having served in the Navy and Army. He has won awards for distinguished service throughout his career in the public sector, including the Distinguished Service Medal (DSM) and the Spanish Cross of Naval Merit with White Distinction by the Spanish Ambassador to Ireland, on behalf of the King of Spain. 
He is the current Secretary of the ASIS Ireland Chapter, a Director and Lecturer with the Security Institute of Ireland and a Director of the Emergency Management Institute of Ireland (EMII). Kellett also serves as an Advisory Board Member to IFPO UK & Ireland. He has been selected as a judge for the Irish OSPAs for 2021/2022 as well.
Congratulations to both honorees! More information on their awards can be found at securitymagazine.com. Nominations for the 2023 Bill Zalud Memorial Award for Professional Excellence open on March 1 and close on October 31, 2022.