The COVID-19 pandemic has devastated the world community for some two years. Since then, more than 333.2 million people have been infected, 5,553,605 of whom perished, and over 9.68 billion doses of vaccines have been administered, according to the statistics from John Hopkins University's School of Medicine. Likewise, the pandemic has brought new challenges to public and private institutions. Many organizations have found themselves struggling to respond to this unprecedented crisis. An important institution that needs to function at its best, even during a crisis, is the police. 
Police are not immune to hardships and challenges associated with the pandemic environment. According to the 2021 Law Enforcement Officers Fatalities Report of the National Enforcement Officers Memorial Fund (NLEOMF), a total of 458 officers died in 2021, with COVID-19 being the leading cause for the line of duty deaths, being responsible for 301 deaths. Another initiative, Officer Down Memorial Page, reported that 341 COVID-19 deaths occurred in 2021, whereas the number was 283 in 2020.
As academics from the Midwest area, we commenced research on the potential impacts of the pandemic on law enforcement agencies. Initially, we issued a pandemic-focused survey of Illinois police departments in June 2020. Later, we replicated the same survey in Missouri and Ohio, respectively, which yielded a total of 200 responses. The results of these surveys were published in Security magazine and garnered some media coverage.
The abovementioned research pointed to safety measures and risk mitigation strategies implemented by law enforcement agencies and their personnel in the Midwest. Overall, departments were found to have adopted new safety measures (90%), such as distributing personal protection equipment, new methodologies to interact with the public, social distancing, hand sanitizers, among others. Interestingly, only 68% of the respondents believed their departments had an increased interest in their physical and emotional wellness. This 22% divergence in what police employees acknowledged as measures to keep them safe and perceived concern for their safety, may have several explanations, including the tendency among employees to downplay their organizations' interest in their well-being. 
In addition, our survey found significant reductions in the types and distribution of police services, police academy in-take, in-service training, and community policing practices. The main research question we focused on was the consistency (or the change) in police perceptions of the pandemic's impact on their work. To this end, we replicated the same survey along with newly added questions to the same population in November 2021 to see whether any significant changes occurred after our first multi-state, cross-sectional study.
The November 2021 replicated survey received 116 responses from police officers from the three states we previously studied (45 from IL, 50 from MO and 21 from OH). Over 80% of the respondents were over 36-years-old. The participants were 14% female and 96% white. Slightly more than half of the respondents (51%) were from departments of 150 or fewer personnel. Compared to the first survey we conducted in 2020, there was a decrease in the number of responses in the second survey (click on the hyperlink to see the results). 
The 2021 survey results provided additional insights about COVID-19's ramifications on police departments. Almost 62% of the respondents reported a reduction in enforcement actions they do. Too, 55% noted less frequent service call responses. The pandemic reduced the operational capacities of police and response types. Also, a 66% decline in in-person community policing services took place. Similarly, police departments suspended police academies and in-service trainings. Unlike traditional training for other professions, some facets of police training have to be in-person and physical. Hands-on training is necessary for activities such as handcuffing, suspect apprehension, and neutralization. Police in-service training and police academies were especially impacted by COVID-19. Fifty-five percent of the respondents reported their department either suspended police academies or in-service training.
As to the preparedness of the police departments, 59% modified their roll call briefing procedures, 82% of utilized new personal safety precautions for their staff, and 61% of limited public access to the police facilities. Thirty percent of respondents reported the pandemic spurred furloughs or reduced staffing. Fifty-two percent of respondents reported concerns about getting COVID-19 infection. Only 53% of the departments modified their scheduling for remote work or prepared a separate working environment for their employees. These concerns were also reported as 57% of respondents indicated heightened efforts for employee psychological and emotional wellness support services.
When comparing the first survey that was conducted in 2020 with the 2021 survey, the latter indicated police are less impacted by the pandemic than previously. For example, the 2021 survey showed reduced types of enforcement actions were not as prevalent (only 62% in 2021, while 73% in 2020; a -11% change). Also, the 2021 inquiries showed limited in-person responses to calls for service decreased were not as widespread in 2021 (only 55% in 2021, but 69% in 2020; a -15% drop). Also, the 2021 survey revealed lessened in-person community policing activities were cited by only 66% of respondents, differing from the 80% marked in 2020, a -14% change.
Despite the pandemic, these decreases should be read as positive developments as police departments raised their interactions with the public. In other words, policing has recalibrated its efforts and adjusted itself to a pandemic setting. More specifically, police expanded strategies to tackle the effects of the pandemic on their work. For example, the percentage of the departments that suspended their police academy or in-service trainings decreased from 76% (2020) to 55% (2021). As such, police departments opened their doors to new recruits and in-service training more than previously. Although, it should be noted that the percentage of the departments reducing onboarding of new recruits and training existing officers is still over 50%.
Vaccination rates among police officers have been topical for the media and public as the vaccines became available to first responders. After the pandemic outbreak, some vaccines received emergency use authorization, and each state had different distribution and supply levels while prioritizing the proposed receiving groups. For example, in Ohio, police personnel were in the third priority group. In contrast, police were in the first priority group in Massachusetts. Overall, law enforcement personnel were given uneven priority across the states. The Police Executive Research Forum (PERF) conducted surveys in December 2020, and March 2021, finding that over half of the responding agencies' personnel received vaccines (See the report p. 49). Some police chiefs/senior executives supported vaccinations such as getting vaccines publicly, monetary incentives such as gift cards and additional leave time. However, once it became clear COVID-19 will not dissipate quickly, and herd immunity is envisioned as a long way away, particular police agencies tried to require vaccinations for their employees. In response, specific police unions resisted vaccine mandates and filed lawsuits against them. While vaccination rates among police departments appear to vary based on the country's region, size of the department, etc., official data is mostly scarce and underpublicized. The San Francisco Police Department, for example, had 80% vaccination rates among its officers. 
Our 2021 survey included three new questions regarding mandatory vaccinations, individual vaccination status, and biweekly testing for officers. Our 2021 inquiry found that police officers are predominantly against mandatory vaccination. The results indicated that 78.4% of the respondents do not support mandatory vaccination; only 21.6% support such initiatives.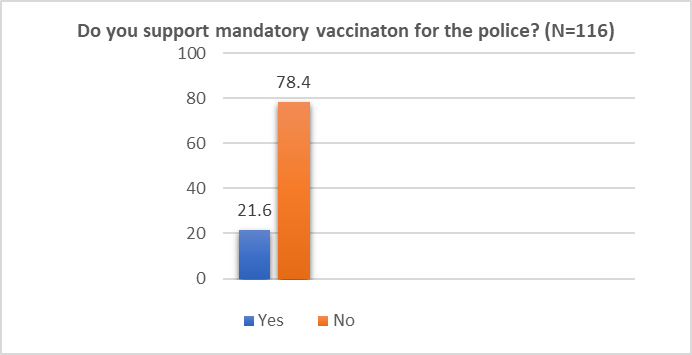 Image courtesy of Alexander and Ekici
Next, in response to the question of whether the 2021 respondents were fully vaccinated (again, not asked in 2020), 76.7% marked "yes," while 23.3% marked "no." Considering this result with 78.4% opposition to mandatory vaccination, we can conclude that the police officers see vaccination as an issue affecting their personal freedoms and choices. However, some 20% of the respondents disagree with mandatory vaccination and biweekly testing.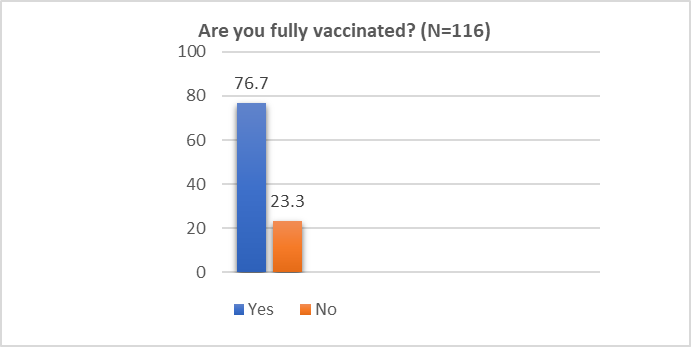 Image courtesy of Alexander and Ekici
Lastly, we asked if non-fully vaccinated officers were willing to be tested biweekly. Not surprisingly, only 9.5% of them reported that they were willing to be tested biweekly. Nineteen percent of the respondents remained unwilling to be tested biweekly or get the vaccine (the remaining 70% of the respondents are fully vaccinated). This raises serious concerns for the future of the pandemic impact on the public if this percentage could be extrapolated to the public and remains constant over time. The evolving nature of the COVID-19 pandemic is likely to aggravate existing tensions among government, employers, and the public regarding vaccine mandates, testing, masking and other prophylactic efforts.
Officer health and well-being are vital for public safety for many reasons. Vaccinations are viewed as the initial, impactful instrument to protect officers and, thereby, more safely serve the public. Vaccination hesitancy can contribute to officer shortages, especially critical in crime prevention and emergency responses. Despite lower crime rates at the onset of the pandemic and significant declines in service calls, the crime surge of late is on the national agenda (See academic publications on crime and pandemic relationship: Stickle and Felson 2020, Langton, Dixon and Farrel 2021, Ashby 2020, Lopez and Rosenfeld 2021). According to the PERF report, for example, there are increases in the number of shootings, homicides, aggravated assaults and car-jackings in New York City. 
All violent or non-violent crime statistics should be analyzed according to the time series data across years, instead of cross-sectional datasets. As such, this pandemic is a sort of outlier and crime rate changes during the past two years may not be statistically significant. Other issues contributing to the surge in crime rates during the pandemic are:
The release of jail inmates due to COVID-19.

Stressors engendered by the pandemic cause the public to be more prone to violence and crime.

Declining police activity and officer shortages due to COVID-19 threats (as mentioned above). 
In sum, this 2021 replicated study shows the consequences of COVID-19 on Illinois, Ohio and Missouri's law enforcement agencies changed significantly. The survey found agencies are somewhat overcoming the pandemic through enhanced vigor, particularly as measured by interactions with the public, heightened officers' onboarding, and expanded staff training. Despite the changes and adaptations to this pandemic paradigm, police still have serious challenges. The exponential growth of COVID-19 related officer deaths in the last two years, pandemic-related officer illness, continued staffing shortages, difficulties in recruiting new officers, and some hesitancy over vaccination (around 20% of those surveyed) contribute to undermining police effectiveness. Safety measures and other modifications should continue to be implemented and improved. If adopted broadly, these efforts should potentially increase the effectiveness of policing services. The Delta and Omicron COVID-19 variants continue to make policing a perilous vocation while simultaneously an indispensable public service.