The FBI has designated 40 shootings in 2020 as active shooter incidents. The FBI defines an active shooter as one or more individuals actively engaged in killing or attempting to kill people in a populated area. Implicit in this definition is the shooter's use of a firearm. The active aspect of the definition inherently implies the ongoing nature of an incident, and thus the potential for the response to affect the outcome.
Since 2016, active shooter incident data reveals an upward trend: The number of active shooter incidents identified in 2020 represents a 33% increase from 2019 and a 100% increase from 2016. A breakdown of number of incidents by year follows:
■ 2016: 20
■ 2017: 31
■ 2018: 30
■ 2019: 30
■ 2020: 40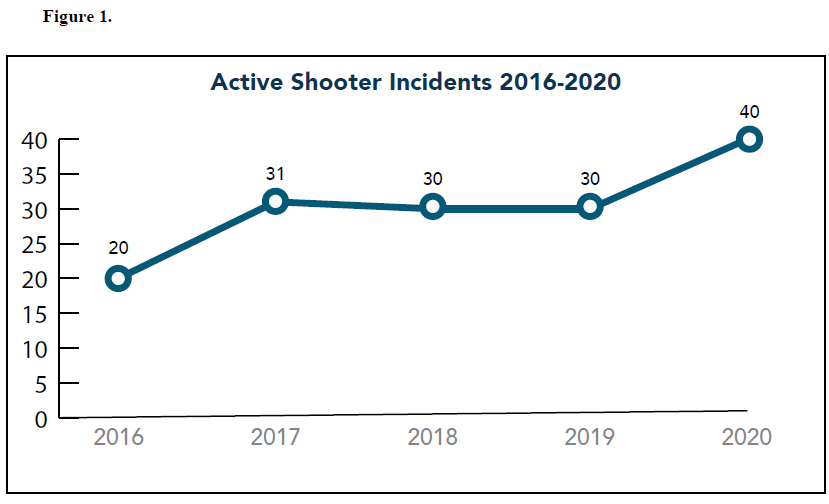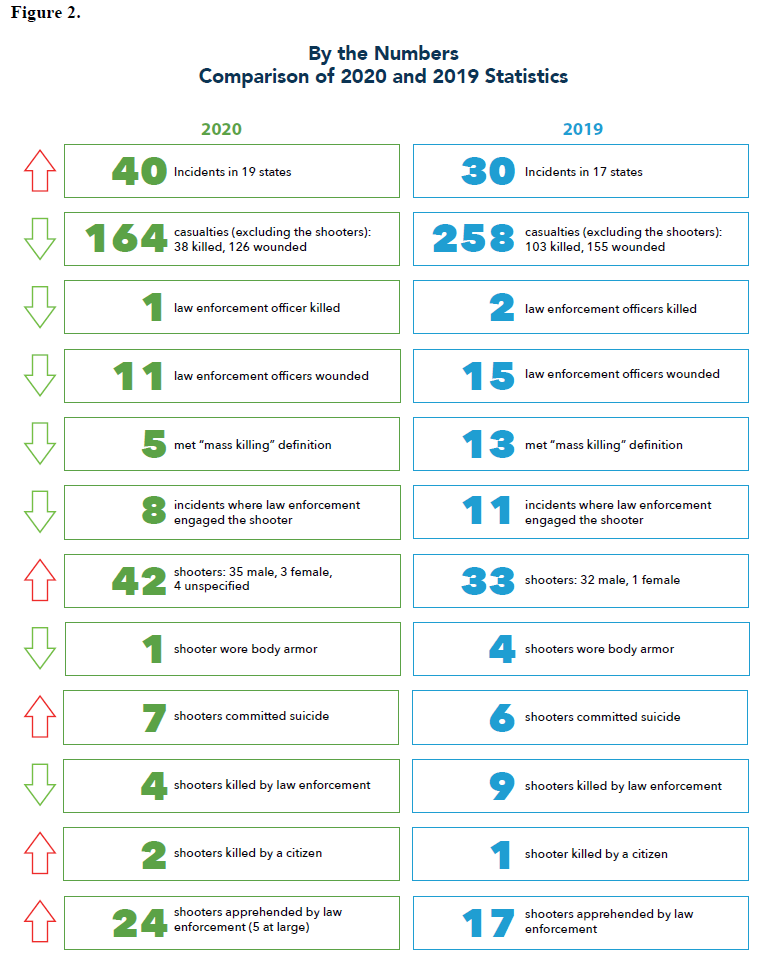 April had the fewest number of incidents (zero) and June had the highest number of incidents (eight). In addition, no active shooter incidents occurred on Tuesdays; Saturdays saw the most incidents (15).
Of the 40 active shooter incidents in 2020, 58% (23 incidents) occurred during p.m. hours (between 12:00 p.m. and 11:59 p.m.), and 42% (17 incidents) occurred during a.m. hours (between 12:00 a.m. and 11:59 a.m.). Data shows that an active shooter incident is more likely to occur (67.5%) between 6:00 p.m. to 6:00 a.m. (27 incidents occurred during this timeframe). A breakdown of number of incidents by time period follows:
■ 12:00 a.m. to 6:00 a.m.: 9
■ 6:01 a.m. to 11:59 a.m.: 8
■ 12:00 p.m. to 6:00 p.m.: 5
■ 6:01 p.m. to 11:59 p.m.: 18