Help us recognize the unsung heroes of the security industry by nominating a security leader to be named one of Security magazine's 2021 Most Influential People in Security! 
We are looking to highlight enterprise security executives, who through their own organizations and externally, have made significant and influential contributions to the enterprise security profession, continue to push security forward both inside their own organizations and in the industry as a whole.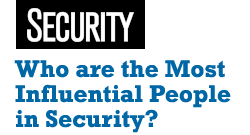 Nominations will be considered based on leadership qualities and the overall positive impact that their security projects, programs or departments have on their shareholders, organizations, colleagues and the general public.   
This year's Most Influential will be organized by five categories: Corporate Security Executives, Government, Education, NGOs and Cybersecurity. Those chosen will be honored in the September 2021 issue of Security magazine, in print and online.  
Who would make a good nominee?
Chief security officers and chief information security officers, who are willing to share their strategies and accomplishments
Enterprise CEOs with a vision relating business to security goals
Persons researching or developing security technology
Public servants who best serve or challenge security executives and their mission
Association executives with a successful track record
Nominations are due by June 1, 2021. To access the nomination form, visit https://www.securitymagazine.com/nominate-the-most-influential-people-in-security. Send questions to Maria Henriquez, Associate Editor, henriquezm@bnpmedia.com.