Built in 2002, Continuum in South Beach is a two-tower, 38-story resort-style oceanfront condominium located on the southern-most tip of Miami Beach in South Florida. Set on 12 acres of manicured grass, with three clay tennis courts, two pools and an outdoor restaurant, property prices range from $1.5  to $35 million for a unit. The exclusive development is well protected around-the-clock by highly-trained personnel, including video surveillance technology to ensure the security, privacy and comfort of its residents.
iDentyTech Solutions has been the security provider for Continuum since 2016. The company helped the residential complex deploy biometric access control at the 203-unit North Tower, as well as the common areas.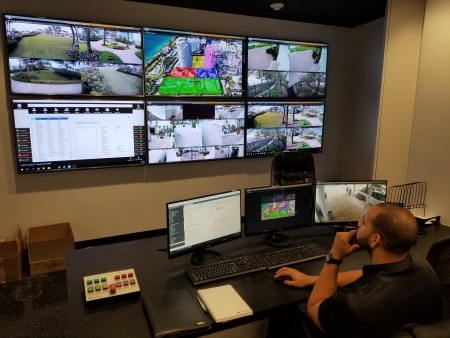 When iDentyTech came on board as Continuum's security provider, outdated cameras initially were in use sporadically across the site, leaving several blind spots and missed areas of coverage. With iDentyTech's help, Continuum was able to identify its blind spots and install new cameras, adding over 100 cameras to the property in 2017 alone.
Most recently, Continuum added iDentyTech's Facial Recognition platform, using AXIS cameras. The new AXIS cameras enable Continuum to take advantage of iDentyTech's in-motion facial recognition software capabilities. The cameras are being installed at entry points to the property, and also allow for elevator control: residents can be immediately authenticated and then taken directly to their floor without needing to push a button. 
To optimize the performance of the new all IP network surveillance camera infrastructure (including a combination of outdoor dome, wide angle, multi-directional, bullet and 4K resolution cameras), the residence also needed to upgrade its video management system (VMS). Continuum chose to deploy Qognify's Ocularis, an AXIS partner, with proven integrations. 
Qognify's Ocularis 5.4 Ultimate was specified and deployed at Continuum on South Beach's on-site Command Center and currently manages 264 channels and growing. The emphasis is on tactical real-time operations and live visualization. The Command Center is manned 24/7/365 by security operators, who monitor every camera feed from three workstations, via a video wall make up of six 50-inch 4K monitors in a 2X3 grid. Combined with Ocularis, the IdentyTech C4I solution on site currently manages all of the following: access control, video surveillance, LPR, visitor management, vehicle entry and all amenities.