Union of European Football Associations (UEFA) needed a solution to provide entry screening for spectators attending the Super Cup Final 2020, which took place September 24, 2020. The UEFA Super Cup Final was set to be played at the Estádio do Dragão in Porto, Portugal, in August, however the game was relocated to Budapest and delayed a month due to the COVID-19 pandemic and the resulting postponement of the season's club finals.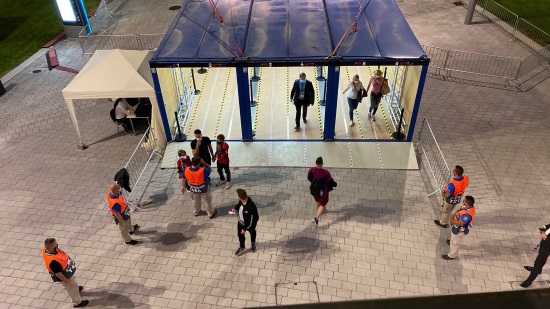 The UEFA executive committee decided to run the match with limited seating capacity and strict hygiene measures, including social distancing and masks. In addition, ticket holders were required to present a negative COVID-19 test performed within 72 hours of entry into the country and were required to leave within 72 hours. But the committee also wanted to ensure it was using the latest technologies available to help with COVID-19 screening as well. Therefore, it deployed a mask detection and contactless body temperature scanning solution from a partnership between video analytics and mask detection company SAFR from RealNetworks Inc. and German tech company G2K Group GmbH.
The SAFR features include face recognition, mask detection, person detection and demographic analysis, integrated into Parsifal — an AI platform providing actionable video analytics for general surveillance, behavioral predictions, access control and response to COVID-19 health and safety measures.
UEFA used the solution to provide entry screening for spectators attending this year's Super Cup Final. Cameras at each entry, performed rapid, automated fever scanning and mask detection screening while alerting security staff and attendees to any anomalies. All told, with the technology solutions and other measures in place, more than 15,000 spectators were able to return to the stadium under the required health and safety conditions set by the Hungarian Public Health Authorities.