Coronavirus News
Coronavirus Coverage
Coronavirus Blogs
Management
Coronavirus and Business Continuity
Physical
Coronavirus and Cybersecurity
Cyber
Economic Impact of Coronavirus
Coronavirus and Emergency Planning
Coronavirus and Telecommuting Employees
Survey Shows How the Security Industry is Mitigating Risk during COVID-19
The COVID-19 outbreak has forced business leaders globally into uncharted terrority as together we face the challenges surrounding the pandemic.
How is the enterprise security industry working to keep facilities and employees safe? What new challenges do you face each day, particularly as employees work from home offices? In new research, Security Magazine and Clear Seas Research, a BNP Media company, examines:
The impact of the pandemic on the industry
Measures being taken to keep employees, customers and other healthy/safe
How industry professionals are managing current business activities and planning for the future
Here are some of the results of the research, Security & Critical Facilities Industry Perspective, from two surveys: one conducted the week of March 23, 2020 and survey results from the week of April 2, 2020.
From time of data collection to reporting, it is possible that industry perception and opinion may shift. However, it is our hope that the data provided here is thought provoking, helps inform decision-making and provides some comfort as you learn what others are doing during this time of crisis.
To download the results from the week of March 23, visit https://www.clearseasresearch.com/product/security-critical-facilities-industry-perspective-on-the-challenges-of-today/
To download the results from the week of April 2, visit https://www.clearseasresearch.com/product/security-critical-facilities-ipct-report-fieldwork-april-2-6-2020/
We invite you to participate in the future surveys to have your voice represented and to inspire others to examine new ways to succeed during this challenging time. The third survey will be sent out March 16, 2020 to all subscribers of Security Magazine. To subscribe, visit www.securitymagazine.com/subscribe
Even more! If you're in need of security resources to help navigate threats COVID-19 poses, we have compiled a list of free security products and resources here.
Business Outlook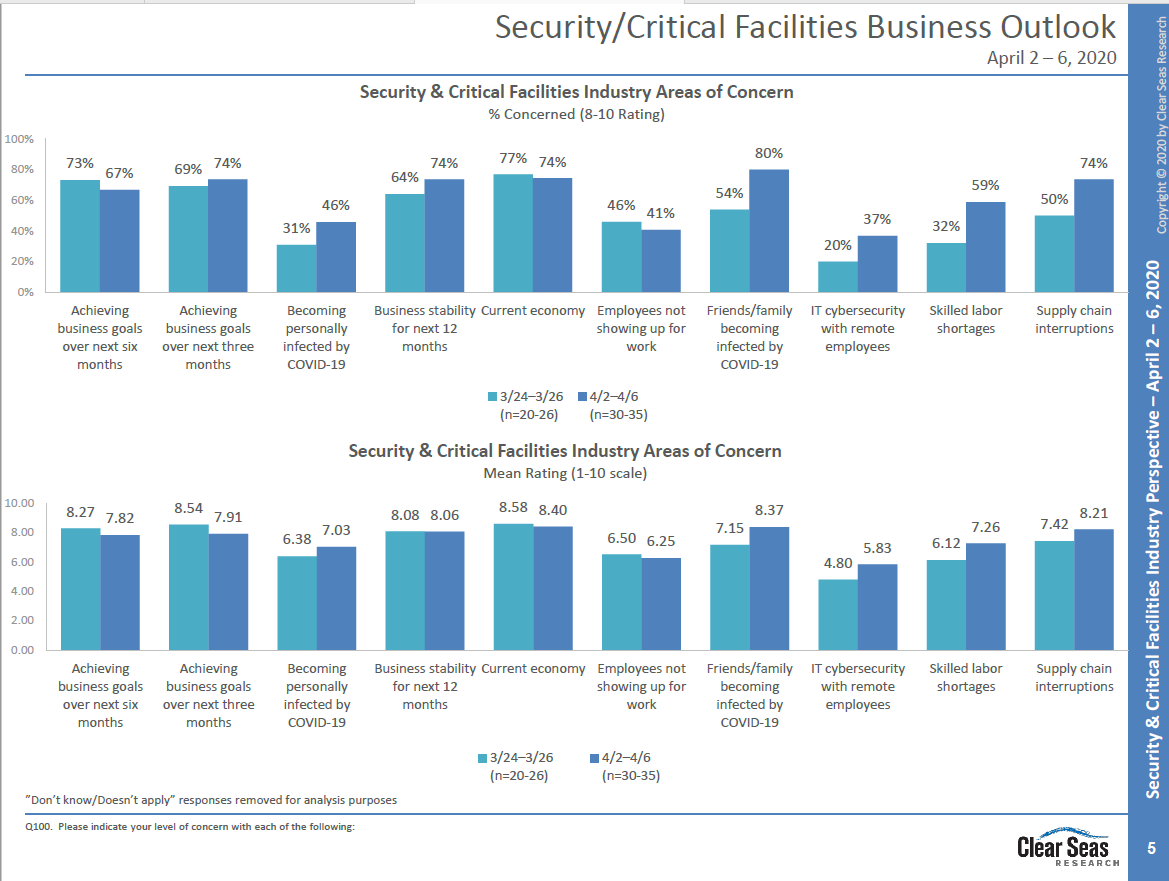 Security professionals ranked their top concerns accordingly. The second survey reveals professionals are now generally more concerned than they were before in the following areas:
80 percent of survey respondents are now more concerned with their friend/family becoming infected by COVID-19, a total increase of 26 percent. A total of 46 percent are now more concerned of becoming personally infected by COVID-19 (an increase of 15 percent).
59 percent are more concerned about skilled labor shortages, a total increase of 27 percent.
74 percent are now more concerned about supply chain interruptions, a total increase of 24 percent.
37 percent are now more concerned about IT cybersecurity with remote employees, a total increase of 17 percent.
74 percent are now more concerned about business stability for the next 12 months, a total increase of 10 percent.
74 percent are now more concerned about achieving business goals over the next three months, a total increase of five percent. Over the next six months, however, six percent of survey respondents are less concerned about achieving business goals.
There is now less concern about employees not showing up for work (41 percent compared to 46 percent), and a slight decrease in concern about the current economy (74 percent compared to 77 percent)
Active vs. Planned Business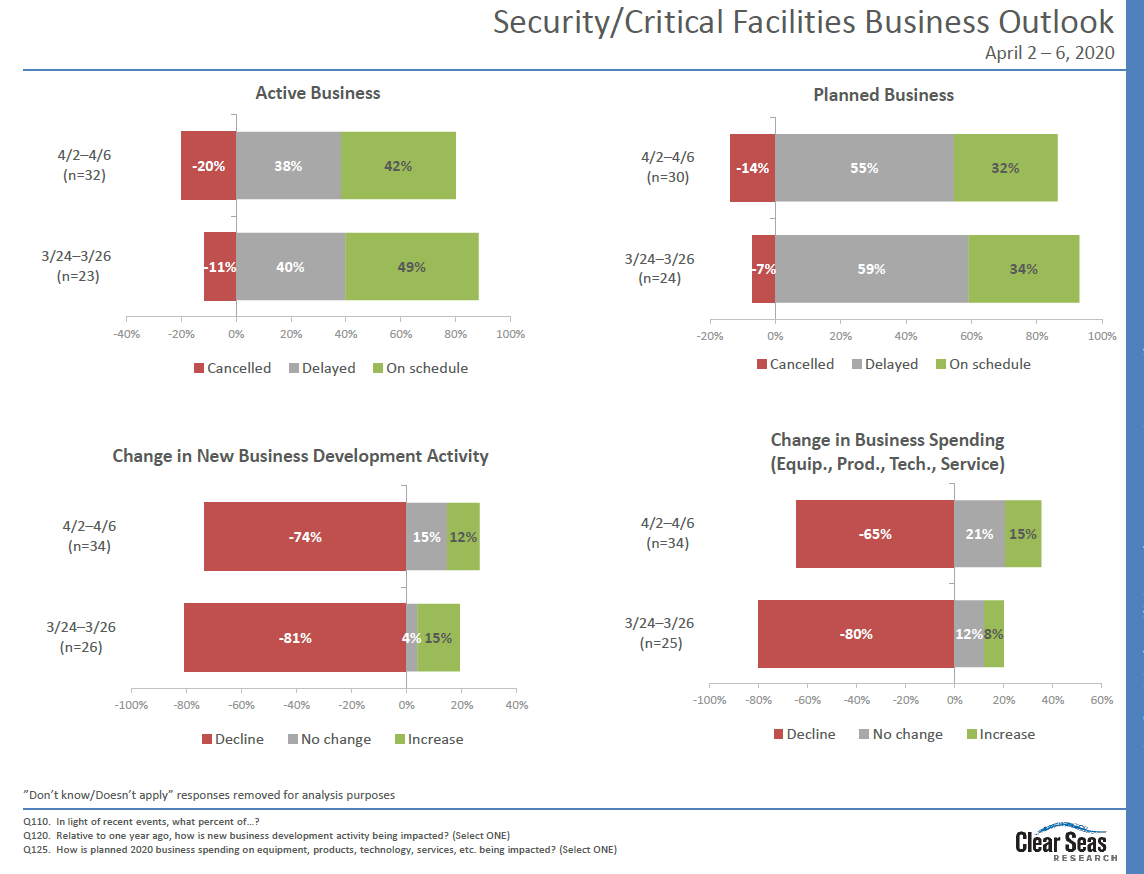 As we have seen in our industry, business, whether it be security conferences such as ISC West being postponed twice already, or PSA TEC being completely canceled, is in decline. For a list of security industry events that have been canceled, postponed, gone virtual or proceeding as planned, click here.
Active and planned business continues to be canceled or delayed, but 42 percent and 55 percent respectively, indicate that business remains on schedule.
New business development and business spending has declined significantly, but 12 percent and 15 percent of survey respondents, respectively, indicate that there is an increase.
Security is Essential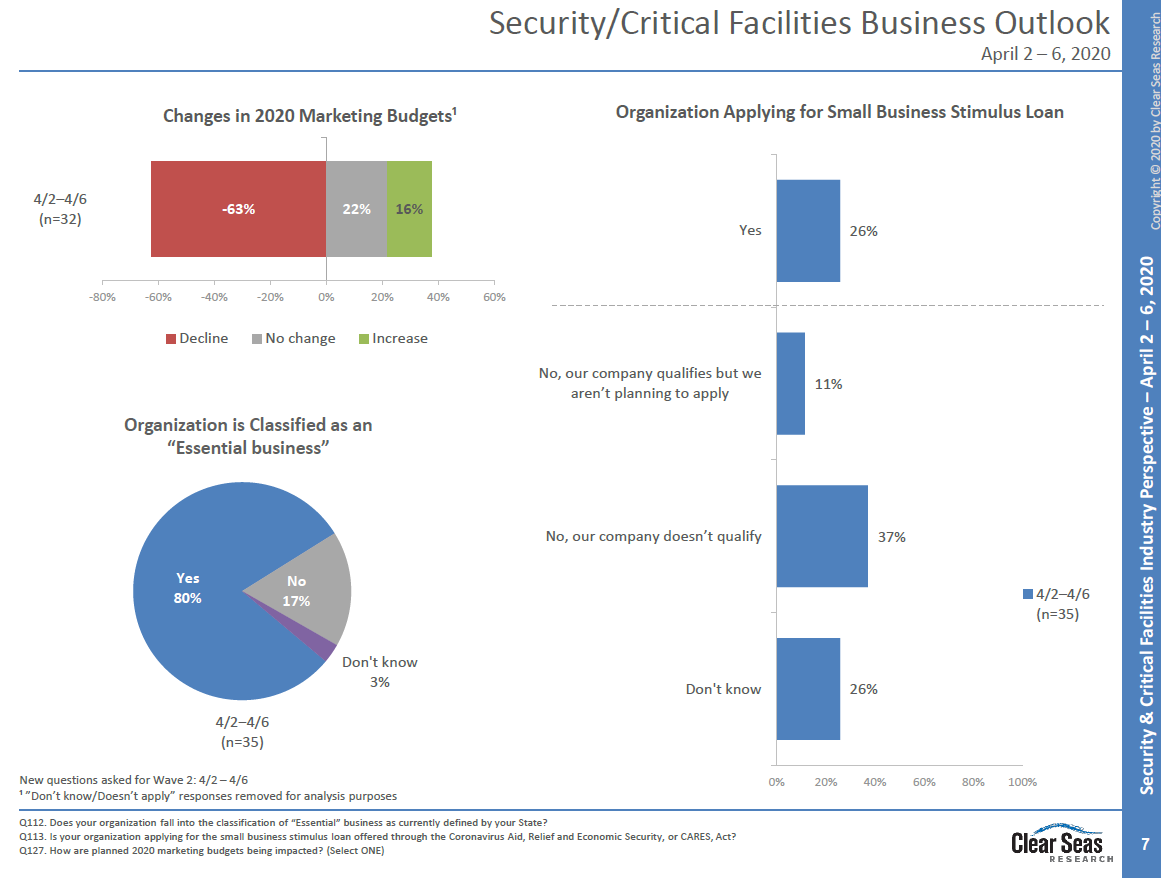 Some good news: 80 percent of survey respondents indicate that their organization is classified as "essential business" during the pandemic. The Department of Homeland Security's Cybersecurity and Infrastructure Security Agency released guidance that explicitly deems the security industry as essential, including law enforcement, public safety and other first responders, and communications and information technology employees.
Actions Being Taken to Keep Employees Healthy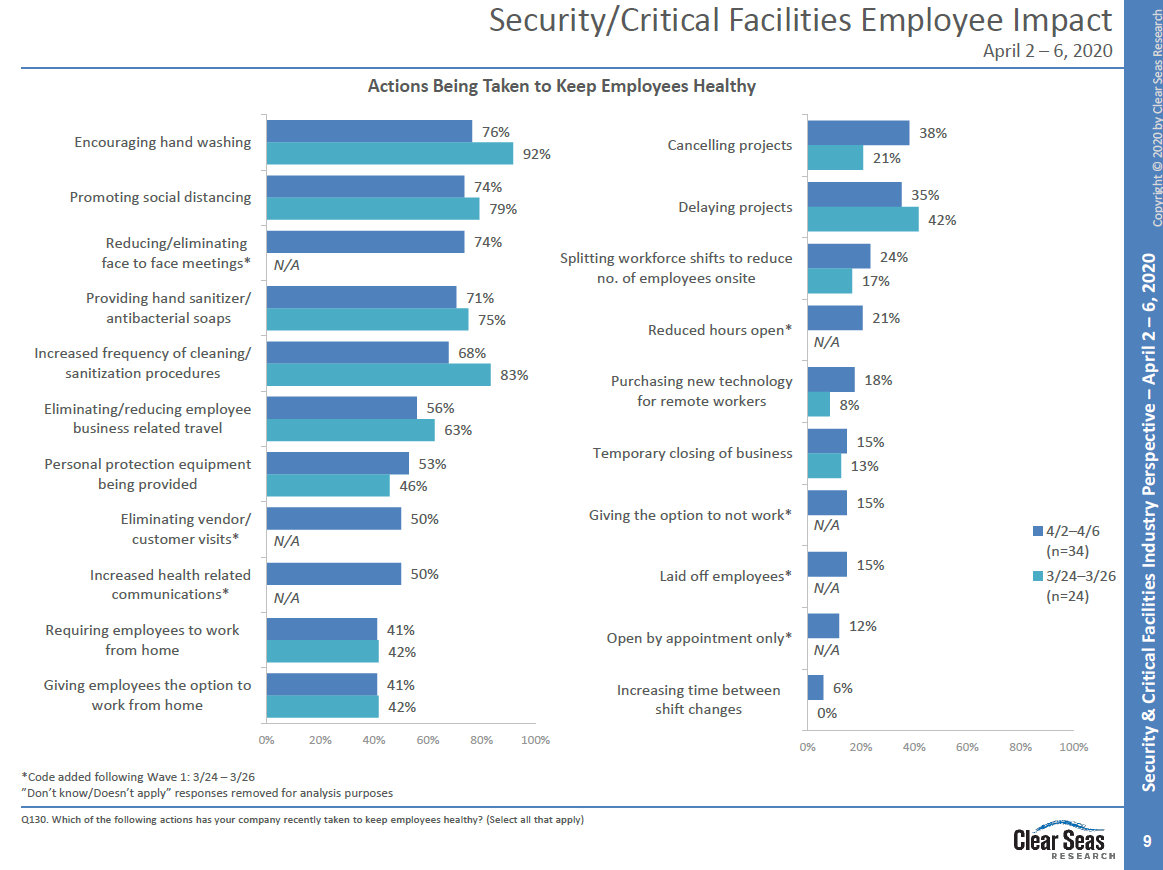 As much of the nation remains under quarantine and cities have gone on lockdown, employers are continuing to encourage preventative and social distancing measures to limit the spread of the virus.
These include: advocating for hand washing or providing hand sanitizer, promote social distancing, increasing the frequency of sanitization procedures, eliminating business related travel, requiring or giving employees the option to work from home.
Mass Communication Tool Implementation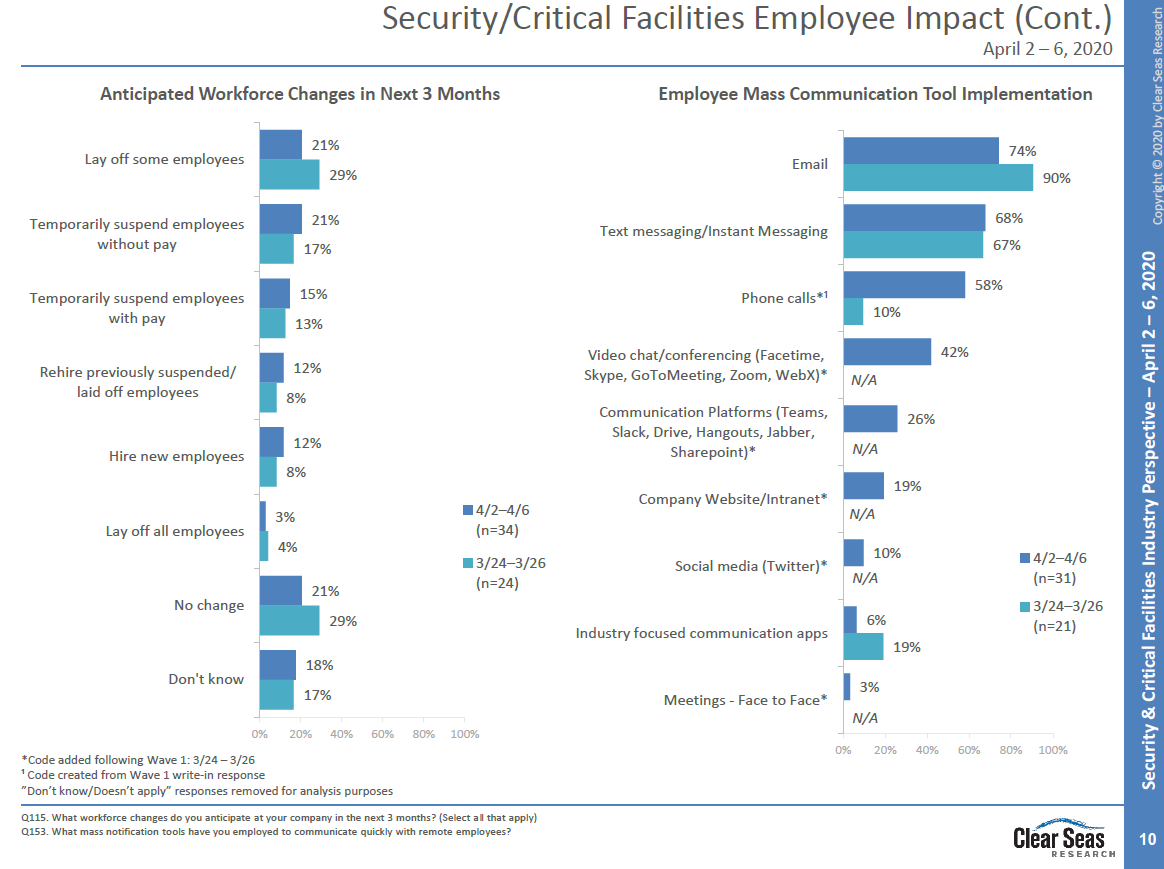 As employees have been ordered to work from home, the use of mass communication tools is on the increase. To quickly communicate with remote employees, security professionals are relying on email (74 percent), text messaging/instant messaging (68 percent), phone calls (58 percent), video chart/conferencing platforms (42 percent) and communication platforms (26 percent).
Activities of Greater Focus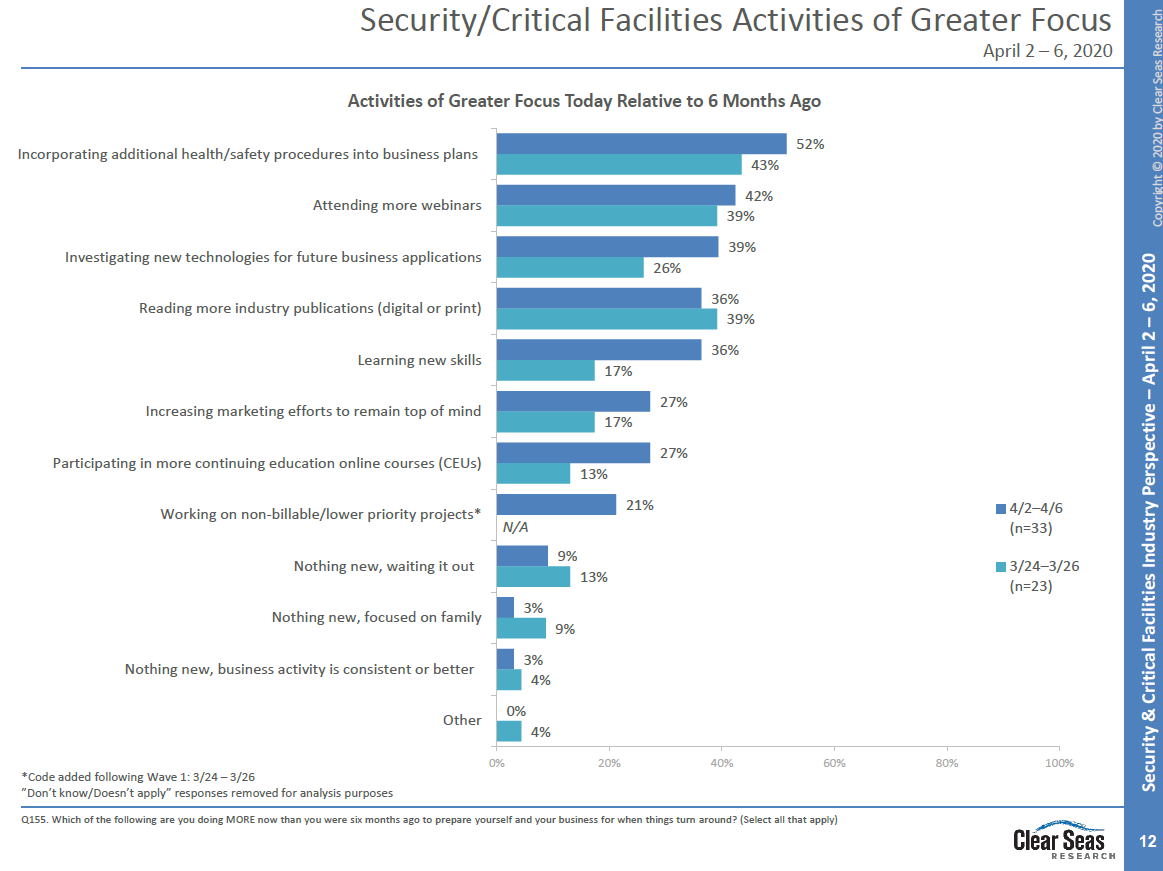 Finally, individuals are using this time to improve their businesses and their personal skill sets:
Revising business continuity plans and safety/health procedures
Attending more webinars and participating in continuing education online courses
Investigating new technologies for future business applications
Reading more industry publications
Please note: the survey captures a perspective from a specific moment in time. According to Clear Seas Research, "While this perspective can be used to unite the industry, encourage collaboration and shape the business decisions we make today and tomorrow, we must recognize that this viewpoint will continue to change over time."


I want to hear from you. Tell me how we can improve.