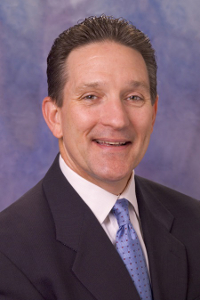 Richard Widup, Jr., CPP, 2014 President of ASIS International.
Photo courtesy of ASIS International
Richard "Rich" E. Widup, Jr., CPP, has advanced to the presidency of ASIS International. He is the 59th president of ASIS, and he currently serves as senior director, corporate security for Purdue Pharma, LP. Mr. Widup joined ASIS in 2000 and the ASIS CSO Roundtable, an exclusive forum for senior security professionals, in 2008.
"The security profession is evolving at an incredible pace and will continue to do so. ASIS is focused on developing and delivering the knowledge and professional development resources that security practitioners require to protect and secure people, property and information," stated Mr. Widup. "Beyond meeting potential rising gaps in knowledge and skill sets, my hope is to expand and strengthen ASIS offerings in the area of leadership and business management, which I view as critical to security practitioners achieving the greatest degree of success moving forward."
In 2001, before joining Purdue, Mr. Widup joined Pfizer Global Security as the director, Americas Region. At Pfizer he had responsibility for all security related matters in the Western Hemisphere, including oversight of brand protection matters involving the counterfeiting, tampering theft and diversion of Pfizer products. Mr. Widup is responsible for brand protection related matters in his current position within Purdue Pharma, LP, where he has been employed since 2005.
Mr. Widup has 27 years of law enforcement experience, previously serving as a special agent with the United States Army Criminal Investigation Command (CID) and with the Office of Criminal Investigations for the Food and Drug Administration (FDA). While at FDA, he investigated offenses which involved violations of federal law, to include the counterfeiting, diversion and tampering of foods and medicines. Widup also supervised FDA's polygraph program and served as the FDA-OCI representative on the Permanent Forum on International Pharmaceutical Crime, an international law enforcement network established to develop and exchange information regarding the challenges associated with global pharmaceutical counterfeiting.
A graduate of the Advanced Detective Training course at Scotland Yard, he also holds a Bachelor of Science in Criminal Justice and a Master of Science in Public Administration. Mr. Widup earned his Certified Protection Professional (CPP) from ASIS in 2003.
Prior to becoming president, Mr. Widup served the ASIS community in several volunteer leadership capacities, including: Transportation Security Council chair; council vice president; and director, ASIS Foundation Board of Trustees. Mr. Widup has also contributed his knowledge and expertise to the development of Enterprise Security Risk Management (ESRM) resources and has participated in the ASIS PAC. First appointed to the ASIS Board of Directors in 2007, he has served successively as director, secretary, treasurer, and in 2013, president-elect. He will serve a one year term as president.
Mr. Widup resides in Stamford, Connecticut, U.S.A.
Information provided by ASIS International.