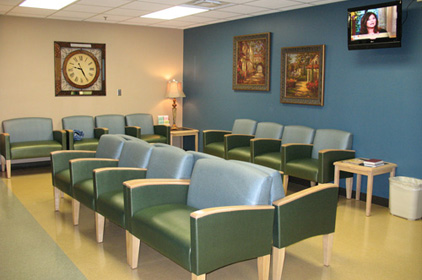 Facility design is one aspect of hospital security and safety. Waiting room design and access control is one example as pointed out by Debra Eilering at the School of Architecture at Southern Illinois University.
Most hospitals and their employees have seen the impact of violence in society, especially when victims enter emergency departments or trauma centers. But it continues to be a challenge for healthcare security and safety executives and their facility administrators to balance the need to be a caring, welcoming environment and the need to increase protective measures that, in some cases, have led to a discussion about arming security officers in some locations.
There is no doubt violence in healthcare settings exists and is rising. The Joint Commission, for instance, has noted significant increases in assault, rape and homicide in hospital settings from 2006 to 2009. More recently, a report from Johns Hopkins Office of Critical Event Preparedness and Response, "Hospital-Based Shootings in the United States: 2000 to 2011," also revealed "an increase in hospital-related shootings in the last few years, but all of the increase can be attributed to shootings outside the hospital itself."
Then there is Lieutenant Colonel Dave Grossman of the Killology Research Group, who gave a three-part talk, including the keynote, on "Workplace Violence: The Healthy and Safe Healthcare Environment" during May's International Association for Healthcare Security & Safety annual meeting in Las Vegas.
Grossman contends that hospital security must prepare for violence like a firefighter prepares for fire. "Get rid of denial and prepare for the worst thing that could happen." He also sees value in arming security officers. Some hospitals do have armed officers at certain locations and during certain hours. But others are wary as are their hospital administrator bosses.
Scott Wallask, writing for HealthLeaders.com, views escalating officers with guns is a two-edged sword. "On one hand, seeing officers with guns, tasers or batons may provide patients with a sense of relief that security can handle violent incidents and deter dangerous behavior. On the flip side, [this] may contribute to an institutional feel at the hospital," which doesn't match the welcoming atmosphere facilities want to project.
Wallask and some others believe liability concerns will ultimately influence the choice of arming or not arming security officers, especially by hospital CEO decision-makers.
When considering arming officers, Wallask reports security leaders take into account: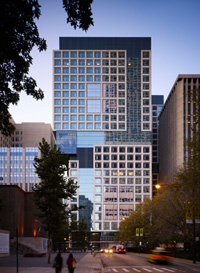 Strong new construction of healthcare facilities, as compared to other types of industries, provides a perfect way to upgrade security technologies as well as better design protection into the environment. Pictured is the newly-built Ann & Robert H. Lurie Children's Hospital of Chicago, which officially opened in 2012. Photo courtesy of PRNewsFoto/Ann & Robert H. Lurie Children's Hospital of Chicago
Police cooperation -- A solid, ongoing relationship with local police could diminish the need to arm hospital security officers if the police respond to an incident quickly.
Study data about violence situations -- Weapon use should in part be based on whether a hospital has historically dealt with violent people.
The cost of a weapons program -- Purchasing weapons, training and retraining staff members, certifying carriers, providing gun safes or other physical protection schemes and licensing all cost money.
More healthcare facilities, however, are designing or remodeling their facilities and especially emergency department waiting rooms to better secure these sites and protect patients, staff and visitors. Positioning doorways, locking down access points after normal hours, more visible officers and more effective location of reception all are tools to better security.
And, no doubt, most hospital security leaders continue to emphasize staff training when it comes to mitigating of incidents before they get out of hand.