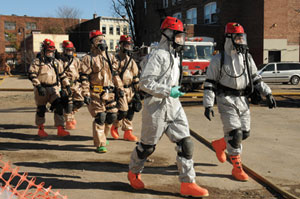 A hazardous materials team approaches a simulated dirty bomb attack during a joint readiness exercise conducted late last year. U.S. National Guard photo by Airman 1st Class Deanna De Laura
There is a dirty bomb music video. There are at least three dirty bomb movies.
But, when it comes to reality, such weapons are fairly easy to assemble and activate.
So it is not surprising that federal, state and local law enforcement officials working with corporate and healthcare enterprise security executives concentrate their efforts on ways to coordinate responses to an attack. Not really a weapon of mass destruction, a dirty bomb is more psychologically harmful than life threatening. It combines radioactive material with conventional explosives. The purpose: to contaminate the area around the explosion with radioactive material, explaining the "dirty" handle.
But, according to U.S. Homeland Security and Department of Energy (DoE) sources interviewed by the Zalud Report, the bomb part would probably be more harmful than the dirty part.
A test explosion and subsequent calculations done by DoE found that even assuming nothing is done to clean up the affected area and everyone stays in the area for one year, which is not likely, the radiation exposure would be "fairly high," but not fatal.
Private-Public Exercises
So it makes sense for first responders, working with enterprise and real estate security executives, to conduct exercises to best handle potential incidents and the essential need to communicate to affected and national audiences.
One recent example: in late September, the United States wrapped up a group of exercises in which national, state and jurisdictional authorities weighed potential reactions to a hypothetical crisis involving multiple radiological dirty bombs, the National Nuclear Security Administration (NNSA) told the Zalud Report.
Called "Amber Waves 2012," the drill enabled government personnel to address matters concerning the assumption of administrative powers held by the interagency Federal Radiological Monitoring and Assessment Center during mitigation activities following a radiological strike. "Exercises of this type are crucial to providing an interagency capability to respond to a large scale radiological or nuclear emergency," states NNSA Associate Administrator Joseph Krol. "We are evaluating and improving our procedures to provide necessary federal support to state and local agencies responsible for protecting the public and environment following a release of radiological materials."
These exercise centered on Leavenworth County, Kan., and Kansas City, Mo.
In the past, Homeland Security and military officials have felt Al-Qaeda operatives were working on dirty bombs. In 2002, for instance, José Padilla (a.k.a. Abdulla al-Muhajir) was arrested on suspicion that he was an Al-Qaeda terrorist planning to detonate a dirty bomb in the U.S., following information from Abu Zubaydah, who under interrogation revealed that the organization was close to constructing a dirty bomb. Although Padilla had not obtained radioactive material or explosives at the time of arrest, law enforcement authorities said they uncovered evidence that he was on reconnaissance for usable radioactive material and possible locations for detonation.
In 2007, a federal jury found Padilla guilty of conspiring to kill people in an overseas jihad and to fund and support overseas terrorism and was later sentenced to 17 years and four months in prison.
Seeking Detection by Mobile Devices
While conducting dirty bomb exercises and tracking potential attackers are two scenarios, there has been some off-and-on talk about building radiation detection into consumer cellular and smartphones so responders could more quickly estimate coverage of an attack.
In one case, researchers at Purdue University worked with the state of Indiana to develop a system that could blanket the nation with millions of cellphones equipped with radiation sensors able to detect even light residues of radioactive material. Because cellphones already contain global positioning locators, the network of phones would serve as a tracking system.
Handset manufacturers were less than thrilled.
Instead, federal officials are updating the national emergency alert system so that mobile phone owners can receive alerts by text message in the event of a national or regional emergency. The handsets must have a special chip, but one is already included in some phones and more acceptable to manufacturers.
The emergency messages cover alerts issued by the President, information about public safety threats and Amber Alerts for missing children. Cellphone companies must opt-in to the service and users can opt-out of any of the alerts except the Presidential messages.
This article was previously published in the print magazine as "Exercises, Arrests, Technology Aim at Dirty Bomb Worries."