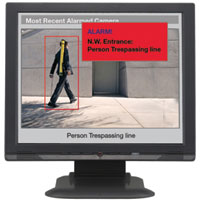 Security video cameras and systems can create virtual perimeters that are programmed to alert on or e-mail video clips when the analytics detects people crossing the perimeter.
The Lexus came out squeaky clean. Then came the Chevy, the Buick, the Honda, and more. Autobell, founded in Charlotte, NC, in 1969 by Charles Howard, is now the biggest car wash chain in the southeast. From the beginning, Howard showcased the latest in car wash equipment technology with a focus on the environment and the community.
So Howard and Autobell turned again to technology, applying security video and analytics to eyeball and alert to what is happening on the waiting line, according to Rob Meng of AutoMotion Management, Raleigh, NC, and a Honeywell integrator using video analytics that goes beyond just security.
ANALYTICS FOR A BETTER BUSINESS
"The system keeps track of cars about to enter the car wash tunnel. If there is a long line of cars, a text message is sent to the manager" to take appropriate action, comments Meng. There is real-time and historic reporting, the latter to analyze traffic by day and time, among other criteria. A camera in the front of the car wash captures information and software-as-a-service provides a gateway to analysis of the information collected. "It was a huge challenge, especially in mitigating any false positives," adds Meng, who needed to adjust the system at each car wash location per zones and exclusion areas. The system can also provide a certain level of security, too, while collecting information on a diversity of cars.
The business bottom line: valuable seconds have been shaved off the waiting line to make Autobell locations with the security video analytics more efficient and productive.
Video analytics has come a long way, in fact moving into uses that go way beyond security, and typical motion detection, object recognition, and virtual tripwires.
The application falls into two general areas: pixel examination and pattern or object recognition. On the pixel side, there is motion detection, around for many years, and camera tampering alerts. Objects – from people and vehicles to baggage and backpacks – and other patterns can be "recognized." This approach can be applied to license plate recognition, bag left behind, people counting, vehicle counting, and trip wire or so-called virtual fences, as examples.
At the heart of analytics is an algorithm. In chips at the camera edge and in or on top of video management systems (VMS) or through storage and retrieval systems for forensics uses, an algorithm is basically logic written in software. For both pixel and pattern/object analysis, algorithms move from fairly simple to very complex, and from an embedded chip to sophisticated software embedded in command and control.
IN DEVICES AND IN SOFTWARE
You can also separate analytics into two camps – embedded primarily by IP camera, encoder, and transmitter manufacturers in their gear as a bundled feature among many.
Take, for example, cameras such as SightSensor from SightLogix with thermal video analytics for more accurate detection in difficult outdoor environments thanks to on-board video processing for high probability of detection and low nuisance alarm rates. Bundled into such cameras: a thermal imager, lens optics, electronic stabilization, image contrast enhancement, video analytics software, camera control, and geospatial target tracking.
Then there is separate or bundled analytics for VMS, higher end and niche uses.
An example here: analytics packages that can integrate into or work with various video management systems.
WORKING THROUGH A VMS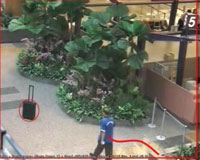 Detection of unattended objects such as left baggage or backpacks analytically alerts on objects left behind.
In one bundled example, Tim Huntsinger, COO of All Phase Security, uses the VMS from OnSSI in his business with enterprise security leaders, and favors its analytics packages. Huntsinger recently consulted on an upgrade of surveillance at the Port of West Sacramento (Calif.), where contract security officers from All Phase Security watch camera views of the port 24-hours-a-day in real-time, and they can also view video archives as needed. More on the Port's mixture of contract officers and upgraded video technology in next month's Securitymagazine.
Despite the continued penetration of "free" video content analysis (VCA), what some call video analytics, in video cameras and at the edge devices, the market for separate modules, options, and "chargeable" analytics software and applications will continue to grow quickly, according to an IMS Research report, "The World Market for Video Content Analysis in Security and Business Intelligence Applications." It forecasts that the market for video surveillance devices with chargeable VCA will be worth almost $600 million by 2015.
For some time, video surveillance device manufacturers have been embedding low end applications in their cameras like video motion detection and camera tamper, and offering them as "free" features. The report predicts a clearer divide will emerge  between free lower end applications and chargeable higher end applications. Intrusion detection is a good example. Detecting an intruder inside a building from a short distance away requires a much less advanced solution than detecting an intruder in an outdoor environment from a greater distance and in conditions where there can be significant movement from peripherals like water or branches moving in the wind.
BIG INVESTMENT TO CREATE ALOGRITHM
Says report author Jon Cropley, from free to chargeable makes business sense to the suppliers and will, in the long run, bring more choices to enterprise security leaders. "A charge needs to be applied to recover the high cost of developing many of the higher end analytics applications. It is unlikely that suppliers will amortize this cost in an increased price of every device. This is because only a small proportion of cameras are actually monitored. Most record the video and only view an event after it has occurred. Furthermore, many applications are quite niche. The majority of customers would, therefore, be paying for a feature that they would not use."
These more sophisticated video analytics solutions are forecast to grow particularly quickly in such sectors as retail, energy/utilities and transportation.
No doubt, accuracy is the ultimate goal of video analytics; you don't want false alarms, which would detract from confidence in and effectiveness of the system, according to integrator Chris Hugman, vice president of Knight Security. "We now use video analytics in some of our projects." However, when it comes to uses outside of the security arena such as at Autobell or at retail chain stores, total accuracy is less necessary.
A survey of retailers by research firm Frost & Sullivan notes that more than 70 percent declared an awareness of the utility of video surveillance for such applications beyond pure security.
Still, analytics need not be fancy pants.
IN CAMERA SOLUTIONS
A McDonald's 24-hour drive-thru restaurant in Dublin, Ireland, recently deployed IQinVision HD megapixel cameras to improve safety and operations. Vandal-resistant domes were positioned to capture registration plates on cars exiting the drive-thru lanes. All 24 cameras record to a server, which allows management to retrieve and view video simply and efficiently. With an IP network security solution, each camera can be adjusted for best performance including frame rates, motion detection sensitivity, and privacy masking.
More generally, analytics can play a key role in applications such as remote video monitoring, according to Andy Stadler, who handles business development for Security Partners, which provides such services among others, and its Select Security integration firm. The company supports Bosch Security Systems and Honeywell Security platforms and uses VideoIQ gear, where appropriate.
"More organizations are involved in sophisticated security video, especially as they migrate from analog to digital megapixel cameras," which capture more information. "And there is that advantage of having more brains (analytics) in the camera," says Stadler.
It's obvious that networked cameras and megapixel cameras make an even better security and business case for analytics. 
Analyze This: Eight Business Reasons and More to Come
There are a lot of general and specific reasons to go video analytics. According to Verint, its Nextiva video analytics portfolio, for example, includes an array of automated video analysis applications for retail, finance, campus facilities, transportation, and critical infrastructure.
1. Camera tampering detection automatically detects camera tampering or shifting for more rapid correction of camera operation problems that occur either intentionally or inadvertently, with minimal interruption of surveillance activities.
2. Perimeter intrusion detection helps organizations secure expansive perimeters, while reducing staff requirements and the need for manual patrols.
3. Loitering detection automatically detects people or vehicles remaining in an area for an extended period of time, for a more proactive, effective approach to suspicious activity.
4. Unattended objects (such as left baggage) detection automatically pinpoints baggage and other objects left behind, enabling security personnel to rapidly detect and address potentially threatening situations.
5. Secure area monitoring pinpoints people or vehicles moving through sensitive areas, including demarcated hallways and rooms and areas without physical boundaries, such as space in buildings and outdoors.
6. City monitoring helps secure city and town centers by pinpointing suspicious activity to deter vandalism and other crime.
7. Wrong direction automatically detects people or vehicles moving in the wrong direction, promoting a more proactive approach to threat identification and management.
8. Equipment removal detection automatically detects when an object has been removed from an area under surveillance, enhancing asset protection initiatives and increasing the chance of recovery by enabling theft to be more quickly
identified.
The Sound Side of Analytics
Look for intercoms to get smarter and more tightly integrated into other security systems. 
Zenitel AS, with its Stentofon security communication systems, and Audio Analytic, with emerging sound classification, have set a licensing agreement integrating both technologies. This allows Stentofon intercoms and information/help points to automatically alert security video monitoring operators to car thefts or break-ins (car alarm detection), office or building break-ins (glass break detection), verbal and physical violence in hospitals, prisons, reception areas, (aggression detection), and firearm crimes (gunshot detection). Such an approach has advantages beyond video analytics: detect crimes and events by analyzing audio; detect off-camera events or areas where cameras are not located; and detect events regardless of lighting conditions.
Audio Analytic's technology recognizes complex sounds by using advanced psychoacoustic modeling, the science behind how humans distinguish and understand the meaning of sound.