Ongoing security assessments must cover areas from private rooms to the hospital perimeter and parking lots. Photo courtesy of PRNewsFoto/BayCare Health System, HKS, Inc.
When It's Time for a Holistic Hospital Security Assessment
Getting a physical can do wonders for people and hospitals. William Nesbitt, CPP, president of Security Management Services International, Inc., has great advice on his Web site http://www.smsiinc.com.
He writes that, when it's time for a stem to stern security assessment, the process should obviously include review of all physical security systems and protocols in addition to review of the special security needs of departments such as pediatrics, ER, pharmacy, behavioral health, central supply and the business office. The assessment process should include a review of HR hiring and screening processes. Asset protection protocols should also be reviewed. Security awareness programs should be assessed for effectiveness as well as assuring they are contemporary. The training of security staff and employees, as relates to security issues should be reviewed.
"The point we are trying to make is that when security problems raise their head in a particular department or area within the hospital, assume they are symptomatic of larger problems until proven otherwise. Identified security problems can be an opportunity to get better. Remember security is an anticipatory discipline with mitigation as the primary objective," writes Nesbitt.
Active Shooter Training Now Part of Hospital Security
The sad irony is that gun violence has seeped into hospitals and healthcare facilities. And officials now train their security officers and healthcare staff more generally to spot potential shooters and deescalate certain situations.
It can happen at urban facilities and also suburban and rural locations.
For example, last year, Jeffrey Layten pulled a gun and started shooting at Creighton University Medical Center in Omaha and was killed by police return fire.
Hospitals are wide open places featuring life-and-death drama and intense emotion, and in rare instances those factors lead to violence. A study of gun violence statistics shows that trauma centers are more often a place of violence as compared to other hospital areas. Connie Potter, president of the New Mexico-based Trauma Center Association of America, notes some commonalities. More people are carrying guns, some hold anger toward government and institutions such as hospitals, and some believe modern medicine can cure every illness, she says.
People have "unrealistic expectations of the medical community, that we can save everybody," says Potter, a registered nurse who was a trauma center administrator in Santa Ana, Calif., and El Paso, Texas. "And we are living in an increasingly violent, vitriolic, payback type of society."
The Joint Commission, which accredits hospitals, wrote in a June report that there have been 256 documented cases of homicide, assault and rape against patients and visitors in American health care facilities since 1995. And 110, or 43 percent, took place from 2007 through 2009. The commission wrote: "Once considered safe havens, healthcare institutions today are confronting steadily increasing rates of crime.''
As California Goes, So Goes the Nation?
Californianow requires that hospitals conform to minimal security standards by laying out required guidelines. This law is confined to the state of California, but it has national implications. Some hospital security executives believe that it is just a matter of time before these standards begin to appear in Environment of Care Standards required by the Joint Commission.
The California legislation requires hospital security and safety assessments to be conducted not less than annually, and requires hospital security plans to be updated annually, provides that hospital security plans may additionally include efforts to cooperate with local law enforcement regarding violent acts at the facility, and requires hospitals to consult with affected employees and members of the medical staff in developing their security plans and assessments.
In one analysis, the law:
Requires all general acute care, acute psychiatric and special hospitals to conduct a security and safety assessment and develop a security plan with measures to protect personnel, patients and visitors from aggressive and violent behavior.
Requires the assessment to examine trends of aggressive or violent behavior at the facility.
Requires hospitals to track incidents of aggressive or violent behavior for purposes of developing a security plan, which may include security considerations relating to physical layout, staffing, security personnel availability, policy and training related to responses to violent acts.
Requires hospitals, in developing the security plan, to consider guidelines or standards issued by the Department of Public Health (DPH), the Division of Occupational Safety and Health and the federal Occupational Safety and Health Administration, and to adopt policies including, but not limited to, policies regarding personnel training designed to protect personnel, patients and visitors from aggressive or violent behavior.
Requires the members of a hospital committee responsible for developing the security plan to be familiar with several things, including the role of security in hospital operations, hospital organization, protective measures, handling of disturbed patients, visitors, and employees and identification of aggressive and violent predictive factors.
Requires a hospital to have sufficient personnel to provide security pursuant to the plan.
Requires certain acts of assault, as defined, to be reported to the local law enforcement agency within 72 hours.
Gives DPH authority to assess administrative penalties against hospitals for licensing deficiencies.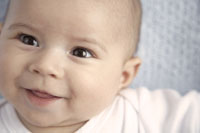 Access controls, identification, and security video supplement policies and procedures when it comes to mitigating infant abductions. Photo courtesy of PRNewsFoto/American Academy of Pediatrics, Tammy Hanratty/Corbis
Complexities Arise in Preventing Infant Abductions
The rarest of incidents, infant abductions from hospital and healthcare facilities can cause cascading tragedies to families and facilities.
Based on reported incidents, California and Texas have the most infant abductions from hospitals.
There is a profile of a "typical" infant abductor, developed from an analysis of 256 cases occurring from 1983-2008, although hospital security executives and law enforcement officials say that such incidents can be triggered by others outside of the typical.
   The abductor:
Is usually female of "childbearing" age (ranging from 12 to 53).
Is most likely compulsive.
Frequently indicates she has lost a baby or is incapable of having one.
Is often married or cohabitating; companion's desire for a child or the abductor's desire to provide her companion with "his" child may be the motivation for the abduction.
Usually lives in the community where the abduction takes place.
Frequently initially visits nursery and maternity units at more than one healthcare facility prior to the abduction; frequently uses a fire exit stairwell for her escape.
Usually plans the abduction, but does not necessarily target a specific infant.
Frequently impersonates a nurse or other allied healthcare personnel.
Often becomes familiar with healthcare staff members, staff members work routines, and victim parents.