Security Newswire
Risk -- Far Beyond Paper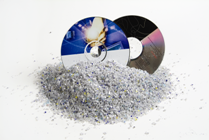 With identify theft on the rise and data storage methods allowing for increasingly larger amounts of information to be located on one source, shredding is a necessary activity in today's workplace. No longer is paper the only security risk . . . now, threats can come from CDs, DVDs, ID badges, flash (or thumb) sticks, hard drives and other storage devices, according to experts at Whitaker Brothers, Rockville, MD. A data destruction article will appear in the February issue of Security Magazine..
With CDs capable of holding more than 250,000 pages of information and DVDs containing 26 times the data of the average CD, no one can simply break optical media into pieces and assume that the data cannot be retrieved. Grinding technology totally removes the data layer and coding sequences from all types of CDs, reducing the information to powder, while shredders with specially hardened, solid steel cutting cylinders can reduce a CD or DVD to pieces only 2.2 mm x 4.0 mm in size, again, destroying the coding sequences. These same shredders can also eliminate the microchip information frequently embedded in security or ID badges so that sensitive data does not fall into the wrong hands.


I want to hear from you. Tell me how we can improve.