The U.S. Department of Homeland Security (DHS) has had a busy summer. Without the need for Congressional action, it took action to further protect America's borders and instituted a crackdown on employers hiring illegals. The department also pushed for other countries and international airlines to report passenger data before a plane takes off, a need fought by some for years.
Then there was the troubling report by the agency's Inspector General Richard Skinner charging that the nation's biological surveillance system has fallen significantly short of its goals, after President Bush – more than three years ago – told DHS to set up an early warning system for biological threats. Homeland Security has failed to provide "consistent leadership and staff support to ensure successful execution" of the National Bio-Surveillance Integration System.
While there is little criticism of the new border initiatives, except for execution and implementation speed by the government, some businesses, especially in the hospitality and farming sectors, have expressed a sense of dread as new enforcement rules loom.
BORDER SECURITY
DHS has, by the end of 2008, committed to additional border personnel and infrastructure.
18,300 Border Patrol agents
370 miles of fencing
300 miles of vehicle barriers
105 camera and radar towers
Three additional Unmanned Aerial Vehicles or UAVs
For years, limited detention space forced the release of many illegal border crossers from nations other than Mexico with nothing more than a Notice to Appear for a hearing before an immigration judge. Many aliens ignored these notices and instead blended into U.S. society. The practice has ended with institution of "catch and return," ensuring that all removable aliens caught trying to cross the border illegally are held until they can be removed.
The Departments of State and Homeland Security will strengthen legal efforts to keep international gang members out. Gangs are at the root of many U.S. crime problems today, and many of the most dangerous gangs draw significant membership from abroad. The Federal government already denies visas to known members of certain gangs from China, the former Soviet Union and El Salvador. Now DHS has expanded the list.
Also, since January 2007, air travelers have been required to carry a passport for entry into the United States. Because of passport processing backlogs, a temporary accommodation has been made for U.S. citizens traveling in the Western Hemisphere, which will be phased out. Starting Jan. 31, 2008, DHS will phase in a requirement for passports or other secure documents for sea and land ports of entry.
WORKSITE ENFORCEMENT
Concerning the crackdown on U.S. employers hiring illegals, DHS immediately issued what it calls a "no-match" regulation to "help employers ensure their workers are legal and help the government identify and crack down on employers who knowingly hire illegal workers." In cases in which an employer has a significant number of employees with inaccurate personal identity information, the Social Security Administration will send the employer a "No-Match" letter. The regulation clarifies that employers may be held liable if they ignore the "No-Match" problems by failing to take specified steps within 90 days of receiving the letter.
Later this year, DHS will publish a regulation that will reduce the number of documents that employers must accept to confirm the identity and work eligibility of their employees. Presently, no fewer than 29 categories of documents can be used to establish identity and work eligibility. Employers have little capacity to verify the authenticity of these documents, and the sheer quantity of accepted documents is an invitation to fraud. This regulation will reduce unlawful employment by weeding out insecure documents now used often for identity fraud.
Civil fines imposed on employers will increase by appropriately 25 percent. According to DHS Secretary Michael Chertoff, named by Security Magazine as one of last year's 25 Most Influential People in Security, efforts to secure the border will fail unless the "magnet" that attracts illegals is turned off. Unfortunately, the fines for relying on illegal workers are so modest that some companies treat them as little more than a cost of doing business. DHS will use existing authority to update civil fines for inflation.
The plan is to continue to expand criminal investigations against employers who knowingly hire large numbers of illegal aliens. Arrests by U.S. Immigration and Customs Enforcement for criminal violations have increased from 24 in FY 1999 to a record 716 in FY 2006. There have been 742 criminal arrests since the beginning of FY 2007 (through July 31), and there is anecdotal evidence that companies are taking notice and adjusting their business practices to follow the law.
The future: more use of E-Verify, the federal electronic employment verification system, to ensure that their employees are authorized to work in the United States. The Federal government ought to lead by example. As there are more than 200,000 companies doing Federal business, this will significantly expand use of E-Verify, and make it more difficult for illegal immigrants to obtain jobs through fraud.
The President also directed DHS and the Social Security Administration to study technical and recordkeeping reforms necessary to guarantee that illegal aliens do not earn Social Security credit for illegal work. Currently, aliens who make Social Security payments while working here legally can continue to accrue credits even if they overstay their visa. Improved data-sharing can lay the foundation for eventual Congressional action to eliminate this practice (which proved an obstacle to comprehensive reform).
STREAMLINING EXISTING GUEST-WORKER PROGRAMS
The Department Of Labor has committed to the reform of the agricultural seasonal worker program. No sector of the American economy requires a legal flow of foreign workers more than agriculture, which has begun to experience severe labor shortages. Also scheduled for change: the program for non-agricultural seasonal workers. Because businesses in seasonal industries such as landscaping and hospitality frequently have a difficult time locating temporary workers, the program has proven quite popular. Some employers report significant processing delays, however. Labor's proposed rule will speed processing by moving from a government-certified system to an employer-attestation system.

SIDEBAR: Stronger Attraction to Blast Resistant
New technologies for blast resistant perimeter security are being implemented into highly sensitive security projects at government buildings, major financial institutions, chemical plants and nuclear facilities throughout the nation. In the face of increasingly advanced security threats including truck and improvised explosive devices, blast resistant construction and blast mitigation technology have helped to create an arsenal of security products designed to prevent penetration of a facility's perimeter through explosive attacks.
Blast resistance in guard booth construction, one of the new post-9/11 security requirements in specific industries, brings with it special manufacturing needs. Unlike bullet resistance, blast resistance must deal with the two distinct phases of positive and negative pressure waves that are created radiating outward and then inward. The negative waves last three times as long as the positive waves. The level of blast resistance is measured by how far the booth might be from the threat and how large of a blast it is expected to withstand.
"Protecting the perimeter and ensuring the safety of those that guard it is the first line of defense in a ballistics attack on a critical facility." said Dave King of B.I.G. Enterprises. The company has designed specialized gun ports for large caliber weapons, as well as small handguns that are easily operated and secured. New York City architect Richard Ramsey noted that "360-degree visual access from within the booth is essential. Also important is coordination with outside systems and devices and the complete protection of those systems from within the booth such as all control and mechanical houses. Blast resistance allows the preservation of communication even when under attack."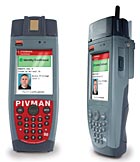 SIDEBAR: Credential Validation
Earlier this summer, various government agencies sponsored what they called a First Responder Authentication Credential (FRAC) use demonstration co-hosted by the Department of Homeland Security, the Federal Emergency Management Agency Office of National Capital Region Coordination and Department of Defense's Pentagon Force Protection Agency. The demonstration's goal was to validate the functionality of the FRAC and the integration of electronic attributes, specifically emergency support function attributes.
Among companies participating: CoreStreet and its PIVMAN, which verified the electronic identities and attributes of first responders in multiple jurisdictions across the country.
The Summer Breeze demonstration highlighted federal, state, local and private sector identity interoperability. It also illustrated the Federal Information Processing Standard 201-compliant credentials' applications beyond physical and logical access to include identification at any type of event or location.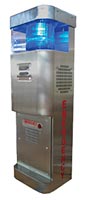 SIDEBAR: Mass Notification's Homeland Role
Getting the word out has become a crucial homeland security element. Some emerging technology is specialized and expensive. Many enterprises have already invested in intercom and emergency phone systems and wiring, not necessarily suited to mass notification. Some in the industry are responding to extending existing gear.
For example, the Wide-Area Emergency Broadcast System Wall Mount (WEBS Wall Mount) by Talk-A-Phone integrates the company's wall mount emergency/information phone station and wide-area broadcast capabilities into a single highly visible mass notification system for parking garages, stairwells and other areas in large campuses.
Like traditional emergency phone stations, this new approach features a blue light/strobe and emergency phone for two-way communication but also powerful reentrant speakers capable of broadcasting live messages, pre-recorded automated messages and siren tones.

SIDEBAR: Softer Side of Marines
Beanbags, sticky nets and speakers may seem like odd tools for fending off an angry, armed mob or stopping a terrorist vehicle speeding toward a checkpoint. But 120 Marines from 12th Marine Regiment, 3rd Marine Division, who completed a summer non-lethal weapons course on Camp Hansen, know better.
Such non-lethal training is becoming more common across the U.S., with local first responders, state agencies and even private security.
For the Marines, non-lethal weapons instructors from III Marine Expeditionary Force's Special Operations Training Group and the Marine Corps Base Provost Marshal's Office teamed up during the weeklong training to teach the Division Marines crowd control techniques using such weapons. The course focused heavily on "escalation of force" procedures, or the employment of weapons in progressive stages based on the existing threat, explained Gunnery Sgt. Ronald L. Stephens, the anti-terrorism and force protection senior instructor. "If someone's throwing a rock at you, you don't want to retaliate with lethal means." Non-lethal weapons and equipment included batons, shields and munitions including beanbag projectiles, paintballs, tasers and pepper spray. One of the key learning points of the course was knowing when and how to apply the different systems. "Range always determines what non-lethal weapons we use," said Sgt. Russell A. Douthat, one of the instructors.