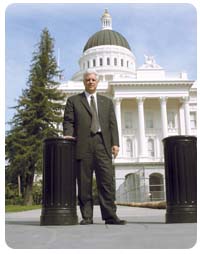 Shoe strings and power politics. Historic buildings and media inquiries. Systems that never before worked together or never existed before. ID cards that must work for both police officers and senior citizens and digital video to protect courthouses and testify, too.
Welcome to the real world of government security.
Breathe easy, enterprise security executives. You are not in the fishbowl where Tony Beard swims; flying the sometimes bumpy sky of Mark Denari; or under the gavel like Jeff Bergt.
When today's misstep could easily turn into tomorrow's newspaper headline, a major obligation of local and state government security executives directing projects that can range up to $20 million is not to mistake slogans for solutions or, as Beard, chief sergeant-at-arms at California's historic Capitol building simply puts it, "just do the job."
Enterprises can learn from this nitty-gritty, get-it-done arena as plans are made, strategies covered, budgets squeezed and accountability comes in the form of politics, a demanding public, unique challenges and hind-sight made easier by media archives.
Capitol crimes
Completed in Sacramento in 1874, California's Capitol has seen its share of serious security episodes during its colorful existence. In 1927, a lobbyist shot and murdered a secretary on the fourth floor. In 1967, the Capitol was occupied by armed Black Panthers; and a gunman once took a hostage in its bill room. A female follower of Charles Manson attempted to assassinate then-President Gerald Ford on its east steps.
For most of the four-story Capitol's early history, it was protected by a granite and cast-iron fence, removed during extensive renovations in 1949.
After the Oklahoma City federal building bombing in 1995, legislators began to discuss, in earnest, erecting a security fence. Whatever misgivings state legislators may have had about the lack of security, however, were soon overshadowed by political concerns for openness and public accessibility. However, the security mood in Sacramento changed again in 2001, when a suicidal trucker crashed into the south entrance. Then came the terror attacks of September 11th.
Nobody had to convince the man in charge of security at the Capitol of the need for a security fence, however. Beard had been quietly lobbying for just such a solution for decades. Following in the steps of his father and grandfather, who both spent most of their working lives helping to secure the building, Beard, at 29, was the youngest person ever elected Senate chief, and now supervises a staff of more than 100 people, including 16 sworn officers.

Perimeter enhanced aesthetically
Beard is clearly energized to oversee a $6.8 million security overhaul of the Capitol's perimeter, which consists of a series of three-foot-tall concrete planters, and security posts or bollards that are linked by inch-thick cable. The planter barriers and bollards complement both the Capitol architecture and lush landscaping. In addition, decorative bollards, which are normally kept in the "up" position and lowered to let authorized vehicles through, are placed in high traffic areas. They sport the state seal on top.
The decorative bollard protecting the Capitol is Delta Scientific's highest crash rated bollard, the DSC720. It will stop and destroy a 15,000-pound vehicle going 50 mph. It is the same bollard that protects Federal and DOD facilities, U.S. and British embassies and other high profile, high-risk locales. They meet or exceed U.S. Department of State and Department of Defense certifications, having been tested to the highest standards for repelling terrorist attacks.
"Fortunately, we didn't have to choose between security and aesthetics," Beard emphasized. "(They) blend in with their surroundings. But they're also designed to do the job – which means stopping a truck dead in its tracks."
The bollard systems operate individually or in groups up to ten. Individual bollards are up to 13.25 inches (336 mm) in diameter, up to 35 inches high (889 mm) and are usually mounted on 3-foot centers. Hydraulic and pneumatic versions can be operated by a variety of control systems. Manual versions are counter balanced and lock in the up or down position.
"I believe this is a win-win situation for everyone involved," he says. "It's a balance between preserving the historical aspects of the building – and all that it symbolizes – and on a more practical level, protecting the people who actually work and visit the Capitol on a day-to-day basis."

In the cards
For Sheryl Gladden of the Skagway, Alaska, Police Department, the business strategy to a new, more security ID card for fire and police officers was the numerous uses she needed to squeeze out of the cards for use by city chauffeurs, senior citizens and even kids on bicycles – an ultimate ROI.
With security a priority, Skagway chose a Zebra (Carmarillo, Calif.) P420i card printer to create identification badges on site and on demand. "We use the printer to create identification cards for police officers, fire department personnel and other city employees," reported Gladden. "All the people who drive tour vehicles that are not considered by state standards to be commercial vehicles need city-issued chauffer permits, as well." The photo identification cards are also used to identify Skagway's senior citizens, who do not have to pay sales tax on food items at the local grocery store.

Because the city sits on the Canadian border, the cards provide a convenient second form of identification for Skagway officials who need to cross the border on official business. They are also used by Skagway police officers who need to fly with firearms on commercial airlines for business purposes. The Transportation Security Agency provides the police department with a special logo that is placed on the back of the identification cards to denote that the person holding the card is legally authorized to travel with a firearm.

Intelligent video at airport
Mark Denari, director of aviation security and public safety with the San Diego County Regional Airport Authority, is moving forward with a $15 million initiative to link the many technologies that control access and perform surveillance in and around the airport. SmartCatch intelligent video surveillance software from Vidient of Sunnyvale, Calif., is potentially a key element.
At San Diego International, there are about 5,200 employees and approximately 40 controlled access points that provide access to the airport secured area. Currently, there is a beta test in progress at four of these portals, and Denari and his team are working with Vidient engineers to fine-tune the system to recognize the precise behaviors that constitute breach of security policy at the airport.
"The system will tell us when an anomalous event or situation occurs – a breach of our access policies – and will send an alert to our command and control environment. This will draw attention to the event in real-time, so we can determine and take appropriate action. We will also be able to review and analyze the digital video historically," said Denari.
For Terry Schimon, telecom network specialist for Pierce County, Wash., his security worry was compromises to the county's telephone system. Few telephone networks connect a user base that is involved in such a multitude of vital services as local governments. In Pierce County, that includes a plethora of departments and agencies: Emergency Management, Sheriff's Department, the jail, courts, public works, parks, Assessor-Treasurer, Auditor, Health Department, even a portion of the 9-1-1 call center. Because of its vital importance, the modern Pierce County phone system has enough redundancy, or backup, built into the system to enable routing around problems that would cause outages.
"Of course, if you have part of the system down and don't know about it, then redundancy doesn't help you," said Schimon. "So, it's important to know when there is a problem or even a change in status of a backup system that could compromise our telecom service. That is the principal reason why we have a series of powerful remote access units that collect network management data and guard against conditions that would threaten our phone system."
The device to which Schimon refers is the Omnitronix (Seattle) Data-Link pollable remote access unit, a call accounting data buffer that solves PBX management applications by combining the functions of serial data collection, remote equipment management and alarm notification into one flexible unit.
One concern was alarm management, for which Pierce County previously managed via dial-up modems. "Automating alarm access and notification were very significant." Schimon says. "With the old system it was possible for the 9-1-1 system to be out of service without our even knowing it. With the need to be highly responsive to other emergency or otherwise critical services, the DL880's alarm management capabilities could be very helpful to us."
For example, the gear can now monitor a serial port from a PBX or other devices for trunk failures, T1 outages, environmental conditions or power system problems. Alarm notifications can be sent to individuals or groups via printed messages, landlines, pagers, terminals or Internet connections.
Courthouse needs
Unlike some other government agencies and operations, courthouses have unique security challenges. Criminal and civil courtrooms naturally attract people stirred by emotional and sometime violent baggage.
To Jeff Bergt, digital video recorders (Mitsubishi Digital Electronics America of Irvine, Calif.,) at Parker County District Courthouse in Weatherford, Texas, will increase efficiency of security procedures and lower overhead costs.
"With the advances in digital networking, security has become an integral part of our IT domain," said Bergt, network administrator, Parker County Sheriff's Department. "We have the capability to monitor activity not only from inside the courthouse, but from any location on the county IT network. Our IT office is located two miles away from courthouse, so the remote access capability is a real time saver. We no longer need to travel back and forth from the courthouse to check on the security system."
The Mitsubishi DX-TL5000U is connected via coaxial cables to 16 cameras installed in two large courtrooms, county official's offices, holding cells and parking lots.
Officers from the Sheriff's Department view the camera feed via two monitors at a central security station.
"We used images from our old security system as evidence in a trial to show the actions of an inmate during a previous hearing," said Lt. Ray Wright. He contended that the DVR makes recorded images easier to archive and retrieve, and promises to make the process easier.
National Crime Prevention
Government agencies, law enforcement and enterprise security often work together. One example: In celebration of McGruff the Crime Dog's 25th Anniversary, McGruff and National Crime Prevention Council (NCPC) President and CEO Al Lenhardt met on the Capitol steps. NCPC has an annual National Conference on Preventing Crime. At a recent event, Lenhardt said that, thanks to corporate partner ADT Security Services, Boca Raton, Fla., 25 more McGruff officers will soon be helping ''Take a Bite out of Crime.'' ADT is donating the costumes to law enforcement agencies across the country to mark the anniversary.