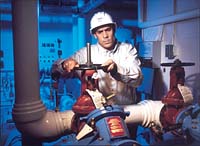 Fire Protection, Life Safety Get Higher Priority
There is increased attention to traditional fire alarm and suppression systems as well as bioterror preparedness in the National Capitol Region, which includes the Pentagon, Capitol Hill facilities and the White House.
Much of the fire protection action embraces retrofit work, service and maintenance as officials at various government and military facilities are now testing and upgrading fire alarm and suppression equipment. At the same time, these federal officials as well as state and local agencies are responding to more complex and challenging bioterror threats. Ricin attacks against U.S. Senate Majority Leader Bill Frist in February and a ricin incident aimed at the White House last November show that the anthrax attacks in 2001 were just the beginning of bioterror threats and incidents.
Studies released earlier this year by the New York-based Century Foundation suggest that agencies, public health departments and business organizations are more prepared when it comes to bioterrorism but critical problems remain, even as millions of dollars are spent on solutions.
The bioterror bottom line: new threats deserve new thinking.
On the one hand, improving traditional fire protection systems while simpler is just as important. The U.S. Department of Defense realizes that and contracted with SimplexGrinnell of Westminster, Mass., to test and inspect fire alarm and suppression systems at the Pentagon and other related facilities. As part of the Pentagon Renovation Program, a multiyear initiative to renovate the giant building, SimplexGrinnell designed and installed fire alarm systems, which include speech intelligibility testing of emergency evacuation systems.
On the other hand, military and government security executives are testing emerging technologies to screen mail for anthrax and possibly for toxins such as ricin.
In one example, an on-site system that screens letters and packages for anthrax uses polymerase chain reaction (PCR), which detects spores and analyzes the DNA of an organism. The United States Postal Service uses PCR from Smiths Detection of Edgewood, Mass.
All mail is contained within a protective cabinet maintained under negative pressure to prevent the spread of contamination. Flat mail is automatically processed at a rate of up to 2,000 pieces per hour and larger packages are screened manually.
Other detection technologies aim at identifying the presence of a diversity of materials ranging from anthrax to cocaine and ricin. In this approach, the detection device uses a suite of sensors. A Marietta, Ga., firm, Dicut, Inc., employs multiple optical elements in its Detect-X technology to scan objects in mailrooms, shopping malls, schools, factories and office buildings in addition to government and military sites.



There is yet another approach: scanning mail off-site and transforming it into email.
In this test of getting safe mail to its destination, a number of Congressional offices – but not Senator Frist's – now have their mail first delivered off-site. There, workers scan the documents into a computer format and send the data on to recipients via email. The pilot program, launched in mid-2003, recently doubled in coverage to include 20 Congressional offices. One player in this mail-to-email experiment is LaserFiche, a division of Compulink Management Center, Long Beach, Calif.
OSHA Clarifies National Emergency Plan
The federal Occupational Safety and Health Administration has issued its National Emergency Management Plan (NEMP) to clarify the agency's responses to national emergencies. "OSHA is committed to helping assure the health and safety of workers including those involved in emergencies," OSHA Administrator John Henshaw says.
The plan details OSHA's roles and responsibilities during responses to nationally significant incidents, such as those that result in a Presidential emergency declaration, activation of the federal response plan or a request for assistance from the U.S. Department of Homeland Security. It also defines the roles and functions that the agency's national and regional offices will assume while planning for and responding to a nationally significant incident.
Specialized response teams in such areas as toxic chemicals, biological agents, ionizing radiation and structural collapse will be created to enhance response capabilities for incidents involving weapons of mass destruction. For SECURITY magazine readers, there's more information at http://www.osha.gov.
ISC West Boasts Huge Expo
The International Security Conference West is in Las Vegas. The exposition is Mar. 31 – Apr. 2 at the Sands Convention Center. More information at www.iscwest.com.


Sidebar:
Enlarged Top areas outside of physical security:
Computer information security
Monitoring visitors
Bioterrorism
Emergency, crisis management
Source: SECURITY magazine 2004 Industry Forecast Study
Business News:
Indala in Tag Agreement The Bewator Group, a European supplier of access and video control equipment, has signed an agreement providing San Jose, Calif.-based Indala Corp., an ASSA ABLOY Identification Technology Group company, with exclusive worldwide distribution rights to sell its range of Cotag hands-free access technology. Cotag technology includes a range of proximity and hands-free cards, tags and readers. It is based around active technology that can be automatically read at access control points.


Quebec Agency Upgrades Security
The Commission of Health and Occupational Safety of Quebec, which handles workers' compensation claims for work-related accidents in the province, has selected Johnson Controls of Milwaukee to make security enhancements to its headquarters in Quebec City and 28 provincial offices. The $1.7 million (approximately $2.3 million CDN) contract includes the installation and integration of a card access control system serving approximately 7,000 employees, a video security system, an electronic gate and turnstiles. The project is expected to be completed by July.
Florida DMV Selects ImageWare
ImageWare Systems Inc., San Diego has received a purchase order for its EPI Builder software developer's kit (SDK) from Digimarc Corp., Tualatin, Ore. Digimarc will use ImageWare's EPI Builder SDK to integrate certain card design and card rendering features into its implementation of the Florida Department of Highway Safety and Motor Vehicles' new, state-of-art driver's license system.
Brady, Appleton Security Partnership
Brady Corp. of Milwaukee and Appleton of Appleton, Wis., have a strategic partnership to offer secure labeling technologies. Combining the expertise of both Brady and Appleton in material science and converting, the partnership will supply an array of brand protection and security packaging and labeling products. "Supply chains are becoming more complex and global in nature and counterfeiters are becoming increasingly more knowledgeable and well-funded," Jeff Turmel of Brady says.
NFPA Conference in Salt Lake City
Former U.S. Senator Bill Bradley will deliver the keynote address at the opening general session of the 2004 National Fire Protection Association World Safety Conference and Exposition. The conference, "Building a Safer World," will be May 23-26 at the Salt Palace Convention Center. The event provides an opportunity for fire protection, life safety, electrical, security, building design and management and fire service professionals to learn from code experts and industry leaders and to network with a global audience of peers.
PolEvator Patent
Decatur, Ga.-based Videolarm says it's been awarded a patent for a new display design that allows banners or other signage to be suspended directly from the PolEvator. Videolarm has already been awarded a patent for the unique mechanism that controls the PolEvator.
U.S. Department of State Chooses Viisage
The U.S. Department of State Bureau of Consular Affairs Office has selected Viisage, Littleton, Mass., face recognition technology to help reduce fraud and increase border security through the Diversity Visa Program.
One of several visa programs, it receives up to 15 million applications from individuals seeking immigration to the United States each year. From this pool of applications, approximately 50,000 special immigrant visas are issued. Under U.S. law, applicants are allowed to submit only one application per year. Such a large disparity between the number of applicants and the number of visas awarded has, in recent years, created an environment where applicants regularly attempt to improve their odds by submitting multiple applications, thereby increasing their chances of receiving a visa. State will use Viisage's technology to perform checks to identify applicants submitting multiple applications. Those found to have submitted multiple applications will be eliminated from consideration for a visa.


E-learning Courseware
Business Performance Technology (BPTech), an e-learning company of East Berlin, Conn., has a comprehensive homeland security e-learning program for businesses. The new product is the first in BPTech's next-generation customizable e-learning courseware. BPTech's "Homeland Security and Your Business" makes it possible for companies of all sizes to protect and plan for security attacks using the flexibility of Internet-based training.
Israeli Prisons Authority Opts for Magel
Magal Security Systems Ltd. has received an order from the Israeli Prisons Authority to install a perimeter intrusion detection system around one of the largest prisons in Israel.
Mexico Looks to Bioscrypt
The Mexican Ministry of Agriculture has deployed V-Flex readers from Bioscrypt Inc., Toronto, for physical access control and time and attendance. The deployment has been designed to provide increased security to restricted areas of government buildings while also verifying attendance of the over 1,500 individuals working for the department.
Kroll Hired for Border Protection
U.S. Customs and Border Protection (CBP), a division of the Department of Homeland Security, has engaged Kroll Government Services Inc., New York City, to provide background investigations of customs agents and border patrol personnel. The one-year contract, renewable for up to five years, has a potential ordering value of $5.75 million in the first year. Under the contract, Kroll will assist CBP in the management, processing, investigation, report writing, quality assurance and supervision of background investigations for CBP.

PEOPLEOnTheMove:
Grillo EVP at ASSA ABLOY Joseph Grillo, president and chief executive officer of the ASSA ABLOY Identification Technology Group (ITG), has been promoted to executive vice president of parent company ASSA ABLOY AB. In addition, Grillo will operate as president and chief executive officer of ASSA ABLOY's Global Technologies Group, a $700 million worldwide business comprised of ASSA ABLOY Hospitality, the Identification Technology Group (ITG) and Besam (door automatics). He will maintain his responsibility as president and chief executive officer of ITG. Grillo is also president of the Security Industry Association.


Consultant Firm Grows
James Francis, a 30-year veteran of the security industry, has joined the Manhattan-based security consulting firm of Aggleton & Associates as senior vice president and COO. His responsibilities will include business development, project leadership and quality control.
PPM 2000 Regional Sales Manager
PPM 2000, Edmonton, Canada, appointed Jim Kartalia as regional sales manager - midwestern United States.
HDR's Firzgerald at Conference
His topic was "Penetration Testing as a Security Audit Tool" and Windom Douglas Fitzgerald, with HDR Security Operations Inc., showed at last month's Corporate Security Roundtable the ease of defeating certain security systems.
BBB Works with Rapsheets On Member Criminal Records
The Better Business Bureau (BBB) of Central East Texas and the Better Business Bureau of Metropolitan Houston say they now offer to members the ability to perform instant criminal records searches through an online database maintained by Rapsheets of Memphis, Tenn. It will search its National Criminal Index, a database of more than 160 million criminal records from across the United States. The records include felonies, misdemeanors and traffic violations. Texas records include not only state-level records but also county-level data. The database also includes a unified search of sex offender registries from 37 states, including Texas and surrounding states such as Arizona, Louisiana and New Mexico.