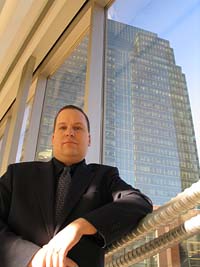 Greg Smith, CPP, manager, security and life safety, GWL Realty Advisors, Edmonton, Alberta, serves a Canadian national property management company with commercial and industrial assets. In the security industry for more than a decade and in property management for seven of those years, Smith feels the biggest difference in property management compared to other security assignments is "the diversity of the people we deal with. There's not just one client but dozens of clients, different tenants with different and always changing needs."
One of Smith's basic assignments is to conduct successful tenant negotiations with emphasis on specific security, life safety and technology needs. "In managing the facility with different tenants, we take a layered approach," Smith says. A first security layer starts at the building's property line. Around the building and in public places, doors have access controls with card readers; there are intrusion alarms and digital security video.



Layering Inside Out
The interior of the building is further layered with more security video coverage.
Then there is a mix of access controls for tenants. "That mix allows for tenants to get involved with our systems and provides more convenience for both of us."
Another layer is what each tenant may wish to do on their own.
Smith also has a mix of proprietary and contract officers. "We aimed at flexibility and professionalism."
One test of a security executive is keeping up with new and emerging technologies. "It's the fastest growth area of my assignment. The best way to stay on top is to be involved in the security industry, visit expositions and read the trade magazines," Smith says.
The property is now looking at expanding its security video capabilities. "Senior property management sees the value in it. We are expanding our access control system to include more systems support as we build on the future."
One solid tool for property management and tenants is threat analysis. "There is no doubt that tenants are willing to spend money to keep people safe. There are moral and legal obligations."
Whether it's fire evacuation training or parking needs, Greg Smith has excitement and interest in his job. "Everyday there is something new."


United Building Security: Urban Challenges, Diverse Solutions
Martin Cramer, CPP, sees his role as more than just protecting a facility. With 20 years experience in the defense industry and high-rise building security and life safety, Cramer is also vice president of the Downtown Dallas Security Directors Association as well as a member of the FBI Infragard and Department of Homeland Security INFO Alert Networks.
For his property, he has intelligently employed technology including a security video system that records 130 cameras, and also has 116 intercoms. "Our facility is a 2 million square foot high-rise office building with 5,000 tenants. Parking facilities include a 1,400 space parking garage and 300 surface lot spaces. We are in the heart of a central business district, one block from commuter rail and a block from a Greyhound bus station," Cramer says.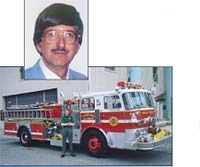 Video Over LAN
The video system is available to authorized users on a local area network. Users may query the system for real-time or past events including photo capture and printing.
The security video system is an integral part of the total security program responsible for the identification of 347 trespass suspects, 88 arrests and the prosecution of several felony suspects in the past three years.
"In light of increasing downtown criminal activity and potential threat of terrorism to high profile buildings, digital systems are a requirement for high-rise buildings. We have proposed that NFPA 730 Premises Security Code include digital video systems as a requirement for high-rise buildings when issued in 2005," Cramer adds.
Building perimeter and entry points are monitored by the control center. Exterior and interior cameras are positioned at each entry point. Intercoms are available at each entry point. PTZ dome cameras are positioned around the building perimeter and parking areas giving security a view of surrounding buildings and city streets. Off duty policy officers investigate any suspicious persons or activity.
Building interior common areas are monitored by PTZ dome cameras while fixed cameras monitor elevator banks, stairwell doors and service hallways. There is a trespass warnings photo ID database of 300 downtown trespass offenders and wanted criminals as well as an additional database of "special watch" suspects not permitted on property or in a tenant space. Suspect photos are immediately distributed to members of Downtown Security Directors Alert Network via email.


Northern Virginia Mental Health Institute: Security Monitoring, Traffic, Privacy Mix
Managing a psychiatric hospital property is a unique and challenging assignment. The Northern Virginia Mental Health Institute (NVMHI), a 127-bed state psychiatric hospital in Falls Church, Va., and serving a five county region, balances traditional physical security tasks with healthcare assignments and special needs specific to a psychiatric facility.
The security operation has partnered with ADT Security Systems of Boca Raton, Fla., to provide real-time monitoring of fire, distress and intrusion alarms.
Facility security protection carefully balances court ordered detentions versus patient rights, HIPAA privacy confidentiality and U.S. Department of Justice civil rights – all to provide a reasonably safe and secure healthcare campus for patients, staff and visitors.


Parking Control Challenges
Chief Donald E. White, NVMHI's director of safety and security, and a 12-officer contract security force provide fingerprinting, photo identification, facility patrol, alarm response, incident response, patient transportation, parking control, traffic control and a 12-vehicle fleet for nearly 400 staff and 127 in-patients rotating through the teaching hospital. White, CHSP, CHCM, is a fire instructor with EMT and CPR experience.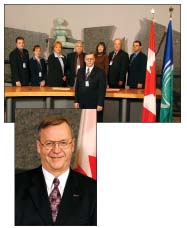 The City of Ottawa: Integrating Security into the Political Fabric
Honored locally and throughout North America, Bob Gauvreau is as much a leader of a team of focused security executives as he is head of corporate security for the City of Ottawa.
First things first for Gauvreau. "And that's proper planning," he says. "Plan for what you face and what you need. The second thing is to buy what you need and not what your finances require." The security executive does not shop by price.
Originally a law enforcement officer, Gauvreau has worked in the federal government and regional government as well as taught. Ottawa encompasses about 1,750 square miles spread out over numerous buildings and outdoor facilities.
The security aim hits six bullet points:
Be both effective and cost efficient

Seek easy to operate systems

Require minimal staff interaction

Assure privacy of neighboring properties

Effectively monitor with existing resources

Have a high operational impact at the lowest financial impact possible
For example, Ottawa operates outdoor facilities such as swimming pools and ice rinks. These facilities can greatly enhance quality of life but also are the target of vandals. Police were unable to dedicate sufficient officer time to the problem, due to limited resources. The hiring of contract security guards was ruled out.
Integration of Systems
The solution was to integrate security cameras, motion detectors, 2-way audio systems, intrusion alarms, all integrated into an existing security management system. System integrator Sunotech Canada developed a system, Proactive Audio Video, which uses a motion sensor to activate a Pelco (Clovis, Calif.) Spectra III PTZ camera. The camera, over the LAN/WAN, goes to the security operations center. The signal initiates an alarm that notifies the operator of the situation and activates the audio component. The system was integrated with the facility's existing intrusion alarm system, simplifying the arming and monitoring of the facility.
The ability to refer to specific individuals (i.e. "you in the green jacket") versus a tape recorded message serves to strengthen the system by giving notice that the surveillance is active and in real-time.
Another advantage of the system is that the video does not appear on the operator's screen unless an alarm is activated by motion detected in the defined area. This avoids problems associated with monitoring and reacting to multiple active security video monitors.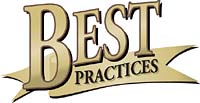 St. Joseph's Hospital: Specialty Training Makes a Difference
It's a matter of training for Joseph "Dick" Lange, HEM, HSSA, facilities manager at St. Joseph's Hospital in Marshfield, Wis.
"My security department consists of eight staff, of which three are security specialists. All are trained through the International Association of Healthcare Safety and Security with basic officer training, advanced officer training, safety training and supervisory training," Lange says. Staff is annually re-certified in such topics as non-violent crisis intervention as well as principles of subject control and use of oleoresin capsicum. Each year, one officer is sent off-site for comprehensive security specialist training.
Officers provide around-the-clock coverage of over 1.3 million square feet as well as off campus buildings. The officers use the IRIMS security management program from PPM 2000 of Edmonton, Canada, for daily reports and the Tiscor Fire and Safety system, Poway, Calif., for hour-to-hour activity recording as well as patrol station validation.
Programs include rental property oversight, hazardous materials program, lost and found and weekly risk assessments. Cameras are digital with central monitoring and alarming. Both Simplex (Gartner, Mass.) I-Secur programs and API (Hartford, Wis.) SecurAll databases are monitored for access control.
A comprehensive forensic policy involves the electronic sweep of all subjects coming under the facility's control for safety/security verification.


Sidebar: Best Practices Honored
SECURITY magazine honors security executives' Best Practices for property management. Early this year, the magazine surveyed nearly 300 executives who identify themselves as in property management, in security for properties such as high-rises and healthcare facilities and as facility managers. The aim: to identify the Best Practices in successful security programs and use of technology and services. SECURITY editors reviewed Best Practices submissions to report on these best of the best.
If you are a security executive and have a Best Practices story to tell, please contact SECURITY Editor Bill Zalud at zaludb@bnpmedia.com.