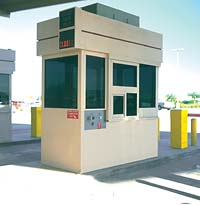 Security experts and event managers agree that perimeter security, which uses mobile guard booths, helps to bolster a public event's first line of defense against attacks of many kinds.
Take, for example, The Smithsonian Institution, in the midst of a multi-million dollar security upgrade that involves working within the framework of the federal government and the Institution's procurement standards to provide enhanced security to 12 museums, ten research centers and a zoological park.
"Depending on the Homeland Security Terrorist Threat code level, we are considering posting a checkpoint at the entrances to the Zoo, and we would probably want the flexibility a mobile booth would provide," Douglass Hall, associate director for technical security at The Smithsonian Institution, says.
Hall was involved in the security detail for a recent World Cup Soccer Championship as well as the 1996 Atlanta Olympic Games. He foresees additional applications for the mobile booths at the Zoo and for the other extremely popular museums The Smithsonian has to offer.


Mobility Means Flexibility
"It's impossible to quantify the value of a booth as a deterrent," he says. "One of the benefits I can see to a mobile booth is that you can hire a person to staff it as needed and have the flexibility to divert that security resource to another location at your facility when you don't."
Captain Robert McCready of the U.S. National Zoological Park Police gives a more day-to-day practical view on the usefulness of a mobile guard booth. "I'm in the policing business. I need to attract and retain competent officers. To do that, I need to place them in an environment conducive to quality work. If my officer is kept warm in the winter and cool in the summer with some protection from the elements, that officer is going to be more effective in their work," he says.
Cheyne Day, security manager for Reliant Park in Texas says, "With mobile booths, you can create multiple layers in concentric circles emanating from the facility you are securing. These rings of layered security are a much bigger deterrent to would-be criminals as far as persuading them that there is a greater chance of them being stopped."
He adds that mobile booths offer us the flexibility to customize our parking and crowd control to each event, and this equals better security because of that customization.
" Whether it's a major metropolitan zoo or for a multi-purpose sports and convention center, "you are going to want to have as many varied security enforcement and traffic/crowd control options open to you as you have events. A flexible and mobile booth system is one practical step towards fulfilling that need," Dave King, vice president, B.I.G. Enterprises of South El Monte, Calif., says.