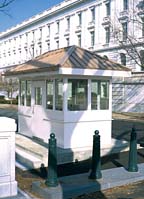 Safety and security are foremost among the many critical issues facing U.S. nuclear power plants. In the wake of September 11, 2001, the Nuclear Regulatory Commission (NRC) mandated a number of new security measures. Energy Northwest recently responded to one of these new measures through the installation of guard booths from B.I.G. Enterprises of South El Monte, Calif., at its Columbia Generating Station. The facility, Washington state's only commercial nuclear power plant, generates enough electricity to serve even more than its current approximately 4.5 million customers. As a public power entity, Energy Northwest is committed to generating electricity at or as close as possible to cost.

Cost effective solution
A primary concern of the NRC's series of advisories, orders and regulatory issue summaries focuses on enhancements to the security perimeter and the screening of employees, vendors and visitors as they access the site. Transportation of spent fuel and radioactive materials is also covered by the mandates.
With their overall budget severely impacted by the NRC security mandates, Columbia's security and facility management needed a reliable and cost effective solution to protect the plant perimeter, and the deadline was rapidly approaching.
Chuck Forrester, supervisor of the plant's security force, installed a temporary security guard structure. "While it did not meet our needs for the long-term, it physically met the NRC's requirements and gave us the time to research an alternative, long-term solution," said Forrester.
Energy Northwest contacted a number of manufacturers of high security, pre-fabricated guard booths. The booths would have to meet stringent custom specs incorporated into the permanent 8- by 10- by 8-foot guard booth design, including bullet-proof glass with anti-glare coating, comprehensive defensive armor, protective sheathing and machine gun ports.
Blast resistance in guard booth construction – a key post-9/11 security requirement in specific industries – brings with it special manufacturing needs. Unlike bullet resistance, blast resistance must deal with the two distinct phases of positive and negative pressure waves that are created radiating outward, and then inward. The negative waves last three times as long as the positive waves.
Ron Butler, senior contract officer at Energy Northwest, gave a run down of the timeline: "Competitive bids were released on Oct. 30, 2002. Contractors that responded to the request for cost proposals were evaluated to insure they could meet the technical and commercials requirements of the specification. One and a half months later, the contract was awarded to the lowest cost, technically responsive bidder."



Quality workspace
Forrester said they are very pleased with the security booth. It has provided a quality work environment for the security officers in that it is well lit, provides ample workspace and allows the security officers to conduct better surveillance of the plant. The booth was installed as part of a $5.8 million plant security enhancement program.
According to one contract negotiator and buyer for NASA facilities, "Guard booths are able to help prevent and check access to our facilities – that's why we buy them."
When reviewing pre-fabricated manufacturers, facilities should check to see if ballistic ratings or bullet resistant certification by The National Institute of Justice or H.P. White Underwriters Laboratory is offered. This means the booth materials will have been tested and approved for their intended use. If high security is demanded, booths can be built to NATO specifications from level one to eight or greater.
Many corporations, including multi-nationals, now specify higher security in their guard booths, parking lot booths and self-standing reception areas. There also is additional emphasis on the look and feel of booth to both match the corporate culture and the personal and assignment needs of the guard.