Mini-fiber Optic Video Transmitter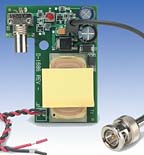 International Fiber Systems Inc. (IFS) announces a new model for its existing VT1101M series mini-fiber optic video transmitter. The VT1101M series are miniature fiber optic video transmitters that convert an incoming video signal and transmit it optically. The IFS VT1101M-AC models have the capability to use a CCTV camera's existing 24-volt power supply to operate. The VT1101M-AC model is typically installed in an outdoors weatherproof enclosure or within a protective fixed camera dome.


I want to hear from you. Tell me how we can improve.