High Speed Dome Camera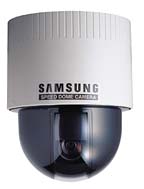 Samsung Camera has a PTZ high-speed color dome camera with the ability to automatically convert images from color to black and white in low light situations. The SPD-2500 comes with 680,000 pixels, a 300 times zoom (25X optical zoom with 12X digital), mirror, freeze, backlight compensation and on screen display. Its infrared cut filter removable function converts images from color to monochrome automatically in low light.


I want to hear from you. Tell me how we can improve.